Narain Karthikeyan & Karun Chandhok to represent Team India in 2012 Race of Champions
710 //
09 Nov 2012, 18:31 IST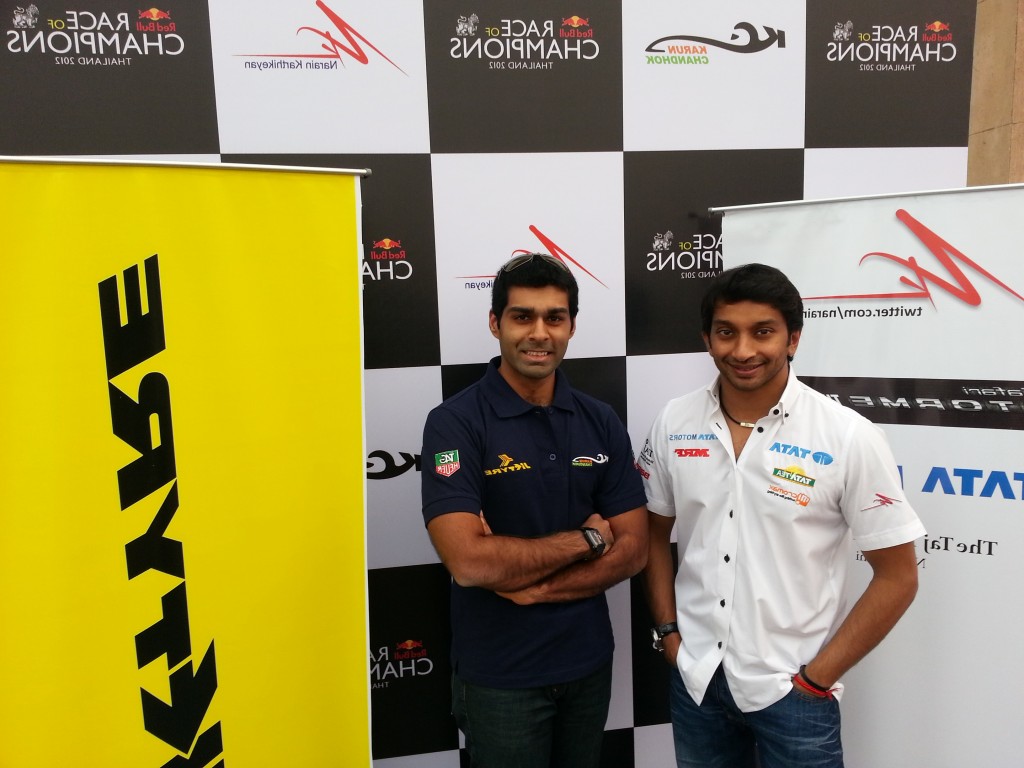 November 6, 2012: India's only two Formula One drivers Narain Karthikeyan and Karun Chandhok, today confirmed their participation in the 2012 Race of Champions (ROC) and will represent Team India for the event which will include seven-time F1 World Champion Michael Schumacher, two-time reigning F1 World Champion Sebastian Vettel, MotoGP Champion Jorge Lorenzo and Indycar Champion Ryan Hunter-Reay. This marks the progress made by Indian motorsport over the years as this is the first time any team from India has been invited for the prestigious event.
The end-of-season contest, which is being staged for the 25th consecutive year in 2012, brings together the world's greatest drivers from motorsport's main disciplines – including Formula 1, world rally, touring cars, Le Mans, MotoGP, Indycar and the X-Games – and sets them free to battle head-to-head in identical machinery. Driver's pair up for the ROC Nations Cup, this year scheduled for Saturday, December 15, before the individual Race Of Champions on Sunday, December 16.
This will be the first time since 2004 that India's two leading drivers will be part of the same team, since the World Series Renault Championship. After successfully hosting the 2nd F1 Indian Grand Prix, Indian motorsport is clearly on the upward trend. Narain and Karun will further etch their names into Indian motorsport history by becoming the first two drivers to represent India in such an international event.
F1 driver Narain Karthikeyan, who drives for HRT this year, was excited to be part of this event and even happier to represent India at the ROC. He commented, "It's really cool to receive an invitation to participate in the Race of Champions. What a fantastic honour it is as well. The competition is the strongest in the world, with only the best of the best from many different forms of motor sport all competing against each other. The added benefit of representing your country is a real privilege, and one which I have done before in my career, so I know how special that feels. Karun and I are definitely going to enjoy ourselves, racing against our peers in some pretty cool machinery, but we will also be gunning for victory, and with a bit of luck, we will bring glory to our nation."
World Endurance Championship driver Karun Chandhok, who drove for HRT in 2010 , Lotus in 2011 and JRM Racing this year, is glad to see Indian motorsport getting more recognized on a global level. He said, "I'm very excited about going to the Race of Champions this year! It's fantastic that the organisers have decided to have an Indian team and Narain and I had the dates free to do it. The event looks like a lot of fun while obviously being very competitive. The concept of ROC Asia is very interesting – we have seen in the last 10 years how motor sport has been shifting to this end of the world more and more and it's great that Fredrik and his team at ROC have embraced this. Narain and I haven't been in the same team since 2004 when neither of us was an F1 driver. A lot has changed in life since then and it should be a lot of fun to work together again. ROC has always attracted some of the biggest names in world motor sport including Sebastian Vettel, Michael Schumacher and Mick Doohan and it will be nice to spend time with all these guys as well."
Fredrik Johnsson, Race Organiser, ROC, is convinced Team India will be a force to reckon with and added, "We have been looking forward to ROC Asia ever since we knew we were coming to Bangkok this year – and the line-up has lived up to our expectations. With the might of China and India in the mix, we hope to see plenty of new motor sport fans cheering on their heroes at the Race of Champions. Narain and Karun are a formidable pairing for Team India and will certainly be a threat."
About ROC
The Race of Champions is a knockout tournament where the world's greatest drivers battle to prove they're the fastest on Earth. Through a series of head-to-head races in identical cars on a parallel track, the stars fight it out to prove they have what it takes to be crowned 'Champion of Champions'.
The event starts with a group stage to ensure fans get to see plenty of action from every driver. The racers face up to each of the other drivers in their group, with cars swapped round between heats so they all have to prove themselves in a variety of machinery. The most successful drivers move on to the quarter-finals.
From there it's back to a head-to-head, no second chances, knockout competition to get to the semi-finals and then the Grand Final. Just as with all the world's great cup competitions, the tension builds all the way through to this best-of-three shootout where there can be only one 'Champion of Champions'.
After recent visits to London's Wembley Stadium (2007-2008), Beijing's 'Bird's Nest' Olympic Stadium (2009) and Dusseldorf's ESPRIT arena (2010-2011), ROC 2012 will take place on a specially constructed tarmac track with two parallel lanes winding their way round Bangkok's Rajamangala Stadium. Michael Schumacher and Sebastian Vettel have won the team event for the last 5 years and will return to defend their crown this year.
For more info on ROC please visit www.raceofchampions.com