Narain ready for second innings in F1
759 //
19 Mar 2011, 04:49 IST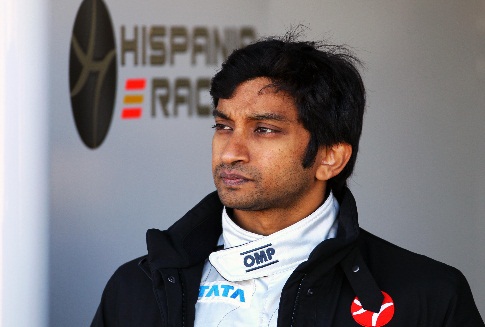 Life has come full circle for Narain Karthikeyan. The Indian racer is ready to begin his Formula One second innings at Albert Park Circuit where it all began for him in 2005. "I am excited to start again at the Australian GP, one of my favourite events," said the 34-year-old, who will drive for Spain-based Hispania Racing team.The F1 season was, originally, scheduled to start at Bahrain on March 13, but the opener was shifted to Melbourne after the unrest at the Gulf country.
Narain's rookie season at the pinnacle of motorsport was a bumpy ride. His underperforming Jordan car didn't help his cause either. Narain, however, collected five points, courtesy his fourth place in the controversial United States Grand Prix at the Indiana Polis where just six cars took off from the grid. The season ended and so was his sojourn. After losing the race seat in Jordan, he joined as a test driver with Williams the following year. During his time away from F1, Narain kept himself motivated by racing in A1 GP, Formula Super League, Le Mans series and Nascar. He had a reasonable success in A1 GP (won in Zhuhai and Brands Hatch) and Super League (won in Brands Hatch). The Nascar stint in 2010 was lucrative and, for a change, he earned some money. But he had always maintained that he has an unfinished business in F1.
The mouthwatering prospect of racing in front of his home crowd at the Indian GP triggered his comeback. With a dedicated sponsor in Tata Motors, Narain's F1 dream came to life again.
As one of the oldest drivers in the line-up, Narain knows he has a daunting task ahead, especially with the HRT's 2011 challenger doing its shakedown only at the Friday free practice session in Melbourne. Other teams already have some mileage up their sleeves.
"It's disappointing to not be able to drive the new car in Barcelona (final pre-season test), but I'm sure the car is a significant step forward from last year's. It certainly looks the business, we just have to wait until Friday morning in Melbourne to put it all into practice," he said.
Narain remains realistic when it comes to setting up targets for the season-opener. He believes completing the race would be a satisfying weekend.
"I think Albert Park will be a great place to start off with the new F111 since it's not a very demanding track. For a new and unproven car such as ours, I think that reliability is something we need to work on before we can start to extract the maximum performance, so I believe that if both cars finish the race, we will have had a satisfying weekend. Once Tonio and I have driven the car in Melbourne, we will both have a better understanding of what to expect for the rest of 2011," he explained.
Narain said the joy and excitement of this the World Championship is overshadowed by the tragic events in Japan. Expressing his condolences, Narain said his HRT will sport a Japanese flag for the whole weekend.
"I have been very upset and disturbed by the news reports coming out of Japan over the past week. I raced in Formula Nippon in Japan in 2002 and made many friends there. I have spoken to some of them, and fortunately they are ok. My heartfelt sympathies go out to all the families affected by this tragedy. They are all in our hearts and minds," said the Padma Shri awardee.