Lewis Hamilton was one of the seven drivers who received a five-second time penalty for exceeding track limits in the Austrian GP. The 2.7-mile layout in Red Bull Ring is infamous for enticing drivers to exceed the track limits.
Hamilton's excursions were spotted by Lando Norris, who monitored the fellow Briton as he closely followed behind in the first stint. The McLaren driver's appeals were rewarded as the Mercedes driver received a penalty that put him out of the fight for fifth position.
After being overtaken by Norris, Hamilton kept a close eye on the McLaren driver. He reported multiple incidents of track limit violations by Norris, but his efforts went in vain. He also complained about Red Bull driver Sergio Perez, but neither of the two drivers was handed penalties.
Hamilton called out the stewards in frustration over the radio:
"Just have a look at those because some of those are bull**** calls," he said.
After the race, the Mercedes driver maintained his stance, claiming that both Norris and Perez had exceeded the white line on multiple occasions.
"He was going off so much, it was insane," Hamilton said to RaceFans. "As soon as he got past me, he went off like at least 10 times and so did Perez. Perez would go off turn nine, turn 10, and he didn't get a penalty. So obviously they should just be able to go off and none of us get a penalty."
Lewis Hamilton said that the Red Bull Ring layout needs some changes to prevent multiple drivers from being penalized. He argued that monitoring and reporting the driver ahead of him continuously wasn't "racing."
The seven-time world champion added that it was "much more enjoyable to drive" on the track a few years ago when track limits weren't monitored so strictly.
---
Lewis Hamilton explains why he struggled with car balance in the Austrian GP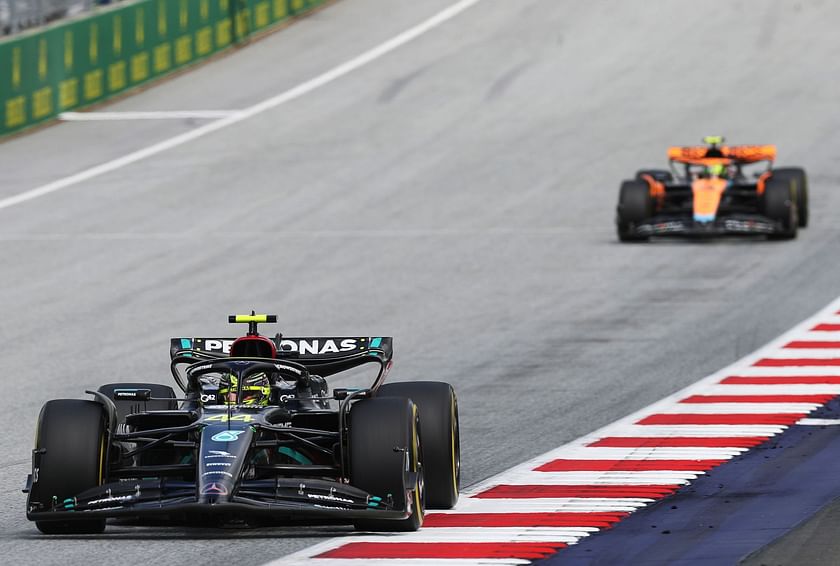 Lewis Hamilton said that a setup change on his Mercedes W14 caused a handling imbalance, which led him to exceed track limits during the Austrian GP.
The seven-time world champion explained that they had reduced the front wing's flap angle pre-race to improve rear-end balance. However, this setup created a lot of understeer as he slid across the track and beyond the white lines.
"We took out a lot of front wing, we knew we had a really bad rear end here, so we took out a lot of front wing to try and keep that balance so that we could do a long run, go long," the Brit said.
"And we massively under-egged it. I was, like, almost full lock around the last two corners. Going into turn 10, it was just sliding and I couldn't do anything about it," he added.
Lewis Hamilton salvaged an eighth-place finish in the Austrian GP behind his teammate George Russell.
Edited by Akshay Saraswat