Max Verstappen and Sergio have been teammates for two years now. They have had their good moments and bad moments on and off track. Both are Red Bull's top drivers and have been delivering consistent performance.
One difference between them is their age difference. Sergio and Max Verstappen have a seven-year age gap. Watch Verstappen make fun of Perez during the Monaco Grand Prix regarding their age gap.
When asked what was the feeling the first time you drove a formula one car? Verstappen replied, "Checo, it must be like 30 years ago."
Sergio Perez has been in Formula 1 for more than ten years now. When he made his debut at the 2011 Australian Grand Prix, Perez became the first Mexican driver to start an F1 race in 30 years.
After finishing eighth in Melbourne, he would have earned a point in his F1 debut, but the two Saubers were penalized for a minor technical violation. Four races later, in Spain, he finished in the top 10 to earn his first points.
In 2021, Perez was paired with Verstappen in his debut season with Red Bull Racing. Unsurprisingly, Perez's debut season in a front-running F1 car was his most competitive to yet. He won his sixth race for Red Bull in Baku, and he quickly followed that up with a third-place finish at Paul Ricard.
Despite only finishing in the top five twice in the following eight races, Perez was given a contract extension through 2022. His form subsequently improved, as he finished third in three straight races in the Turkish, American, and Mexican Grand Prix.
The adoption of F1's new aerodynamic regulations finally restored Red Bull to the dominance it had enjoyed a decade before. But, to begin with, they were locked in a battle with Ferrari, and Perez was there in the heart of it. Currently, Perez sits third in the drivers' championship behind Fernando Alonso and championship leader and his teammate Verstappen.
---
Max Verstappen wins for the second time in Monaco
The 2023 Monaco Grand Prix was won by Max Verstappen, who led all 78 laps from pole position. Max Verstappen's fourth victory of the season stretched his lead in the Drivers' Championship to 39 points.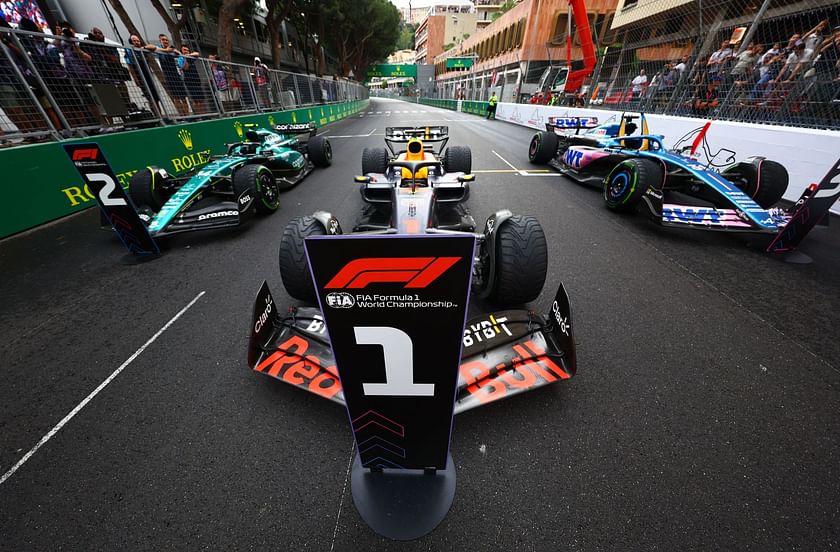 Max Verstappen took advantage of the wet conditions by starting strongly and pulling away from the rest of the pack. He never looked back on his way to triumph. Fernando Alonso was second, while Esteban Ocon was third.
Verstappen is now 39 points clear of his teammate Sergio Perez already, with Fernando Alonso in second place for Aston Martin.