The Spanish Grand Prix returns to the Formula 1 schedule this week, with Fernando Alonso and Carlos Sainz Jr. competing on home soil.
Formula 1 has been hosting Circuit de Barcelona-Catalunya since 1991, and the 2023 Spanish Grand Prix will be the venue's 33rd event. The Catalunya track earned a new arrangement with Formula 1 in November 2021, ensuring that the Spanish Grand Prix would stay on the schedule until at least 2026.
Over the years, F1 has depended on the Circuit de Barcelona-Catalunya as a testing location since it is recognized for testing every component of a racing car.
Max Verstappen claimed victory in his first Formula One race at this circuit. It came after the spectacular first-lap collision between Lewis Hamilton and Nico Rosberg's two Mercedes.
To improve the racing in Barcelona, numerous drivers have recently lobbied for the return of the previous configuration with two quick, sweeping right-handers to end the lap. The Spanish Grand Prix organizers acknowledged this earlier this year.
With his victory at the Monaco Grand Prix, Verstappen now has a 39-point advantage over Red Bull teammate Sergio Perez. The latter wrecked in qualifying and was unable to earn any points. Alonso is 12 points farther down and his last F1 victory was at the Spanish GP in 2008.
Ferrari looks to recover from a challenging weekend in Monaco. Meanwhile, Mercedes' Hamilton and George Russell will have the chance to evaluate their modifications' performance on a more traditional track.
---
F1 Spanish Grand Prix Weekend Schedule
Formula One returns to Spain again this weekend with two of its home heroes - Fernando Alonso and Carlos Sainz Jr. The disproportionate chicane before the last corner has been removed from the quick Circuit de Barcelona-Catalunya in what is a welcome change.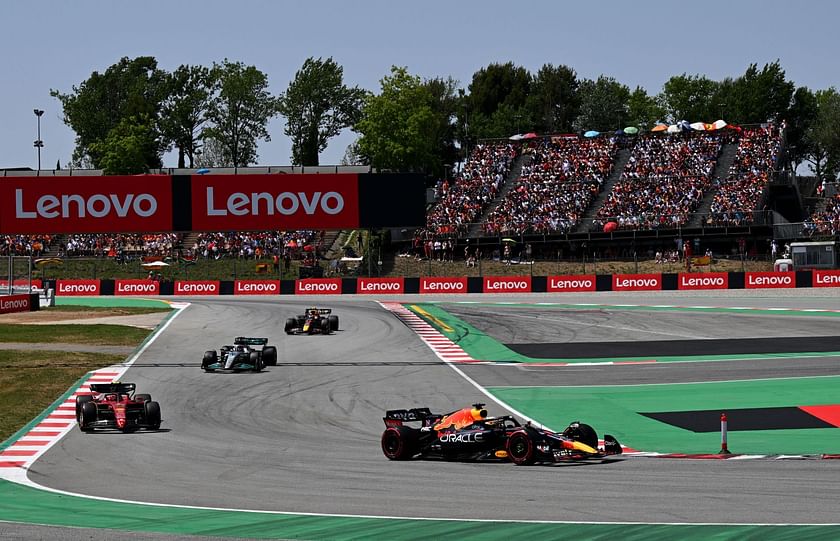 Weekend Schedule for the Spanish GP | All times in IST
Friday | 02.06.23
FP1- 5:00 p.m.
FP2 - 8:30 p.m.
Saturday | 03.06.23
FP3 - 4:00 p.m.
Qualifying - 7:30 p.m
Sunday | 04.06.23
Race - 6:30 p.m
Catch all the live action on F1Tv Pro in India or watch the live stream on Sky Sports F1 or other broadcasting channels in your home country.