Lewis Hamilton admitted that he was absolutely shocked by the Mercedes' speed after the 2023 F1 Spanish GP qualifying. The driver was in a precarious situation on Friday. He even admitted after FP2 that he feared a Q2 exit if significant improvements were not made. As it turns out, Mercedes made those improvements overnight.
Hamilton was in contention for a front-row start and if it wasn't for a snap of oversteer in the last sector, he could have been upfront. Talking about the turn of events, the Mercedes driver told Sky Sports how he was completely shocked by the improvements made by the team from Friday to Saturday.
"Firstly, absolutely shocked today to...it was a real surprise to see us so far up front and, ultimately, competing for the front row. We did some great work overnight with the analysis. I was here until 11 pm last night trying to figure out where we could find the time. When I woke up this morning, I was on a mission."
He then expressed his gratitude to the team staff for making the improvements and described his experience in the qualifying session:
"I definitely didn't expect us to be fighting for the front row. The car came alive today from Practice Three. Our whole package, a big thank you to everyone at the factory. This shows we are progressing, which I'm so grateful to see. I really enjoyed driving the car today. I was basically front row all the way until Turn 10. I've got into Turn 10, got on the power and the car snapped into oversteer."
Lewis Hamilton looks to analyze how he lost two-tenths in qualifying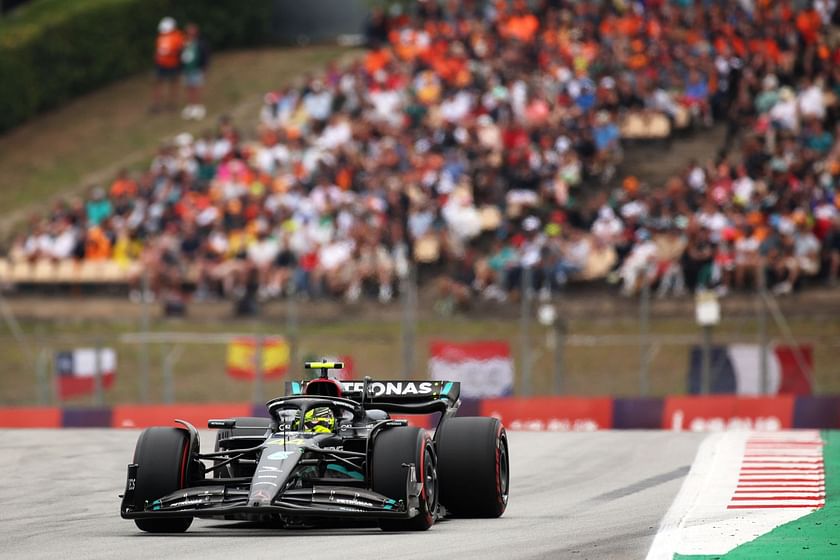 Until the third sector, it did appear that Lewis Hamilton could have been in contention for a front-row start. But the third sector was not perfect and hence he ended up handing over the advantage.
Talking to Sky Sports, Lewis Hamilton admitted that he needed to take a look at where he lost those two-tenths.
"I have to see exactly what happened. That's where I lost two-tenths. I'm not killer-disappointed. Maybe if I was fighting for a world championship, I would be. I'm more encouraged to see the car, where it is and hopefully tomorrow, we can progress forwards."
Lewis will be starting the race in P4 on Sunday and this does place him in a perfect situation where he can take advantage of a strong qualifying session. The Mercedes driver will be hoping to fight for a podium on Sunday and add to his tally of P2 he secured in Melbourne.
Edited by Akshay Saraswat