Q & A with Nico Hulkenberg : Third driver Force India
668 //
25 Mar 2011, 18:26 IST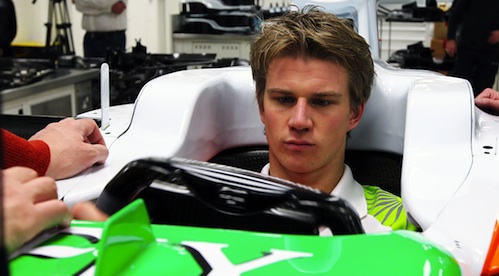 Last season Nico Hülkenberg was racing in the Australian GP, but this year he's at the Albert Park as third driver for Force India and thus only taking part in the first Friday session. Nico completed 20 laps in the car before handing it back to Paul di Resta for the rest of the weekend. We asked for his thoughts on his session – and how it feels to have to hand the car back….
Q: After racing last year is it strange to do the first session and then get out of the car?
"Of course it's strange, but I had time to get used to that thought! That is what it is, I'm afraid. I'll stay around now, sit back, relax, and watch it from the outside."
Q: What did you learn in that session?
"We learned quite a bit. Obviously the car is quite different to Barcelona again. On a dirty track with the hard tyre it was pretty low grip to begin with. With the KERS and so on there's a lot going on in the beginning, but then you get used to it as you go along. It was tough, but I picked up a flat spot quite soon, and that basically killed the rest of my running! I had one set, because they kept the other sets for Paul in the afternoon. You've got to be really careful with these tyres and look after them well. That flat spot obviously made it very difficult, and gave me a lot of understeer and a big vibration."
Q: Can you feel the tyres going away over a long stint like that?
"The tyres drop off, but the dominant factor for me was the vibration and the flat spot. Maybe it's slightly better here than it was a Barcelona. We will see."
Q: How was it using the moveable rear wing around here?
"It was OK. You get used to it, your brain tells you that you are at the exit of a corner, and you have to press button. We have a new rear wing assembly. We had to hold the button all the time, but from now we're just latching; you press it once and when you come off the throttle it comes back down, so that makes it a bit easier."
Q: What's your role for the rest of the weekend?
"I'll be analysing the data and looking at what our guys have done. We'll try to put the pieces of the puzzle together, and I'll try to help the team with information I can feed back. One session is not a great deal, but I'm still trying to do my best and see where we can improve and I can improve. I think it's important for me to be here and drive and still have the feeling of an F1 car."