Nico Rosberg should do more to stop an in-form Lewis Hamilton
There's something that was evident last season and is pretty evident this season as well. Rosberg maybe just can't reach the levels at which the likes of Hamilton,Alonso and Vettel operate.
1.75K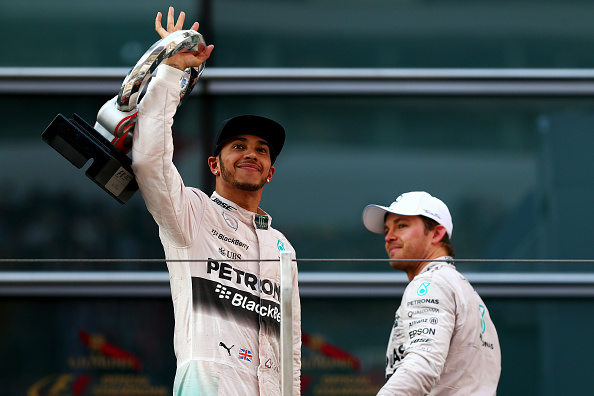 Hamilton has outclassed Rosberg so far this season
There's something that was evident last season and is pretty evident this season as well. Rosberg maybe just can't reach the levels at which the likes of Hamilton,Alonso and Vettel operate. He just doesn't seem to have the next gear needed to beat these top drivers and to make it worse he doesn't have the brains to make-up for his on track deficiencies and neither does he seem to have the steel to be the World Champion.
Lewis hamilton is one of the more emotional drivers on the grid and the fact that he has been literally toying with Rosberg just shows how mentally weak Rosberg is. His recent outburst in the post race press conference in Shanghai where he blamed Lewis for slowing him down would make you laugh(well...it did make Lewis laugh).
If your teammate a.k.a your main rival in the championship is slowing down, then it is the best thing for you because it gives you a chance to overtake him or at least an oppurtunity to put him under pressure. But no Rosberg did none of these things, one question that could be asked here was why rosberg didn't attack? Was he given an order by the mercedes management not to attack Lewis during the stint? That could be a reason, but if it was then Rosberg would've come out with it already.
In the first 3 races, Rosberg has looked like a lost man. He has consistently been slower than Lewis and the margins have been very huge, he hasn't even once mounted a challenge on Lewis, he hasn't even beaten him off the line even once at the starts . Playing the team card and being a good boy and not attacking Lewis at that time when he thought he could go quicker is just a defeatist tendency.
Jenson Button gave a close fight to Hamilton
If he keeps it up, he's going to get nowhere in this fight. Rosberg would be wise to look at Jenson Button and learn from him because JB is a prime example of a driver overcoming his limitations and excelling at such a high level that he gets respect from all the top drivers and is counted among them. A look at Jenson and Lewis' time together at McLaren could act as an eye opener for Rosberg.
Jenson during their time together got annihilated by Lewis in qualifying,there were few and far cases where he actually outquaified Lewis. What stood out for Jenson was that he was consistently lapping at the same pace or on many occassions faster than Lewis. He eventually ended up with a tally of more points than Lewis during their time together.
During their time together, Button slowly moulded the team into his team. The Brit knew he couldn't beat Lewis on pace in a single lap, but he could do that over a race distance and more often than not he used to do that. Button more often than not made the smart calls in the race and beat Lewis in quite a few wet races and he maintained a headstrong and calm approach to his racing. There were many times in their partnership when Lewis looked a bit ruffled, but the same could never be said about Button .
Rosberg should make his racing do all the talking
This is where Nico needs to start learning or rather it's high time he puts it to proper use. The comments he has made this year has been pretty silly and his post race demeanour pretty much was the icing on the cake as even Lewis had a laugh and in a way knew that Rosberg was rattled. The problem though with Nico has been his inability to do what he says, he has said way too much stuff in recent times, but his driving has just not been upto scratch.
He has said he is working on his qualifying but he is 3-0 in qualifiers this season and has never looked capable of taking the fight to Lewis. He is 3-0 in races as well and for two races when he finished 2nd, he hasn't even once tried to make a move on Lewis. Here's the point where Nico needs to make sure what he is doing, he has been saying for a long time that he hates coming second to Lewis(he's been saying that since last year), but he hasn't really shown any progress or put up even a hint of a challenge for Lewis. It does seem like in 2014 was Rosberg hiting the peak of his performance and there was nothing beyond that.
Rosberg has to start shading Lewis because him coming up with statements that he makes and then backing it up with the driving that he does, he is going to be become a laughing object because it's become a little too silly from him. Maybe it's about time Rosberg shut up and did something on the track(like finishing ahead of Lewis) that will prove the critics wrong.