Sebastian Vettel- A powerhouse of performance
678 //
17 Mar 2011, 04:48 IST
Sebastian Vettel has always been a package with performance delivered, a talent powerhouse. The German started his F1 career as a test driver for BMW Sauber just at the novice age of 18 years and his career graph has been  rising ever since. In just 3 years, Vettel has had 19 podium finishes with 381 points from just 62 races which is really unbelievable considering the fact that he is just 23 now. He has a long and a promising career ahead of him. The fans have a lot to see from this exceptionally talented German. Vettel showed a spark of his talent when he became the youngest ever driver to win a Grand Prix, in his first full season with Torro Rosso in 2008 at the wet Monza track, Italian GP.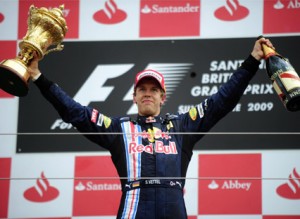 His career really took off when he replaced David Coulthard at Red Bull racing in 2009. He had a successful season, giving team Red Bull its maiden pole position and win in China Grand Prix. He then went on to win 3 races at Silverstone, Suzuka and The Yas Marina circuit. The wins got him to the 2nd position in the overall driver's standings. Vettel continued his good form in 2010 season when he became the youngest driver ever in F1 history to win the driver's championship. The stats would have much been better if it were not for some mechanical failures in the car.
In combination with teammate Mark Webber, Vettel helped the Red Bull team to clinch their first constructor's championship in the 2010 season. With a glorious season to serve as motivation, the team has set even higher expectations for the new season from their two drivers with their new and improved car, the Red Bull RB7.  After Michael Schumacher, no driver has been able to successfully defend the driver's championship title for the past 5 years. Whether Vettel will be able to defend his title, will be interesting to see.  The new changes in the rules have made the competition wide open.
The German spent a nice time with his family and friends and is all geared up for the season, "It was a good over winter to have a little time to myself. I spend it together with friends and family", the world champion said. The German has already topped the charts on consecutive days at the Barcelona test.  The fans are impatiently waiting for the start of the new season this march with the Australian GP.  Will 'Baby Schumi' be able to repeat Schumacher's feat?