Senna: The F1 Movie
1.93K //
11 Jul 2011, 21:20 IST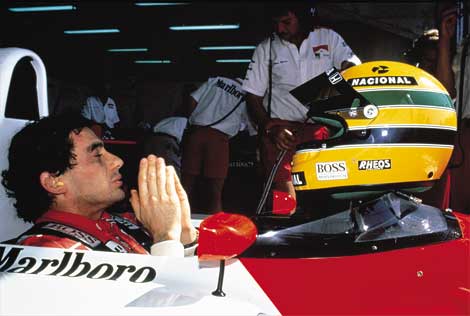 You feel as though you are driving along with Senna at 320 km/h in his new McLaren MP4/6  powered by the Honda 3.5 L V10  engine, when he was leading the race at Interlagos,  Brazil in 91. With just seven more laps to go, Senna's gear box was jammed.
Senna had already tried many times before, but he never won at his home Grand Prix. He retired three times and was also Disqualified once previously. Despite his car failing him, he found some special force within him to drive the remaining few laps, stuck on the sixth gear. After he navigated the last curve and raced across the finish line, the crowd went into a tizzy. Senna's screams of jubilation in the team radio were drowned in the noise from the stands. The fans waving their country flags, proudly joined together in chanting "Ole Ole Ole Senna Senna".
He drove for a few meters before pulling over onto the side of the track. Senna won the GP and he fainted.  Driving the car under such  tremendous pressure with a lot of physical and mental stress, gave him shoulder and neck spasms. He looked like a spent force, when he gingerly stepped onto the podium for the award ceremony. Senna lifted the trophy with a great amount of effort and he characteristically drowned himself in champagne.
'Senna' is a documentary that follows the Brazilian driver Ayrton Senna from his early years at Formula One, to his ascendancy to World Champion and till his tragic death at the age of 34 during a F1 race. 'Senna' is directed by the British born filmmaker Asif Kapadia. He succeeded in capturing the spirit of motor racing and the emotions, that play a big role in deciding a champion. The documentary is superbly edited by Chris King and the background score is composed by Antonio Pinto, whose light compositions, fittingly match the sound of a race car. Despite being a documentary, it is not traditionally interrupted in between with interviews from the real life characters. It follows a simplistic linear style, showing the footage from the races, his family videos, and the interviews from archives. The images are well supported by the background voice overs from key figures, who played an important role in shaping Senna's career.
http://www.youtube.com/watch?v=gyhKXyatgi0&feature=player_detailpage
'Senna' is presented in a live-action theme, along with never seen before footage from behind the scenes. We make several pit stops at Monaco, Portugal, Japan, Brazil and Australia.
We first see him step into the spotlight at '84 Monaco GP, where he spectacularly fought his way from 13th to overtaking 3 time world Champion Niki Lauda for second place in a wet circuit. We watch him win his maiden Grand Prix at Estoril, Portugal just in his second season at F1. Which he beautifully described as " Winning is a unique thing, it's like a drug. It is something so strong and so intense, that once you experience it, you keep searching for it all the time."
Senna's fierce rivalry with Alain Prost provides the main theme for the documentary. It is brilliantly shown in a series of  3 races at Suzuka , Japan. He won his first Formula One world championship title at Suzuka in a near impossible task by passing Prost for the lead back from 16th place. Suzuka become their battle ground, with two highly controversial endings, that saw the title change hands between them for the next two seasons.
His aversion to the politics of the Formula one, makes up the subplot. Senna vividly described that the F1 is more about politics and money instead of pure racing. He once publicly said "I was cheated many times by the system but i said to myself today has to be my way" after his infamous collision with Prost. He added "You break your balls to be on pole and they put you on the wrong side of the circuit" on mysteriously moving the pole position to the dirtier side of the track, to benefit Prost.
His unfortunate death was a huge loss to both Brazil and the racing world. At his funeral a very passionate fan lamented "We Brazilians need food, education, health care and a little joy. Now that joy has been removed."
Ayrton Senna's story is all about courage, passion for the sport, determination to succeed and patriotism. 'Senna' is one of the best sports documentaries I have seen in recent times. It is a must watch for every motor racing fan.