The journey from Formula 2 to Formula 1
2.12K //
27 Jan 2015, 15:31 IST
Reaching Formula 1 is not an easy task. As a young driver, you have to start racing a very nascent age and then slowly climb up the motorsports-ladder. A driver will endure difficult races, through challenges and complex scenarios, before he can even think about racing in Formula 1. But overcoming these obstacles successfully is what a Formula 1 team seeks in a potential new star. And, by competing in any one of F1's feeder series, a driver can get closer to his or her dream. There isn't any better way than this to make your racing driver-CV stronger and more attractive.
The re-renaissance of Formula Two
As FIA issued a new super-license points system for 2016, it was certain that F2 was once again going to be revived. The championship has had its, on and off phases, in the history of motorsports, but in recent times it has failed to produce talents for F1. In its all European avatar from 1967 to 1984, the series had much greater relevance. But, with the arrival of various categories like European Formula 3, Formula Renault 3.5 and GP2 in contemporary years, F2 was lost in the oblivion.
Last time when F2 came into the frame, it was in 2008 and it lasted only till 2012, but FIA is once again keen to reintroduce the series. And, with a new boss at the helm, former Ferrari F1 team principal, Stefano Domenicali, things are looking brighter. The Italian is the new president of FIA's Single-Seater Commission, and it has been tipped that he will focus on bringing the series back. So it is not a crime that some racing-fans are appealing that at least this time the series produces the right talent, unlike in its last campaign.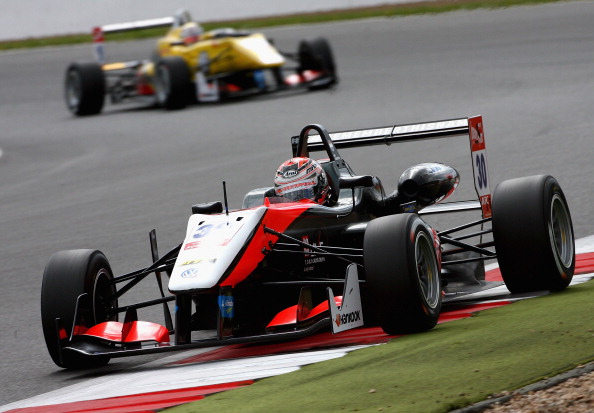 The feeder series complexity
In recent years, Formula 1 has seen a great influx of young and rookie drivers from GP2 Series and Formula Renault 3.5 Championship. But it has been noted that the most drivers graduating from these championships are backed by an F1 team's young drivers program. In these programs, a F1 team takes the onus of coaching, guiding and helping a young driver through the various stages of his or her motorsports career. An excellent example of this is Lewis Hamilton, who was backed by McLaren's young driver program from his karting days to his F1 stardom. The 2014 World Champion's final stop before entering F1 was GP2, which is till now known as F1's main feeder series.
But with FIA giving more weightage to the new (to be announced) Formula Two series, it is now certain that it might become the main feeder series to F1. And it is very essential that the new F2 becomes a series which is seen, liked and adored by motorsports fans, from all over the world. This is why, it is very important that the series takes in some measures, which it lacked in the past, in order to survive and produce excellent young racing-talents.
Top F1 Teams investing
Arguably, F1 teams are doing an appreciable job in investing into young drivers from their childhood days. Red Bull, McLaren, Ferrari, Lotus (Renault before that), and now even Mercedes, have their own driver development programs. These programs are designed in a way that a team can nurture and help a driver to achieve success in the lower categories of motorsports.
The teams hope that their 'investment' one day turns into a star driver for their own team. And these programs in the past have successfully yielded positive results and outcomes. You can take the example of many current F1 drivers. Drivers like Lewis Hamilton, Romain Grosjean, Daniel Ricciardo, Sebastian Vettel, and even Kevin Magnussen and Jules Bianchi, among others, have been part of a driver development program. This is why, it is not a huge ask for them to invest in the new Formula Two series.
Most constructors just have tie-ups with teams in GP2 and FR3.5, but these big companies have the funds and resources to start teams. In fact, Red Bull has its own "Young Drivers' Team" in Formula 1 , Scuderia Toro Rosso. Hence, you can easily assume that all these top teams can manage a budget to run a team in the lower categories. Think in practical terms; that all the Premier League Clubs have a Youth Team, and even a Reserve Team, in their ranks. You might say comparing football and Formula 1 is like comparing oranges and apples.
Especially in terms of cost, manpower and infrastructure; where both the sports have a different set of requirements. And of course there is a counter point that a top world-class driver is not the only requirement of the teams. But, as top F1 teams always come up with a half decent car, hence, those having a home grown talent in their ranks can put in a positive long term effect. And, if the top teams invest in F2, the series will certainly have more influence in the motorsports world. Maybe these top teams may not have a common denominator point to settle upon issues regarding engines and chassis in F1 or any other lower categories. But giving out trophies to the champion of the feeder series won't be a bad idea; and these trophies can be in forms of "exclusive test days with a top team", like they do in various other junior series.
TV coverage and audience
Honestly speaking, only few niche motorsports fans care about what happens in the feeder series. But since the racing is quite exciting and pure in these types of formats, even these championships have a good number of fans. This set of fan base is ever growing and with racing becoming more and more ubiquitous with people all around the world, it is set to grow even further.
The part success of GP2 is because of the television coverage it gets because of its tie-ups with Bernie Ecclestone, who owns a part of the series, and FOM. This is why it is equally important that; if Formula Two needs to have a proper fan base, and for that it should regularly have TV live coverage. Coverage these days can be in many formats, not only by television forms, but also by the internet. Using the MotoGP concept, where television coverage of Moto1, Moto2 and MotoGP is done in a single program, is also not a bad idea. This will surely encourage, at least Formula 1 fans, to watch the feeder series. Also, most countries, where F1 is shown live on local networks, do not even feature GP2 on live or regular basis. This is why; promotion of F1 and F2 together as a package will have greater chances of impact with the viewers and the fans.
More emphasis on the relevance
In F2's last avatar (from 2009 to 2012), called the FIA Formula Two Championship, there were 4 different champions. But all of them are lost in the oblivion and nowhere near to an F1 seat. This was a major setback to the championship, and with young drivers and young driver development programs going for GP2 and FR3.5, Formula Two was always left without strong drivers. Of course, drivers who need to earn a quick chunk of points for the F1 super license can now opt to ply their trade in the F2. This is why, F2 should have the relevance with the appeal. Also, if one or two drivers start graduating from F2 to F1 in the coming years, then automatically the relevance will rise. Also, GP2 was always seen to be the big brother of F2 last time around, but we believe this time F2 may be able to challenge GP2.
Worldwide racing
The new F2 series should use and run with the F1 calendar, this would of course increase costs, but this will surely make the championship more important, and the fans will love this. They can always run with the help of F1's track infrastructure, medical and marshalling system during a grand prix. GP2 has been using this for a long time. And this would drastically reduce costs. Also, taking the series to countries like Australia and Mexico will surely garner more fan base and also invite more non-European based drivers to take the F2 route to F1. This encouragement will certainly help the revived-F2 to climb up the motorsports world. Besides this, GP2 has gone global with its former Asian-series, and also with the main series going to places like Singapore and Abu Dhabi.
Specs and features
The DRS is used in FR3.5 cars and will be introduced in GP2 for the 2015 season and the new F2 series should also consider adding this "overtaking aid". This is very important because the young drivers should learn about these F1 crafts even before they enter F1. Hence, the new F2 should definitely ponder over the possibility of adding these aids. But, because of the cost factor, ERS (Energy Recovery System) might not get implemented. GP2 runs with Pirelli non-durable tyres, and the new F2 should do the same and teach drivers about surface-wear saving and optimum usage of prime and option tyres. Also, rather than having 2 races per weekend, it would be better that a 1 long race is held with F1 role play and style strategy.
Another thing which F2 can have is; keep similar, but a bit less, kind of power, size and output of the F1 cars. And they can always use the F1 car specs of previous year in order to create a better role-play environment for the young drivers. But with F1's regulations and rules reshuffling big time last year that might not be possible in the next couple of years.
Formula 2 has to become a success because a good chunk of pride is riding with it. FIA is certainly going to promote the series as F1's main feeder competition and this is why; it is very important that F2 understands what the drivers and the fans need.