The Hermes on earth: Sebastian Vettel
720 //
05 Dec 2012, 00:09 IST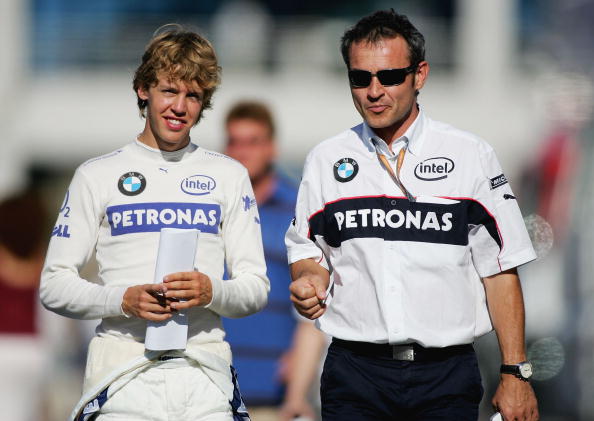 Dating back to 2010, Abu Dhabi Grand Prix, the air in the track was filled with the relentless cry of a 23-year-old German. While people remained glued to their seats in the grandstands and television sets, there was feeling of awe in the minds of the people. Following James Hunt's spectacle in 1976, this was only the second time in Formula 1 history that the World Champion had not been championship leader at any earlier point in the season. This young lad not only captured thousands of racing hearts with his charisma behind the wheels, but also proved the people believing in him, that he was the youngest god of Formula 1, Hermes: The god of speed on earth; and giving people a new name to cheer for, "Sebastian Vettel".
Sebastian Vettel, whom reporters claim to be the "New Schumi", given his on track and off track resemblance to his hero, Micheal Schumacher, prefers to be called as "the New Vettel". Born to a small carpenter family, Vettel  showed his attraction towards racing right from a tender age, doing laps in a garden mower without taking a break for even lunch. Racing was in his blood and the poster in front of him was that of Micheal Schumacher, giving him the required impetus to push harder.
At the tender age of  8, he was participating in karting races and giving his elders a hell of a competition. With many rookie wins under his belt, he finally took the BMW Sauber test. After an effective run in the trials in 2006, Vettel was called on to be the third driver for BMW Sauber. A time when BMW cars used to be the fastest, Vettel raised the standards of BMW cars much higher by claiming the fastest laps in practice races.
Then came the day when the world witnessed a man (although he was 19) who was like none other. Vettel's epic debut day came when his fellow driver Robert Kubica got injured and Vettel, being the test driver, was asked to run his first race in the United States Grand Prix. Finishing 8th in the race and becoming the youngest racer ever to claim a championship point, the racing experts surely could see a great Formula 1 racer in the making.
Then came the days of Vettel in the Red Bull league. Scuderia Toro Rosso signed Vettel for their upcoming 2007 season. Vettel struggled for a few races with his new team and thus could finish only 4 of the 7 remaining races. One of them involved a crash with his present team mate and the then Red Bull racing driver Mark Webber, who was prompted to say, "It's kids isn't it… kids with not enough experience – you do a good job and then they f*** it all up." This crash cost him his and Toro Rosso's first podium. But he ended the season with his personal and team best of 4th position in the Chinese Grand Prix.
2008 season too did not do wonders for this lad at the beginning. Being the only driver to have not finished any of the first 4 races of the season, Vettel was in a deep trauma. But post Turkish Grand Prix, the new car of Toro Rosso, STR3, seemed to work hand in glove with Vettel. The next races included point fetching finishes and his maiden Formula 1 win at the Italian Grand Prix, making him the youngest to do so. The criticism from Webber in the previous year turned into heaps of praises for him. Vettel was named Rookie of the Year at the Autosports Award and earned the "baby schumi" nickname.
2008′s dramatic turn of events prompted Red Bull owners to bring Vettel into their main league of racing for 2009 season. And the tide slowly began to turn in Red Bull's favor. With not so impressive starts, Vettel again clinched his second and first for Red Bull, winning a podium finish in the Chinese Grand Prix. Then a series of great races and great finishes ensured Vettel finished the season in 2nd position in the driver's championship.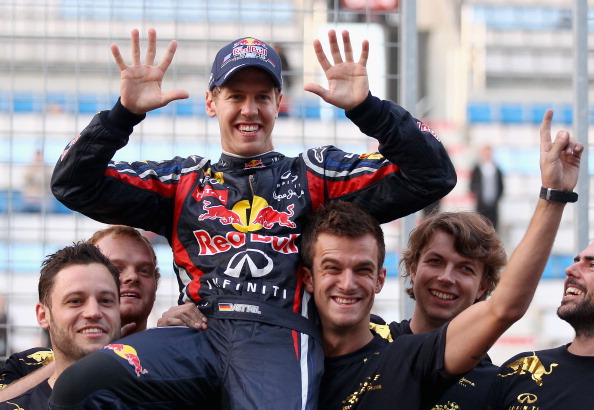 2010 was a season Vettel awaited all his life. With 10 podium finishes out of which 5 were winning laps, Vettel clinched his maiden Formula 1 World Champion title. Crying like a baby on the radio, the world indeed heard the voice of a baby being born. The baby was none other than the champion in Vettel.
Then came the season of dreams. The young rookie driver, once criticized for his driver lacking abilities, now had given the entire Formula 1 fraternity a jolt to remember. Proving to be the patriarch in the Formula 1 family even when legends were there on the tracks, this young lad was leaving every one behind. This 23-year-old lad had achieved what legends had dreamt of but failed to turn into reality. Following the footsteps of his hero Micheal Schumacher, Vettel strove forward to achieve not goals, but lifetime glory.
When some said it was beginner's luck, Vettel again proved them wrong, by a more than remarkable season of 2011. Out of the season's 19 races, Vettel had a podium finish in 17 races, a record in itself. And this included a whopping 11 wins! Vettel surely had taken Formula 1 racing to limits beyond belief. 2011 was a season which earned Vettel 392 points, the most till date by any racer in a season. Breaking records was now a habit for this young prodigy.
But 2012 season awoke a fallen warrior. Like a phoenix rising from the ashes of  'close finishes',  Fernando Alonso, the 2005 and 2006 world champion, stopped Vettel's dream run, by displaying exquisite racing. Bringing the championship till the final Grand Prix, Vettel proved why he is called,"Hermes: the god of Speed."