Top 20 Greatest F1 Racers: Ayrton Senna
3.04K //
31 Mar 2013, 16:46 IST
Senna.
The name itself evokes a passion. A passion so strong that even after almost two decades since that fateful day in Imola, whenever an F1 driver pushes to the limit on track we are reminded of the great Brazilian. His character (or more appropriately, charisma) left such an impact on all those near him that the Williams team carried the "Senna S" logo on their cars for 18 years. Not only that, his personality had such an effect on Ron Dennis- a very tough person whom we would rarely see being emotional- that he was almost brought to tears while appealing against Senna's disqualification from the 1989 Japanese Grand Prix.
Now let's come to that person who in some way made Senna what he is now in our eyes. Since the first day Senna joined McLaren, his aim was to beat multiple world champion Alain Prost who was called "The Professor". With Prost being the toughest competitor he would face, it brought out the best in Senna. What exactly happened between them during their two years as teammates is well embedded in F1 folklore and their rivalry is often considered to be the best and most fearsome, not only in F1 and motorsport but in sport overall. Prost was the wily old fox who would do during the race whatever was required to stay on top of the championship standings and to counter that, Senna had to use his special talent- speed over one lap.
Which brings us to the topic of his astonishing 65 pole positions. Whenever Senna was on a qualifying lap, he drove like a man possessed. He never disagreed with those words and instead took it further by saying that sometimes he did have out-of-body experiences. One prime example of that is the 1988 Monaco Grand Prix qualifying. Let's hear it in his own words how he felt:-
I was already on pole and I was going faster and faster. One lap after the other, quicker, and quicker, and quicker. I was at one stage just on pole, then by half a second, and then one second…and I kept going. Suddenly, I was nearly two seconds faster than anybody else, including my team mate with the same car. And I suddenly realized that I was no longer driving the car consciously. 
I was kind of driving it by instinct, only I was in a different dimension. It was like I was in a tunnel, not only the tunnel under the hotel, but the whole circuit for me was a tunnel. I was just going, going – more, and more, and more, and more. I was way over the limit but still able to find even more. Then, suddenly, something just kicked me. I kind of woke up and I realized that I was in a different atmosphere than you normally are. Immediately my reaction was to back off, slow down. I drove back slowly to the pits and I didn't want to go out any more that day. "It frightened me because I realized I was well beyond my conscious understanding. It happens rarely, but I keep these experiences very much alive in me because it is something that is important for self-preservation.[/pullquote_right]
The result: outqualifying his world champion team-mate in a similar car by a staggering 1.471 seconds! But that same weekend, reality struck upon him during the race when he kept pushing even after being almost a minute ahead of Prost and then retired after hitting the barriers. From then on, he would push to the limit but never cross the line – that was enough though to win 6 of the next 8 races that season.
Senna's talent was there for everyone to see right from his karting days and later in the Formula 3000 and F3 championships. For making a name in the international motorsport arena, he had to come to the UK but he still was deeply associated with his family and returned to Brazil in 1981 when his father called him for participating in the family business as he did not have much faith in his son's racing abilities. But when he came back to the UK, he was all over in the media. His reputation (and legend) started building exponentially after the 1984 Race of Champions where, inspite of being a rookie, he wiped away his opposition which consisted of former champions – Alan Jones, John Surtees, Jack Brabham, Phil Hill, Niki Lauda, James Hunt and many others.
From then on, there was no stopping him. He went from strength to strength with spectacular drives in 1984 Monaco, 1985 Portugal, 1993 Donington being among the best. One thing common between these three races – rain. Senna had the uncanny ability to find grip on a wet track where none of his opponents could and that allowed him to win some of these wet races by margins of minutes rather than seconds and lapping almost the entire field in the process.
THAT lap at Donington Park, 1993 :-
There are drivers who can transcend the capabilities of the car but are not that good with technical feedback. Senna was definitely not one of them. He was one of the most technically sound drivers on the grid and, ironically, he might have had a major role to play in ironing out the deficiencies of the FW16 – the same car in which he died and in which Damon Hill was challenging for wins later in the year. Even though Senna wasn't at all that happy with the car, he still put it on pole in all the first three races – that itself speaks lots about what a talent Senna was. Not only that, he was also one of the first to suspect something illegal on the Benetton that year – although no one believed him at that time, it later proved to be true.
He never understood the politics of the sport but made up for it with his strong connections around the paddock – one of them being Prof. Sid Watkins, who became his life-long friend. Frank Williams put it perfectly, "Actually, he was an even greater man outside the car than he was in it".
Senna was extremely proud of his Brazilian heritage but he was not foolish to undermine the problems his countrymen were facing. He wanted to provide the basic necessities and education to impoverished children in an organised way. Though he couldn't fulfil his wish during his lifetime, his sister carried forward his dream and now the Senna Foundation supports well over 50000 children.
Senna loved Brazil and in turn, Brazil loved Senna. Therefore, the Brazilian Grand Prix every year became a true spectacle to watch. Throughout the weekend the crowd would sing 'O'le O'le O'le O'la Senna, Senna' and the enthusiasm reached fever pitch when he finally won his home race in 1991 – a race in which he had to drive the final 7 laps with only 6th gear.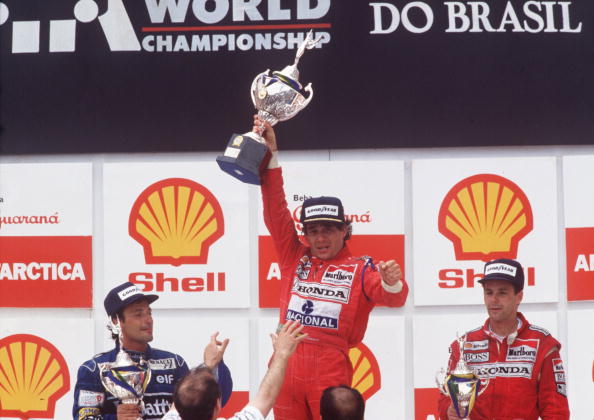 In a time of political turmoil, he was the only silver lining and was truly announcing Brazil onto the world stage. Therefore when the tragic news of his death reached home, the whole nation cried because they had lost their hero. If one sees the footage of his funeral, it will be evident how many people's hearts Senna touched with his efforts and how those people were trying to get a glimpse of his coffin from every possible nook and corner. So much so, even when the Brazilian football team won the 1994 World Cup, they paid tribute to their fallen hero.
161 Grand Prix Starts, 65 pole positions, 41 wins, 3 world championships…..
Ayrton Senna had a lasting impact on the whole sporting world. There might be only a small memorial at the Imola track but his name will be etched in our hearts forever. The legend started on that extremely wet day in Monaco in 1984 and will continue forever. Viva Senna!