Jim Clark's records might show only 25 wins and 33 pole positions- an achievable feat these days and drivers like Michael Schumacher and Ayrton Senna have managed much more – but the era in which he achieved those figures marks him as one of the true greats of F1. Till Clark's death, the record of 25 wins and 33 pole positions was the highest for an F1 driver, surpassing even the great Juan Manuel Fangio.
He began his career racing in local rally races, entering his own Sunbeam Talbot. After 2 years of racing without catching the eyes of anybody having deep links to international motorsport, the day finally arrived which would change his life forever. In a race in 1958 at Brands-Hatch, Clark would finish second to Colin Chapman- the man who would make him a hero by producing some breathtakingly fast Lotus cars in the mid 1960s. Chapman was heavily impressed with Clark's drive at Brands-Hatch and offered him a drive in a Formula Junior Lotus.
Clark quickly made the step up to Formula 1 when he replaced John Surtees at Lotus in 1960. The 60s were the most dangerous period in the history of the sport and Clark had his fair share of experience of the same when he saw two deaths in only his second race. At Spa, Chris Bristow and Alan Stacey crashed fatally and Clark was horrified to see Bristow's beheaded body as he narrowly avoided it on track while racing. From that time till the end of his career, he would absolutely hate the legendary track which was much more dangerous in those days – double the length and with average speeds over 200 kmph, the Eau Rouge was much more challenging then and the track included one of the most dreaded corners in the history of F1 racing: the Masta Kink, a very fast left-right taken at full throttle over 250 kmph. But such was the skill and determination of the guy that he still won at Spa four consecutive times from 1962-1965 – stuff of legends no doubt.
Colin Chapman was always famous for building extremely fast but equally unreliable cars. That didn't change for Clark when he had to lose the championships in 1962 and 1964 due to oil leaks in the final race both times. But when there was no mechanical trouble, Clark absolutely blew away the opposition. One prime example of that was the 1967 German Grand Prix when the Lotus was not an easy car to drive but still Clark got pole in it by a staggering 9 seconds. This also brought out another of Clark's skills – to drive around problems. He was capable of driving a car with any given setup – he never asked to change the setup to make it to his liking, he went out on track and tried to make the car go faster by adjusting accordingly at corners, which was very easy for him as he had a very smooth driving style and it never looked like he was trying to muscle the car across the corners.
Every legendary driver has atleast one outstanding drive in his career and it was no different for Clark. Ironically, it came at the track which he hated most, Spa-Francorchamps. On a very wet and foggy day in 1963, he made a lightning start after starting 8th and very soon there were only 2 cars on the lead lap- one being Clark and the other being Bruce McLaren in his Cooper, who ultimately finished 5 minutes behind Clark.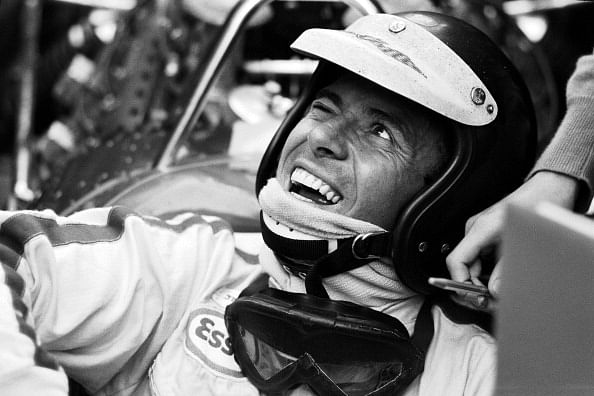 In those days, there sometimes would be quite a large gap between two races and the drivers would try out other racing series'. Clark did the same and while many fail to make an impact outside F1, he achieved success wherever he raced. After leading 190 of the 200 laps in Indianapolis 500 in 1965, he became the first driver from outside America to win the race and also the only driver till date to win the Indy 500 and the F1 championship in the same year. Clark raced in the Tasman Series and became triple champion there in 1965, 1967 and 1968 with an unprecedented 14 wins. Not only that, he even tried his hand in the British Touring Car Championship and again stood on the top step of the podium in 1964.
While he was achieving success in series' outside of F1, Lotus' performance dropped after the 1965 championship double. 1966 was such a poor season that Clark even thought of quitting Lotus at the end of the year, but somehow stayed on. 1967 was a better year and he could have won the championship that year, had it not been for retirements early in the season.
Clark had had only four major accidents before 1968 during an era when the highest percentage of deaths was registered in the sport. He rarely made mistakes behind the wheel and his infamous crash with Wolfgang von Trips in 1961 was not his fault either. But what happened on 7 April, 1968 is still under debate. On a wet Hockenheim track in a Formula Two race for Lotus, Clark took to the track on Firestone tyres (Firestones didnt provide good grip in the rain) and on Lap 5, he went off track at Ostkurve and crashed heavily into the trees. Clark died before being taken to hospital and the whole racing world was shocked. There was doubt regarding what had caused the accident – driver error or mechanical/tyre failure. The common opinion was that it was a deflating rear tyre that caused the crash because people, including the F1 drivers, couldn't believe that a driver like Jim Clark could ever make such a mistake – such was the respect he had earned during his career.
Whatever the reason, that day the racing world lost one of the greatest drivers ever and many of his close friends, including Colin Chapman, who had developed a fraternal relationship with him, were heavily affected. Jackie Stewart, being a friend of Clark, upped the ante on his campaign for safety after this incident and it can be definitely said that the shy, affable guy from Scotland has played a huge part in increasing the safety standards in the sport, albeit not in the way in which everybody would have wanted him to.
Why Jim Clark was one of the greatest F1 drivers ever, the comments of people who knew him personally will make it more clear:-
Three times champion Sir Jackie Stewart: "He was so smooth, he was so clean, he drove with such finesse. He never bullied a racing car, he sort of caressed it into doing the things he wanted it to do."
A nice story involving Clark and Stewart: Monza's Curva Grande was much more challenging than it is now and Stewart was telling how frightened he was when his throttle stuck open at that corner. When everybody was busy praising his heroics, Clark spoke from behind: "Are you saying, Jackie, that you normally lift off there?"
Stewart on what Clark's death meant to the motor-racing world: "The loss of Jim Clark… I think, was like to motor racing what the atomic bomb may have been to the world during the second world war. It was something that nobody truly believed could have occurred. The dimensions of it were so drastic and so devastating to us all. I think for the first time we truly realized that motor racing was, or could be, hopelessly dangerous."
F1 driver Chris Amon after Clark's death: "If it could happen to him, what chance do the rest of us have? I think we all felt that. It seemed like we'd lost our leader."
F1 driver Jean-Pierre Beltoise: "Jimmy was a demi-God, he was the best driver among us at that time."
Lotus mechanic Eddie Dennis on his dominance at Spa in 1967: "Clark came through at the end of first lap of the race so far ahead that we in the pits were convinced that the rest of the field must have been wiped out in an accident."
Legendary F1 commentator Murray Walker on Clark's heroic drive at the 1967 Italian Grand Prix where after being a lap down as a result of a puncture, he charged through the field to take the lead: "On the 13th lap, Jim Clark came in to change a tire. He was finished, out of the race as far as everybody was concerned – except Jim Clark."