Top 5 most hopeless Drivers in Formula 1
2.44K //
Timeless
After having covered the top 20 Greatest F1 racers ever, let's move to the other end of the spectrum – the worst drivers to have ever sat behind the wheel of a Formula 1 car. Unlike the best drivers, we won't be dedicating a single article to each driver. Reason: We don't think it would be worthwhile to do so! Each of these drivers listed below have had such pathetic moments in their F1 careers that lesser talked about them the better. Anyway, let's start our journey through these most memorable careers (albeit, for all the wrong reasons) :-
TAKI INOUE
Claim to Fame: Hit by a slow moving marshals' car when trying to extinguish the fire on his stricken car!
He is widely regarded as the worst driver to have been in F1 – both due to his on-track skills and more probably because of his antics when he wasn't racing. Apart from his "Claim to Fame" incident, another unbelievable moment was during the 1995 Monaco Grand Prix when he was hit from behind by a safety car while being towed away after having stalled during Free Practice. Sometimes he would have really wondered what wrong he had done in his life! Neither were his driving skills any special to make people forget these amazing incidents – he was way behind his teammates on most of the occasions.
Funnily, a few months back he thanked the fans for voting him as the worst driver ever. Surprised? Maybe you shouldn't because only a person who could be hit by a car at 30 kmph and then fall unconscious would have the courage to do so…
Just for the record though:-
Races:- 18, Starts:- 18
Wins:- 0, Podiums:- 0, Points:- 0 (as if one would expect him to earn any!)
GIOVANNA AMATI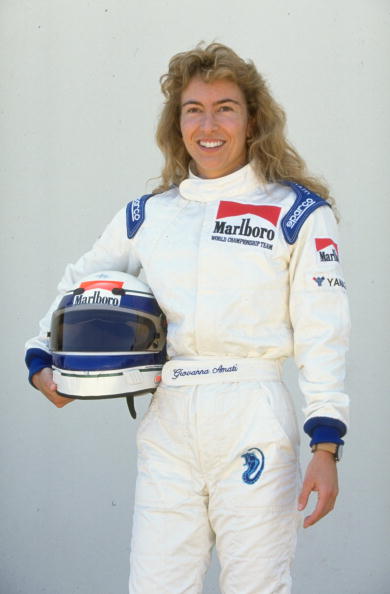 Claim to Fame: 3 out 3 DNQ's while being multiple seconds off her teammate's pace
Let's be a bit lenient on her, after all she is one of the very few female drivers to have actually driven an F1 car. But still one can't be forgiven after spinning 6 times during one's first practice session. It was only for financial banking and publicity that Amati was able to hang on to her seat for 3 race weekends. The moment her money stopped, she too had to stop. No blame could be put on the Brabham team for doing so because she was just not good enough behind the steering wheel, always lapping 5-6 seconds slower than her teammate. She was replaced by young kid on the block Damon Hill.
JEAN-DENIS DELETRAZ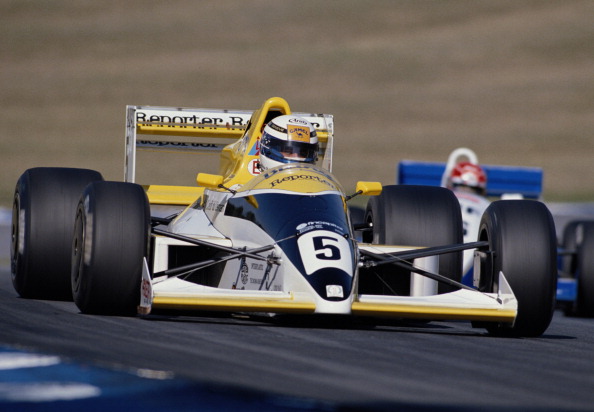 Claim to Fame: Nothing much, just too slow!
During his first grand prix with Larousse, he was lapped on the 10th lap. His race ended 47 laps later, having been lapped another 9 times. In contrast, his teammate finished the race just 2 laps down. He raced for another 2 races the next year – one retired, the other finished 7 laps down then finally retired for good.  Qualifying was no respite for him either – he was always outqualified by his teammate and never came off the last row of the grid.
It would be wrong to jump to conclusions though. He was a very successful sportscar driver and was the class winner at the Le Mans 24 hours twice. Therefore, it really remains a mystery why he couldn't perform in a Formula 1 car.
AL PEASE
Claim To Fame: Black flagged for being too slow! (first and last time ever that has happened)
To begin with, he entered Formula 1 at the ripe age of 45. Him being included in this category of drivers itself proves that he was no Jack Brabham, who won his final championship at the age of 40. Like Sir Jack, he was a very tough driver to pass but unfortunately at the wrong end of the grid. Both the grands prix he started were memorable for two very different but equally bizarre incidents. In his first race in 1967, he finished behind winner Brabham an unimaginable 43 laps down! Even three drivers who had retired well before the chequered flag were classified ahead of him. The reason being him running the length of the track to get a new battery from the pits after his car had stalled in the rain, which he installed himself. Now that's commitment we would say! His second race at Canada, he just didn't want to get lapped. In that process he took out one of the lead drivers and then when Jackie Stewart had almost become his victim, Tyrrell boss Ken Tyrrell complained and Pease was disqualified.
Hats off to him for having such an eventful career!
OTTO STUPPACHER
Claim to Fame: Not starting the Italian GP because he had gone back to his country having been disappointed with his DNQ
3 DNQ's in 3 races, not taking into considerations other disqualifications come the end of qualifying. That quite sums up the career of the Austrian. But things become worse when we come to know that in the three races he tried to qualify, he was almost 13, 13, 27 seconds off the pole time respectively! Now that takes some beating and even Stuppacher would be at odds to explain the reason for being so slow in a car with which Patrick Depailler had scored podiums in the beginning of the season.
Drivers such as Luca Badoer, Esteban Tuero, Shinji Nakano and others  were also in contention for the top 5 in this category but specifically those were chosen who were comprehensively outqualified and outraced by their teammates and were involved in some very bizarre and atrocious incidents. What did not click for them in F1 no one will ever know, but their careers have been etched in the history books as the most hopeless the sport has ever seen.