Twitter reacts to Lewis Hamilton's champagne spraying stunt at Chinese GP
Lewis Hamilton's stunt on the Chinese GP podium, when he sprayed a hostess with champagne, has provoked widespread criticism.
News
14 Apr 2015, 13:20 IST
11.81K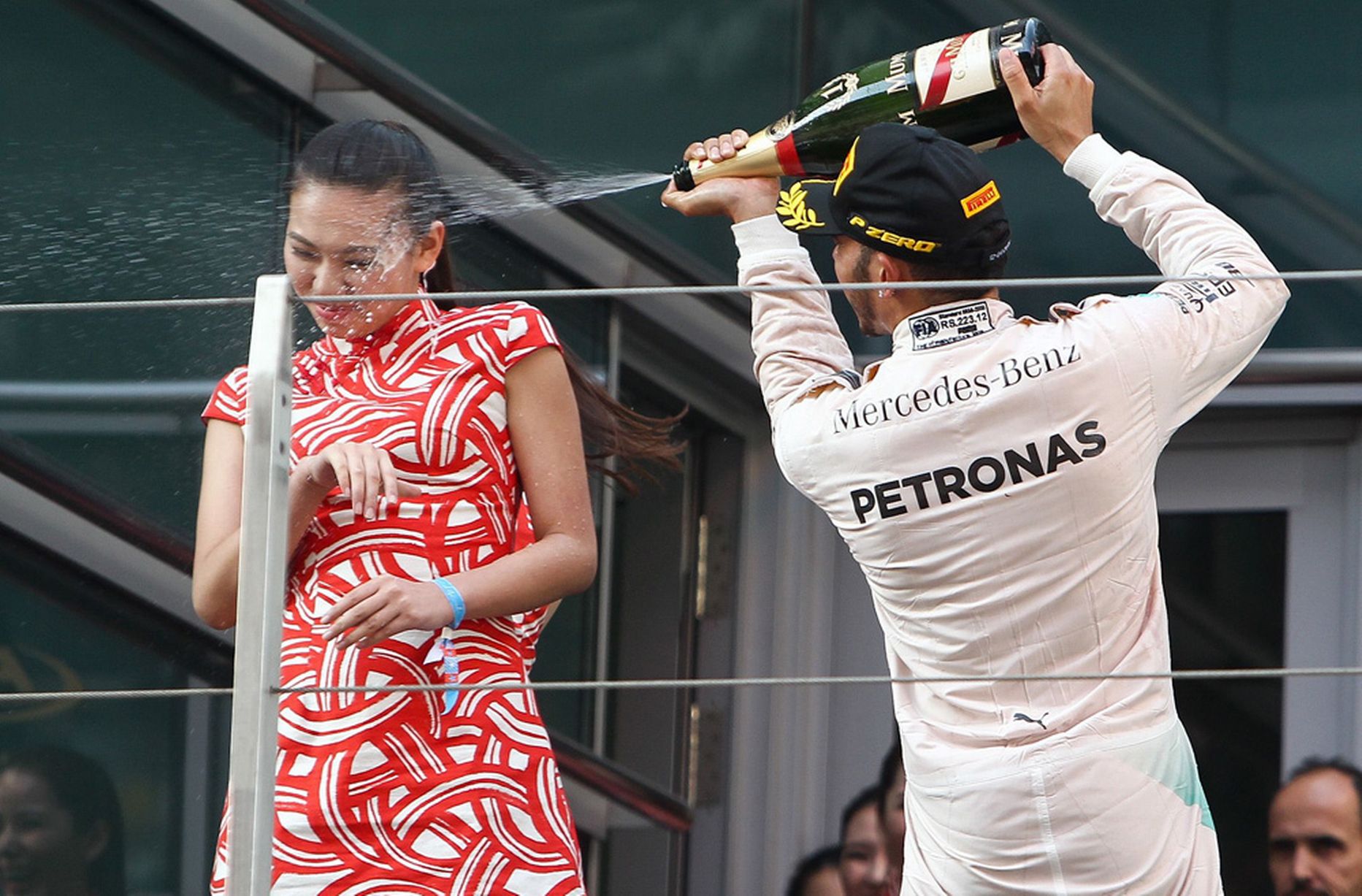 Probably giddy from racing to his second win of the season at the Chinese Grand Prix, Mercedes driver Lewis Hamilton, in a flight of exuberance, sprayed a hostess' face with champagne during the celebrations that followed his victory on the podium.
Hamilton, who won the Chinese GP for the second time running, was also criticised by his Mercedes teammate Nico Rosberg for having cost him the chance to win the race by driving slower than necessary.
While the practice of popping the cork of a champagne bottle is often deemed as part of the celebrations, Hamilton, by directing the bottle on the hostess' face seems to have earned the wrath of many. The hostess, for one, looked nowhere near pleased with Hamilton's actions. Moreover, this isn't the first time that Hamilton stands accused of having soaked a hostess with champagne. At the Spanish Grand Prix last season, Hamilton had pulled off something similar.
Hamilton's antics at the Chinese GP have provoked strong reactions from the media and has led to a widespread backlash on twitter.
Arrogant tax exile: Lewis Hamilton sprays hostess in face with Champagne after Grand Prix http://t.co/DGbgigncmU pic.twitter.com/BfwW5KBxqY

— Steve Clark (@steveclarkuk) April 13, 2015
I thought Formula One was a gentlemanly sport but that photo of Lewis Hamilton opening the champagne bottle onto a woman's head is so AWFUL.

— Megan Robinson (@threadnz) April 13, 2015
Lewis Hamilton. What a gold-plated arse pic.twitter.com/U87FIUAEs6

— Camilla Long (@camillalong) April 13, 2015
I can think of worse things to happen at work than getting sprayed in the face with champagne by @LewisHamilton .. Lighten up people!

— Tash (@TashP351) April 13, 2015
Some crazy women are out in force to criticise Lewis Hamilton for spraying someone with champagne on the podium. You're actually mental.

— Baked Brit (@BakedBrit1) April 13, 2015
Lewis Hamilton spraying champagne into the face of the hostess is a jerk move. She clearly wasn't expecting it nor thought it was funny.

— Courtney (@CourtneyHosking) April 13, 2015
Lewis Hamilton behaved like a complete git but perhaps the stupid practice of spraying champagne should stop totally http://t.co/7qmRgK38Lk

— Rick Eyre (@rickeyre) April 14, 2015