The uncertain future of Narain Karthikeyan
777 //
02 Nov 2012, 19:33 IST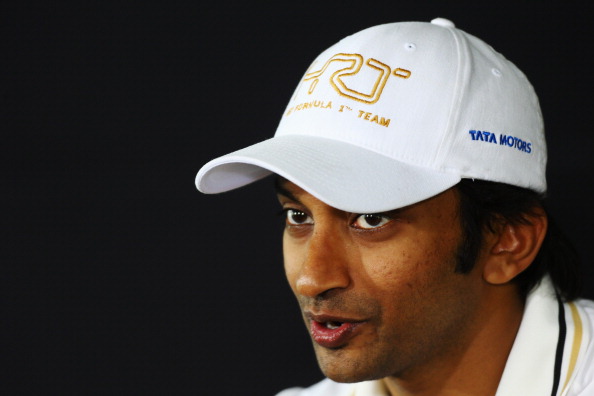 The fastest Indian on wheels Narain Karthikeyan is set to complete his third season in Formula One, and his second with the HRT F1 team, formerly Hispania Racing Team. Running at the back of the grid and not being in contention for championship points throughout the season with a non-developing car has not helped Narain's fate in any way.
The future of the Indian speedster looks bleak as he is yet to be offered a contract by his current Formula One team, while there are also no signs of him getting a drive in any other form of racing as well. However, there are reports that he might be heading to USA if he does not get retained in the slow-moving HRT F1.
For the 35-year old Indian, who has five career points to his name in his 42 race starts, this could be the end of his Formula One journey. Let's have a look at some of the feasible driving options which Narain Karthikeyan has for the next season.
Formula One
Of course the Formula One will be Narain's top priority, and he will be doing everything to retain his seat in the HRT F1 Team. Moving a step forward on the grid would be impossible for the Indian, who has raced as the back-marking car throughout his entire F1 career. Sponsorship money could play a key factor here, as everyone knows that Narain is paying a heavy chunk of money to HRT to be able to race in F1. It will be interesting to see how Narain's sponsors will react after getting almost no TV coverage in past two years in the back running HRT F1 team.
Narain also does not stand a chance of racing for the Sahara Force India F1 team, as the deputy team principal of SFI Robert Fernley has said that "unfortunately, this is not the situation". So, let us see how much money Narain can arrange at the end of the season to get a drive in Formula One.
Indy Car
This could be a realistic option for Narain, who has already tasted some success on US soil while competing in the NASCAR Truck series. The reason for it is the sponsorship money that Narain brings, as according to the reports the current money he commands is enough to get Narain a seat in Indy series.
Narain has tested in the Indy series previously as well, as in 2005 he tested for Red Bull Cheever Racing team for the Indy Racing League and was also offered half a million US dollars as an initial fee. Due to some unfavourable circumstances the deal could not go through. However, this could be the chance for Narain to book his seat in the Indy series.
NASCAR series
How about that for a change? Narain has competed in the American oval racing know as NASCAR and could make a return to US where he is fairly popular. Narain last competed in the NASCAR Kroger 250 Camping World Truck Series for Wyler Racing in 2010 and performed quite well there.
Though this could be an option, there has not been any news regarding a talk between Narain and any NASCAR team.
I am hopeful that Narain will get a drive for HRT F1 Team in 2013. Let's hope that Narain ends up getting a seat somewhere and Indian motorsports fans get a chance to cheer for their hero.