A genuine striker attacks, with a clear striking ability and responsibility to put the ball in the back of the net. They score massively from all angles under difficult situations. The strikers in this list have been chosen based on their fame, impact, career success, and goal scoring ability.
There were several contenders like Josef Bican, Thierry Henry, Gary Linekar, and others who did not make the cut as per the criteria. Legendary players like Diego Maradona, Johan Cruyff, and others were forwards/attacking midfielders hence did not qualify to be in this list.
These ten strikers were loved by their fans, and their major contribution is the fact they won the game for their team.
#10 Arthur Friedenreich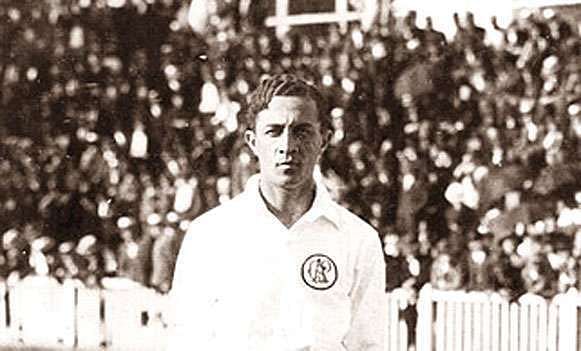 Arthur Friedenreich was a Brazilian football player. Some football experts say he scored the most number of goals in the history of football. He scored the most goals playing in the Liga Paulista for eight seperate years starting in 1912, till 1929. Even Pele could not achieve this feat.
At the time he started playing football, racism was quite prevalent. Despite all the odds, he rose like a tiger to set the tone of how football was meant to be played in Brazil. He was described as having dribbling skills to be far better than Garrincha and Pele, so much so, that the fans rose from their seats to watch him play. Reportedly he scored 1329 goals in 1239 games. Some experts say he scored 1239 goals in 1329 games.
The IFFHS placed him in 13th place as the 'South American Player of the 20th Century.'
#9. Marco Van Basten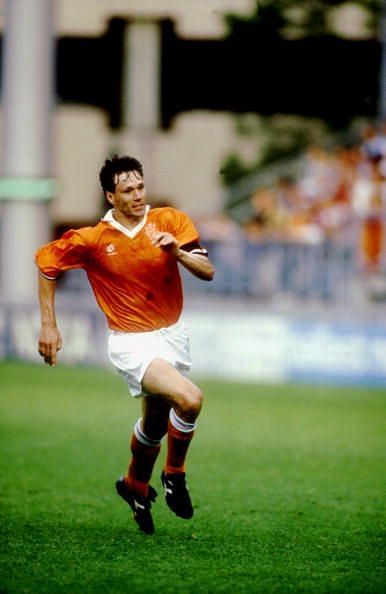 Marco Van Basten was a Dutch football player known for his ball control, strikes and attacking intelligence. He is regarded as one of the leading strikers in the history of the football. His bicycle kicks and volleys were spectacular.
He played for A.C. Milan and Ajax, where he scored 267 goals in 356 matches with 28 assists. Van Basten played 58 matches for Netherlands and scored 24 goals. They nicknamed him "The Swan of Utrecht."
He was instrumental in winning two European Cups and three Serie A titles. Van Basten won the Ballon d'Or award three times, in 1988, 1989, and 1992. The IFFHS placed him sixth in the 'European player of the Century' polls.
"Marco van Basten was my favorite player," Thierry Henry said on Invictos. "[He is] one of the best strikers in history."
#8. Romário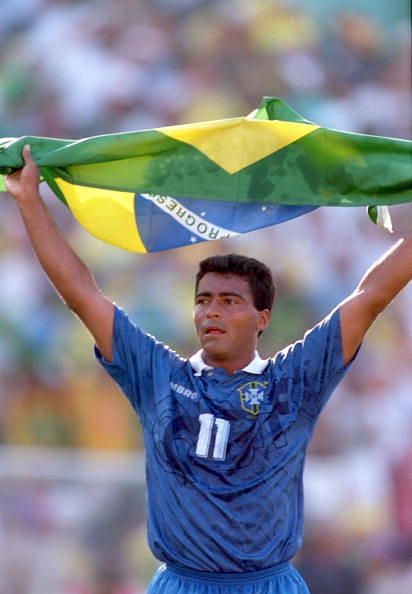 Romario was clinical in his approach, especially in the penalty area. In 2004, they named him in the FIFA 100 list of the world's greatest living players. He was awarded 'FIFA Golden Ball' in the 1994 World Cup. Johan Cruyff, his coach at Barcelona, described him as a "genius of the goal area."
Romario played 220 club matches and scored 165 goals. He also represented Brazil in 41 matches with 31 goals and 3 assists.They nicknamed him Baixinho ( "The Little One") for his short stature. When asked to comment on Lionel Messi and Cristiano Ronaldo, he said: "They have both won titles and the Ballon d'Or, but, modestly speaking, I can say that I was better than them in the penalty area."
They named him in the 'FIFA World Cup Dream Team' in 2002.
#7. Sandor Kocsis
Sandor Kocsis was a Hungarian football player who played for FC Barcelona, Young Fellows Zurich, and other clubs as a striker. He was a prolific goalscorer and emerged as a top scorer in Europe between 1952 and 1954.
He played 40 club matches and scored 23 goals. For Hungary, he played 68 matches and scored 75 goals. Kocsis registered seven hat-tricks for his national side. He was famous for his headers and razor-sharp footballing brain. They nicknamed him "The Man with the Golden Head."
An interesting anecdote of his commitment was the fact he could not dress properly after the game against Uruguay in the semi-final of the 1954 World Cup because he was so drained in scoring the two deciding goals against the opposition.
Kocsis scored 11 goals in five games of the 1954 World Cup in Switzerland.
#6. Alfredo Di Stefano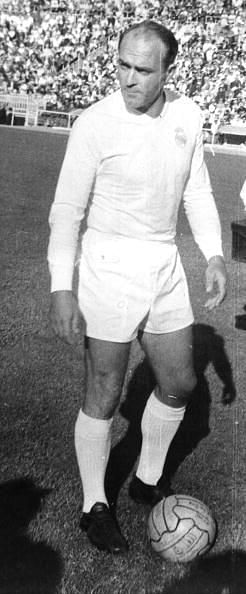 They rated Alfredo Di Stefano as the perfect footballer of all time. His ability to control the game from all angles and positions in the forward area made him a lethal striker. He played as a striker but was outstanding in the midfield and defense positions also.
He was visionary, tactical, and possessed great endurance. Di Stefano was one of the major factors in Real Madrid's domination of the European Cup during the 1950s. He played 232 club matches and scored 156 goals. Di Stefano also played 41 matches for Argentina, Spain, and Colombia with 29 goals.
The World Soccer and IFFHS put him on the sixth and fourth position in the 'Greatest player of the century' poll, respectively.
On his death, Roberto Carlos said: "During my 12 years with Real Madrid he always showed me how to be a footballer and how to make history. He always treated me with love. It is a sad day for me because he was a marvellous, charismatic person, who always laughed and was always an icon for Real Madrid. Rest in peace maestro."
#5. Gerd Muller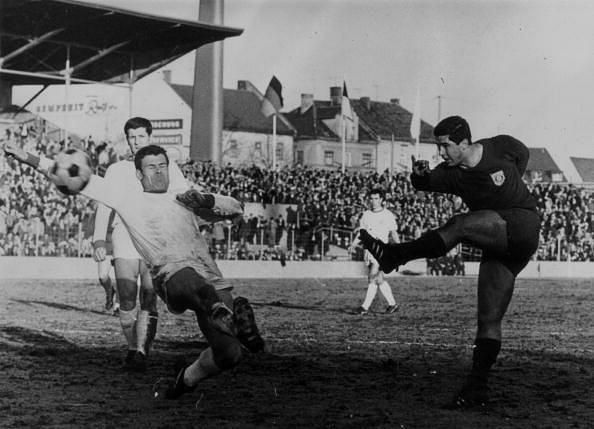 Gerd Muller was a German football player with prolific striking ability. They nicknamed him "Bomber der Nation" ("the nation's Bomber") for his goal scoring ability. They also regarded him as one of the greatest goalscorers of all time.
Muller played 565 club matches and scored 508 goals with 106 assists. He also played 62 matches for Germany and scored 68 goals with 3 assists.
Muller scored the winning goal in the 1974 World Cup final for Germany to beat Holland 2-1 and it was his 14th goal in 13 World Cup matches.
The IFFHS voted him thirteenth on the 'World Player of Century' list.
#4. Ferenc Puskas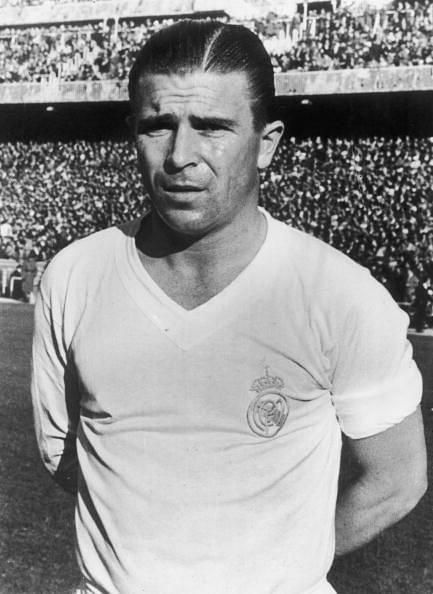 They regard Ferenc Puskas as the best Eastern European football player of all time. His goal-finishing skills and striking technique made him one of the best shooters. He was highly consistent and professional in his performances.
Puskas was the captain of the Hungarian national team, briefly. He moved to Spain in 1958 to play for the Spanish national team and Real Madrid. Overall, he played 223 club matches and scored 194 goals. For Spain and Hungary, he scored 84 goals in 89 matches.
Josep Maria Fuste said "Puskas is one of the five best players in football's history: Di Stéfano, Pele, Cruyff and Maradona. And Puskas Kubala, he was a physical beast, so determined that he would work to achieve anything he set out.
Puskas was the best Hungarian in history, he was wonderful. He played in one of the best teams in history, something unheard of: the Hungary that scored six goals against England in Wembley."
The World Soccer and IFFHS voted him on the seventh and sixth place in the 'greatest player of the century' list, respectively.
#3. Eusebio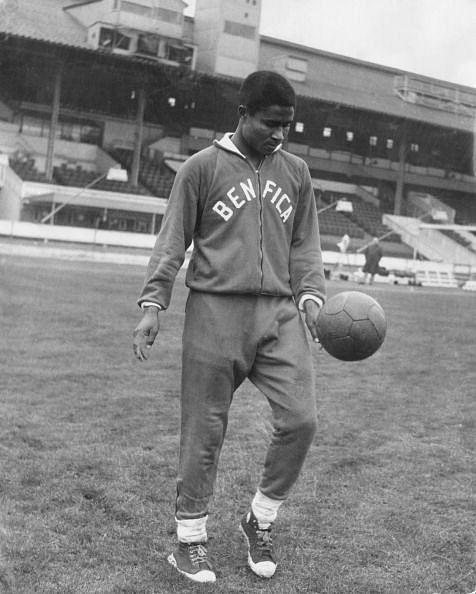 Eusebio Ferreira Da Silva was the eminent footballer who came from Africa and played for Portugal. He was admired for his fearsome shot-making ability and possessed powerful stamina. He played for Benfica along with another football legend, Mario Coluna.
Da Silva was instrumental in Portugal winning the only medal in their World Cup history. He scored 34 hat-tricks in his entire career. He won the Ballon d'Or award in 1965 but lost to Bobby Charlton in 1966.
The World Soccer and IFFHS voted him the tenth and ninth 'Greatest footballer of the century,' respectively.
#2. Ronaldo Nazario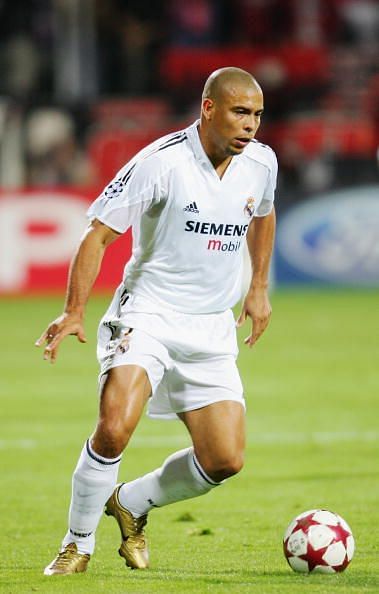 Ronaldo was a Brazilian striker, popularly known as O Fenômeno ("The Phenomenon"). They consider Ronaldo to be one of the influential football players of all time. He was known for his feints, dribbling, and clinical finishing. He played for various clubs like Barcelona, Real Madrid, Inter Milan, PSV, and others.
Ronaldo played 438 club matches and scored 291 goals with 44 assists. For Brazil, he scored 44 goals with seven assists in 68 matches.
Manchester United forward Anthony Martial said in an interview, "My two big heroes were both Brazilian: Ronaldinho and Ronaldo because they had magic in their feet!
Ronaldo won the Ballon d'Or award twice, in 1997 and 2002.
#1. Pele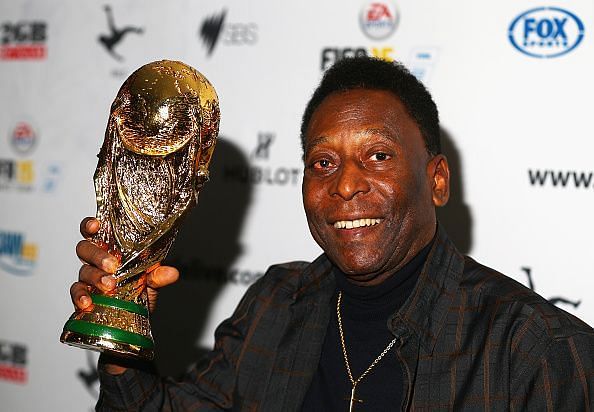 Pele is renowned as the "The King of Football." He is rated as the greatest footballer of all time. At 17, he won his first World Cup. Pele started playing as an inside forward, then became a striker and later developed into a playmaker. They admired him for his dribbling, pace, and extraordinary heading ability.
Pele is the leading goal scorer for Brazil and helped his side win the World Cup three times in his career. He scored 77 goals in 93 matches for Brazil. He also scored 650 goals in 694 club matches.
Zico told Goal, "No doubt, he is the greatest ever. When God built Pele, he put everything that a player needs in him. He knew how to shoot, how to dribble, how to head, be physical. He had everything that a football player needs to have. It's difficult for someone to achieve what he has in football."
The IFFHS anointed him the 'World Player of the Century' in 1999.