12 'Deadwood' Manchester United players who could move on this summer
16.34K //
21 May 2015, 14:44 IST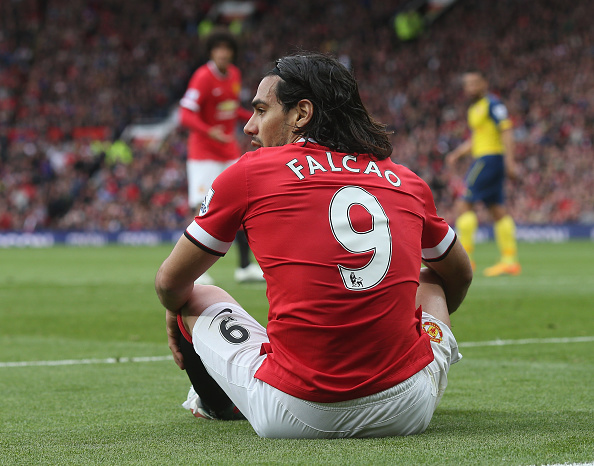 "When you purchase other players you get another stimulus in the group and you need that. Our selection is out of balance and we have managed to be fourth in the league but we have to manage to be the champions.

"So it shall be a rough summer I think for a lot of players." – Louis van Gaal
With the season drawing rapidly to a close, thoughts turn to the summer transfer market; the nation's back pages are filled with little but speculation about just where Van Gaal will spend a reported £150 million summer transfer budget. However, much as was the case last summer, when United sold, released or loaned 15 players, a significant proportion of United's business will involve the Old Trafford exit.
It will be a lonely walk for some, including a clutch of big-name players. Rant assesses just who might be having a "rough summer" among Van Gaal's squad. David de Gea not included.
1) Radamel Falcao
The Colombian joined with much fanfare on deadline day last summer, with United paying a £6 million loan fee to Monaco and picking up the tab on Falcao's £265,000-per-week wages. It has proven to be a huge investment for very little return, with the striker scoring just four goals in 29 appearances across all competitions this season while spending much of the campaign on the bench.
There is no doubting Falcao's commitment or work-rate, but that extra explosive sharpness has, sadly, gone. The cruciate knee injury suffered in January 2014 has fundamentally changed the player for the worse. It has, in truth, been hard to watch Falcao's descent from one of the world's truly élite strikers to a man struggling to make any impact at all. There is no chance United will commit a further £46 million investment on the 29-year-old this summer.
Chance of departure: 10/10. Fee if sold: N/A
---
2) Anders Lindegaard
The Dane has oft said that he didn't come to United to 'pick his nose', although he might as well since there is little chance that Lindegaard will play for the club again. Signed in January 2011, Lindegaard once challenged a callow David de Gea for the number one jersey at Old Trafford.
It was a short-lived spell as Sir Alex Ferguson's preferred stopper. In the end de Gea's class told and Lindegaard has spent the entire season in the reserves. Even de Gea's departure will do little for the Dane's prospects at Old Trafford. A free transfer awaits.
Chance of departure: 10/10. Fee if sold: Free
3) Rafael da Silva
What went wrong for Rafael? A United player since 2008, the diminutive Brazilian was supposed to have matured into an international class full-back by now. There has always been much to admire: pace, natural attacking instincts and genuine tenacity in the tackle. On paper, the 24-year-old should offer much in an attacking Van Gaal system.
Yet, two factors precipitate Rafael's probable departure this summer. First, the player's slow burning path to maturity; Rafael is still liable to defensive mistakes that should now be eradicated from his game. More importantly, he is a player who is so rarely fit.
Rafael has only once played more than 30 games in a season. It is simply not enough return to be considered a safe bet in Van Gaal's evolution.
Chance of departure: 9/10. Fee if sold: £5-8 million
---
4) Javier Hernandez
It has not been an easy season for Chicharito in Madrid, although a burst of goals towards the end of the campaign has brought the Mexican some cheer. Yet, Hernandez has spent much of the campaign on the bench, just as he did under Moyes last year. Strange that the Scot reportedly refused to use Hernandez as bait to lure Gareth Bale from Tottenham Hotspur in the summer of 2013.
Back at Old Trafford Chicho will be granted few opportunities by Van Gaal – a manager who routinely seeks out more rounded strikers.
Chance of departure: 9/10. Fee if sold: £8-10 million
5) Nani
These are strange times indeed if Nani, who has spent the season on loan at Sporting, holds some chance of being recalled to Van Gaal's squad, albeit a slim one and only because few clubs can afford the player's extravagant wages. Nani has rarely achieved any consistency through a career that has so often promised much but delivered only sporadically.
Once again, the winger has put up good numbers this season at Sporting: 10 goals and two assists. There were also times at United when he was highly productive. Yet, there was never a period when he was reliable. Inexplicably David Moyes pushed for the player to be granted a new five-year, £100,000-per-week, contract last season. He played just 13 times for the Scot.
Chance of departure: 8/10. Fee if sold: £8-10 million
---
6) Jonny Evans
There was a time when one Rant Cast co-host claimed Evans to be "among the top five central defenders in the world." No, we couldn't understand it either. Still, everybody is allowed the odd mistake! The trouble with Evans is that it's almost every game and, at 27, the Northern Irishman is no longer the inexperienced kid returning from a loan spell at Sunderland full of hope.
Evans is an 'honest' player, in that ridiculous parlance of English football, and there's no brook with the player's effort or attitude. Yet, there has always been the nagging feeling that he was never quite good enough to represent United. After a season in which injury, poor form and an unfortunate suspension have hit the player hard a move might well revitalise his career.
Chance of departure: 7/10. Fee if sold: £8-10 million