A father-son relationship can be special and memorable but sometimes cold and challenging too. While mutual respect can go a long way in maintaining a great rapport, not doing so can lead to some real issues.
For many sportspersons, they have had to maintain this relationship not only at home but also at the workplace, while playing under their coaching fathers. It is one thing to be under your father's strict glare at home but having to do the same at work is another experience altogether!
Over the years, many coaches have brought their sons into their teams, inviting media attention and the expected criticism, with accusations of nepotism. It is always going to be a tough task for a desperate father trying to advance his son's fledgeling career!
Let's take a look at five players who were managed by their fathers.
---
5. Niko Kranjcar
The Croatian midfielder was a sensation early on during his time at Dinamo Zagreb, one of the country's biggest clubs. Niko Kranjcar scored on his debut aged just 16 before going on to become the team's youngest captain at 17.
For many people, this was no surprise; they just assumed Niko had inherited his father Zlatko's genes. The elder Kranjcar had played over 250 games for Dinamo, scoring nearly a century of goals during a 10-year stay and had also been named in the club's centennial best XI.
The father's influence became evident to the wider footballing public when Zlatko was named as the manager of the Croatian national team in 2004. He duly went on to hand a debut to his 20-year old son. While there was criticism from some quarters surrounding Niko's readiness and ability to help the team effort alongside Zlatko's stubbornness in continuing to play him, Niko remained in the squad even after his father's sacking in 2006.
Since then, he has racked up 81 caps for Croatia, while also playing in England and winning the FA Cup with Portsmouth in 2008. Father and son have gone separate ways; Zlatko went on to manage abroad, including five years in the Middle East while Niko played for Dynamo Kyiv and QPR, New York Cosmos and Rangers, before retiring in 2018.
---
4. Jordi Cruyff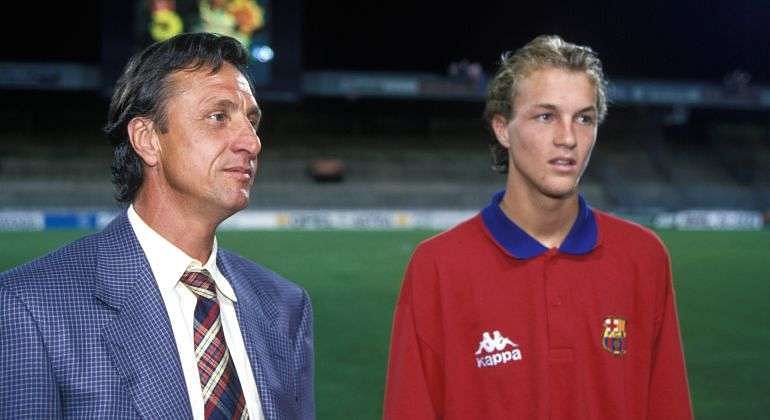 Being the son of one of football's greatest legends means that your every move will be scrutinized. That's precisely what happened to Jordi Cruyff. When Johan Cruyff's only son took his first steps in professional football, he could probably sense the baggage that came with his famous surname.
The recent demise of Johan brought back the spotlight on Jordi. It is easy to say that his father's legacy hampered Jordi's career, but that is only said without considering all the positive influence that also came from Cruyff senior. While his father managed Ajax and Barcelona, Jordi was able to play at two of the best youth setups in the world. And without his father, would Jordi have got a chance to play at Barcelona?
It was in 1994 that Jordi made his debut for Barca's senior team, with his father in the dugout. That relationship didn't however mean any special treatment for the son.
"On the training field, if I made a mistake, then my father would have a go at me more than anyone else. He wanted to show that he wasn't doing me any favours"
Despite being below the likes of Romario and Stoichkov in the pecking order, Jordi ended up scoring nine goals in his first season.
When Barcelona sacked Johan Cruyff, Jordi left too, moving to Manchester United. His career after that was much less spectacular than his father's, but he will forever remain indebted to his father for guiding him during his footballing beginnings.
---
3. Darren Ferguson
In a coaching career spanning almost four decades, Sir Alex Ferguson gave professional debuts to numerous young footballers. Among the hordes waiting to impress Ferguson at the first opportunity was his son, Darren. The younger Ferguson was 14 when his old man took over the reins at Manchester United.
Sir Alex was keen to give his son a good upbringing and started him off in United's academy which had just started to regain its reputation of old. In 1990, Darren was handed his first-team debut by his father. However, if Sir Alex did harbour hopes of Darren becoming a United star, it was extinguished quickly.
Darren could only manage 27 league appearances in four seasons at United. He spent the rest of his career in the lower tiers of the English football pyramid, turning out for Wolverhampton Wanderers, Wrexham and Peterborough United.
However, Sir Alex's name and influence remained strong in Darren's life. After following his father into management, Darren started with his first stint at Peterborough before joining Preston North End. When Preston sacked him, Sir Alex immediately recalled three Manchester United youngsters who were on loan at Preston!
Stoke City's Tony Pulis, a close friend of Ferguson's, then followed suit and recalled two of his players, which meant that Preston struggled and were subsequently relegated. That will teach them not to mess with the Fergusons!
---
3. Paolo Maldini
The next father-son duo reminds us of Johan and Jordi Cruyff, although there are some differences. When Paolo Maldini retired from football in 2009, the world of football bid farewell to one of its storied icons.
He had won numerous titles and accolades in a brilliant 24-year long career with a list of achievements that far outstripped whatever his father Cesare had racked up. But, Cesare would have been proud to say that he played a part in his lad's development. For it was Maldini Sr. who gave his son his first runout in national colours.
Cesare had been a star with Milan, going on to captain the side and winning the league on four occasions, in addition to the European Cup in 1963. He also appeared for Italy at the 1962 World Cup, finishing with an All-Star team spot. And so, when his son Paolo debuted for Milan in 1985, expectations were huge. The rise was quick, and a year later, then-Italy U21 manager Cesare called his son up to international duty.
"The situation was embarrassing because for better or worse, there were always people willing to say that I was a favored son. I've always tried to forget that the coach is my father. But since those early days, things have changed and people don't make certain accusations anymore."
Father and son didn't stay together for long though, because Paolo would go on to make his senior Italy debut at the age of 20. But even there, his father would catch up with him once again.
Cesare took up the reins of the Azzurri at the 1998 World Cup and took a squad captained by his son to France. A quarterfinal exit meant farewell for Cesare, but he had one last opportunity to manage his son in 2001, when he took over as coach for three months.
The influence that Cesare had on his son is evident from Paolo's words:
"My father taught me everything. From the moment I first remember seeing a picture of him holding the European Cup, I wanted to copy his success. I think he was harder with me than with the other players in the youth teams at Milan.
"But I know that was only because he wanted to make sure no one could accuse him of showing any favoritism. In the long run, that made me try harder to succeed. I wanted to do it for myself, but I owed it to him."
---
1. Enzo Fernandez
Finally, concluding this list is one of football's upcoming talents. One can be forgiven for assuming that Enzo Fernandez is a South American. However, his name hides his relationship to football. His father is a certain Zinedine Zidane, who named him in homage to one of his favourite players – Uruguay's Enzo Francescoli.
The 'Fernandez' surname comes from his mother, as Zidane didn't want the extra attention and pressure his name would bring to the youngster.
A 2-year old Enzo took his baby steps in the game during his father's time at Juventus, starting to play in the age group sides at the famed Italian club. It was only a matter of time before play turned serious. Enzo joined the Real Madrid Academy as a nine-year-old when Zinedine moved to the Spanish capital to join the burgeoning Galactico camp.
A decade of development followed, and he stayed put at the club even after his father's retirement. It was evident that Zidane had great plans for his son as he even declined Sir Alex Ferguson's proposal for taking him to Manchester United.
In 2014, his careful grooming of his oldest son took an exciting turn. The younger Zidane's promotion to Real Madrid Castilla – the B team – coincided with his father's appointment as coach of the side. While technically, Zinedine was only assistant coach due to his lack of coaching badges, it was public knowledge that he wielded power and had the final word.
"He only plays because he deserves his place. It's hard, but he knows in the locker room, he is just another player. I'm a little hard on him because I'm picky. Physically, he's actually well ahead of me at the same age. But I know he can do better."
Before Zinedine was promoted to the Santiago Bernabeu hot-seat in January 2016, he had overseen the rise of his son to a prominent star of the Castilla team, even going on to hand him the captain's armband.
However, things have not panned out well for Enzo, who is currently plying his trade for UD Almeria in the Spanish second division on loan from Portuguese outfit CD Aves.