#2 Lionel Messi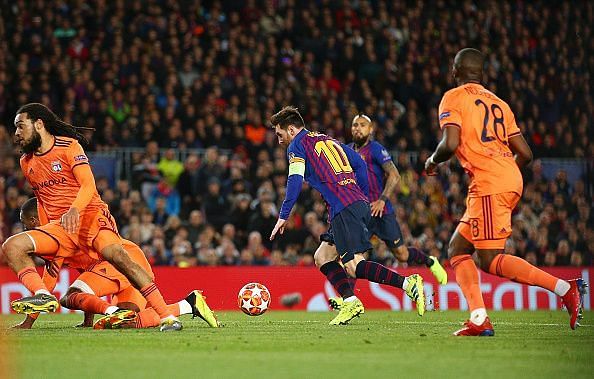 Lionel Messi is one of the two footballers who has defined the modern era of the game. Winning four Champions League's, a joint-record five Ballon d'Or's, Messi has a list of accolades to his name which would fill an entire document. The Barcelona captain is ever-present in the discussion of being the greatest human to ever kick a football.
Watching Messi play football is a gift to humankind. The little magician makes the game look more beautiful and simple than any player who came before him. The Argentine captain is the best dribbler in the world, the best finisher in the world, one of the top three playmakers, and the best free-kick taker in the world. On the offensive end, Messi might be the most complete player of all time.
Ever since he made his debut in 2004, Messi had rewritten the record books. Winning a club-record 34 trophies with FC Barcelona, Messi has also won a record 6 European Golden Boots. He holds the record for most goals scored in a calendar year (91), is the second leading goalscorer in the history of the Champions League, and the list goes on and on. Staying at the top of the game for over a decade, Messi's consistency and longevity defy belief.
The only thing preventing Messi from finishing first on this is his lack of an international trophy with Argentina. Messi's inability to win something with his national team is the only blemish on his career; a career the likes of which we may never see again.