Football stadiums around the world are filled with memories for the fans. Memories have been cherished, and men glorified, but there are also extreme cases of violence.
Like any other place which has seen death and violence, there are a few stadiums which are believed to be haunted by ghosts. Players, officials and even fans have claimed to have witnessed paranormal activities inside the stadium on different occasions.
Here are five such stadiums that are reportedly haunted.
---
5. Estadio do Dragão - FC Porto
In 2012, FC Porto defeated Paris Saint-Germain in a Champions League match at the Estádio Do Dragão. James Rodriguez scored the only goal of the game and ran over to celebrate with the Porto fans.
Amid the celebrations, it looked like there was a ghost celebrating it too! It appears to show a shadow of a man who was wearing clothes from the mid-1900s.
The Portuguese press names it as "The ghost of the Dragão" and rumours quickly spread that the stadium was indeed haunted. Speculations were ended when the same photographer produced another photo with an older man sitting in the same place, but fans were not ready to accept it so quickly.
---
4. St Mary's Stadium - Southampton
Southampton moved to the St Mary's in 2001 - a stadium built for just £32 million. They moved from The Dell after 103 years they moved to St Mary's - a stadium that more than doubled their capacity from 15,000 to 32,500.
The stadium is built on a site that used to be a graveyard before. It's said that the spirits of the people buried there were haunting the stadium when the Saints moved in during the 2001-02 season.
A terrible start to the season saw relegation looking certain as they picked up just 10 points from their first 14 matches—that cost manager, Stuart Gray his job after barely six months in charge.
Rumours spread that spirits were taking their revenge for the excavation of the pre-Christian tombs at the place where the stadium was built. The belief grew so strong that Southampton called an actual pagan white witch to rid the evil from the ground!
---
3. Highbury - Arsenal's stadium till 2006
Arsenal manager Herbert Chapman was known for his forward-thinking. He revolutionised the previously unsuccessful club with many innovations during the late 1920s and early 1930s. However, he sadly died of Pneumonia in the middle of the Gunners' most successful decade at the age of 55.
Despite having a severe cold and feeling uneasiness in his body, Chapman dragged himself to see three matches in one week in January 1934. This resulted in his health deteriorating even more and eventually leading to his death.
Until Arsenal moved out of Highbury, it was reported that late at night, you could hear Chapman's restless ghost pacing up and down the halls of the famous old ground.
---
2. Ghazi Stadium, Kabul
This football stadium in Kabul has been used more as a public execution ground than for playing matches. The convicts were forced to kneel before the Taliban and then executed. Arms and legs of those punished were hung from the posts for the public to see and fear. The stadium is believed to be haunted by the spirits of the convicts.
The stadium has been refurbished, but still, the people don't dare visit it after sunset. Talking about the stadium, an Afgan journalist said:
"There was a thief who stole something from his village. They cut his hand, right here. A man and a woman were having illegal sexual relations. They were caught, brought here, given 100 lashes each and told to marry each other. I also saw people beheaded and shot. Afghans will never forget these bad memories."
Another local added weightage to those claims later, as rumours of paranormal activity in the stadium began to do rounds around the world.
"The Taliban got the Kalashnikov, put it behind her head and shot her two times. She fell down on the ground. The crowd went quiet. It was a strange and dangerous atmosphere. People were shocked and scared. Sometimes I remember that woman, I even dream about it."
US Ambassador Ryan Crocker along with the leaders in Afghanistan refurbished the 25,000-seat stadium in an attempt to erase the memories of people about the stadium but have failed to achieve it. No one dares to enter the stadium alone, and women are usually asked to remain as far as possible from the stadium.
---
1. Stadium of Light - Sunderland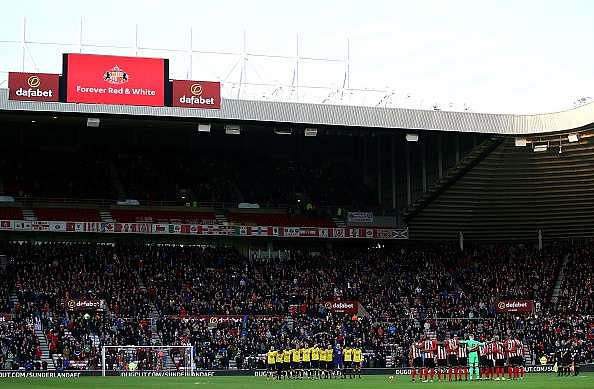 In April of 2005, two backroom staff claimed to have seen an unusual black shape in a dimly lit corridor. Many argued that it was just another person walking by and nothing serious.
But, not long after that, Irish striker Stephen Elliot also reported having seen the 'ghost', and that sparked talks of the stadium being haunted by a spirit. Many believe the spirit to be that of an 18th-century wrecker, Spottee. But nobody knows a reason as to why he was roaming around the Stadium of Light.
In September 2016, some fans who were watching Monday Night Football on Sky Sports were left stunned. They spotted a groundsman working on the pitch, but he disappeared into thin air seconds later.
Was it someone who worked at the Roker Park? Questions remain unanswered.
---