7 years on, where is the new Roy Keane?
1.79K //
02 Nov 2012, 17:45 IST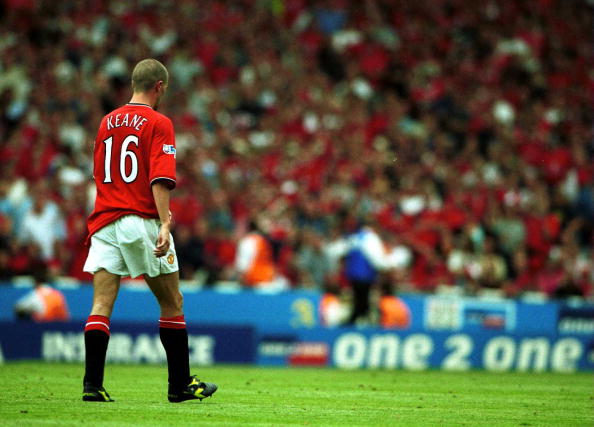 20 minutes – That's how long Roy Keane's last appearance was for Manchester United, and it was not on the pitch. It rather ended with the two of the most combustible personalities unloading their share of vitriol on each other. Unsurprisingly, it was Sir Alex Ferguson who was credited with another ousting from the United camp and this time it was the most successful captain of the club who was on the receiving end. After twelve years of dignified service donning the famous No.16, the determined Irish would've certainly wished anything other than a callous farewell as a parting gift. But then, akin to his outings on the pitch, one could've certainly envisaged an abrupt ending to his career. So in a way, it was a traditional Roy dismissal!
Seven years on, as we head into another Arsenal fixture – it is fitting to remember the Irish stalwart who had developed a special liking towards the North London club. Whether it was about racking up the most appearances against a club (even his debut for United), scoring vital goals for the Reds, or for those no holds-barred feuds with Arsenal's Patrick Viera – Keane seemed to have played one of the lead roles in Premier League's greatest hour.
More importantly, for Manchester United and Sir Alex Ferguson, the seven years speaks volumes about the sheer inability to find a player that can inherit every attribute that Roy was born with. In an age where players simulate in the box, considering it as an easier option than scoring all alone or complain to have been training too hard, Roy's passion was path-breaking for some and influential for the others. He craved for authority, showed it as he put everything on the line and retained it with his relentless work-rate on the field. He may have not been the most gifted professional in the sport, but it was single-minded laboured approach that visibly dismantled the opposition's confidence.
In my early teens, maybe I wasn't the best at understanding the nuances of the game, but judging the importance of the game in Keane's eyes never required much efforts. The unreasonable intensity in the tackles, the eye to find a pass to unlock the sternest of back fours, a voice sharp enough to enrage his side in the darkest of phases on the field – Roy served, followed and lived life with examples to create a lasting impression on his cohorts.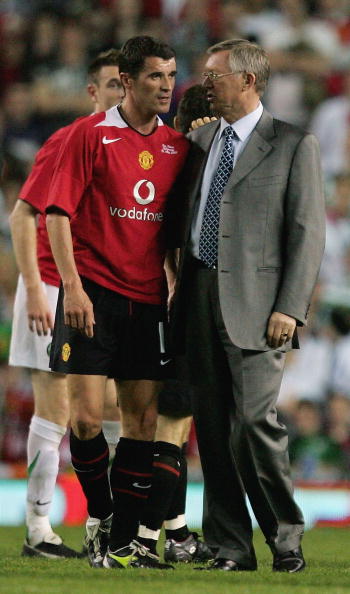 There was a sense of persuasion mixed with an unerring sense of pragmatism when Sir Alex in 2003 told Roy that United will dominate the English game with or without him; but with him comes the tantalizing prospects of achieving glory on the European front. The theory certainly does hold a lot of truth when we rewind 'That famous night at Turin' which is scripted as Roy and Manchester United's defining hour of the magnificent 1999 treble and also when we see United been given an absolute hiding by Barcelona at Wembley last year. Sir Alex had Roy then, now all he has is a blue-print stuffed in the club's archives.
When we see Sir Alex fiddling with his midfield combinations over the years, we talk at length about his command on the art of tinkering – yet, few could rather see it as an act of desperation in hiding the midfield frailties the side carries since Keane's unfortunate exit.
However, Sir Alex gave it all to fill the void. He had Fletcher, who went closest in filling the big boots of the Irishman, but never really made the position his own. Also, Michael Carrick has been a terrific servant for United but never someone who could assume the mantle. Paul Pogba looked to be that one prospect tailored for the 'Keane' role in the side, before he steered clear to Italy in search of greener pastures.
The gaffer recently tried a passive midfield foil comprising Carrick and Scholes which failed to hold up even for the opening few exchanges. And when Sir Alex is asked about his side's notorious trait of conceding goals in a ridiculous pattern this season, all he had was a clueless response for the media.
Sir Alex may have had plenty of tricks to hide the need of a quality midfield presence on the pitch, but even he couldn't conceal United's helpless displays that demand an inspiring figure on the field. Sir Alex was rather lucky to have found Keane before Robson chose to bring down the curtains on his glittering tenure – a replacement that not only filled Robbo's boots but made the position his own in his 13 years at Old Trafford. However, it's fitting that we may never find another character even comparable to Keane's demeanor, as that may be the only way one might always be able to talk of him as a true legend.