France won just their 2nd ever World Cup trophy this past weekend after they defeated Croatia in the final of the 2018 FIFA World Cup. Bolstered by goals from Paul Pogba, Antoine Griezmann and Kylian Mbappe and assisted by Mario Mandzukic's unfortunate own goal, France cantered away to lift world football's most coveted piece of silverware.
Encapsulated within this inspiring tale of a team overcoming a steady flow of challenges to emerge victorious, is a heart-warming story of how a bunch of like-minded immigrants with similar skills came together to conquer the world for a country they collectively call home.
After France won the World Cup, naturally, praises and congratulations came in the form of a gratifying tempest. Several noteworthy personalities also took to social media to express their thoughts. In fact, Donald Trump, the President of the United States of America was also among the well-wishers.
Ironically, Trump also happens to be infamously known for his anti-immigrant policies and being hailed by someone like him is truly where France's victory lies outside of the pitch. Bollywood's legendary superstar, Amitabh Bachchan also congratulated the team, pointing out the diverse nature of the French squad.
The tale of France and immigration
Now, France contains a healthy figure of 9.1% of an immigrant population, with as many as 6 million immigrants residing in the country as of 2014. A direct result of post-World War II labour policies, this percentage of immigrants is due to France's desperate need to bring in labour from its colonies to make up for the labour crisis soon after the war.
Several of these workers subsequently settled down in France, raising families and building careers as French residents. Decades later, children of these very immigrants have gone on to win the World Cup for France.
Astonishingly, 87% of the World Cup-winning team is made up of either direct or indirect (whose parents or other generation of forefather immigrated) immigrants, with a total of 20 players in the squad being immigrants.
Notably, the only 3 players who are entirely French are Florian Thauvin, Raphael Varane and Benjamin Pavard.
Know your players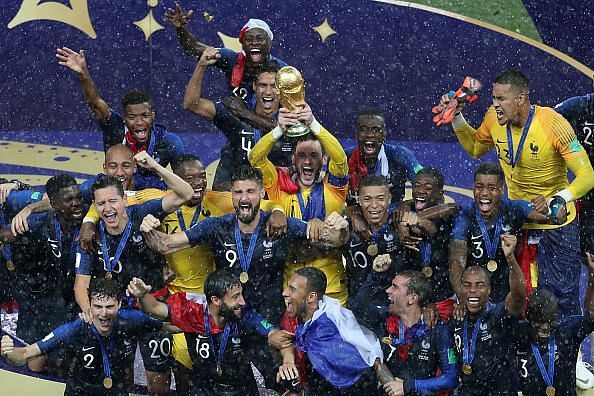 The team's captain, Hugo Lloris, may have been born in Nice, France, but his father is of Catalan descent.
19-year-old teen sensation, Kylian Mbappe, was also born in France, but his mother is Algerian while his father is Cameroonian.
Manchester United superstar Paul Pogba was born in France to Guinean parents. In fact, his two older twin brothers play for the Guinean national team.
Barcelona's Samuel Umtiti was born in Cameroon and moved to France at the tender age of two, as did goalkeeper Steve Mandanda, who was born in and immigrated from the Democratic Republic of Congo at the same age.
Blaise Matuidi's father is from Angola and his mother is from Congo, while N'Golo Kante's parents hail from Mali.
Antoine Greizmann and Ousmane Dembélé were also born in France, but the former's father is German and mother is Portuguese. The latter's mother is French of Mauritanian and Senegalese descent, while his father is from Mali.
Djibril Sidibé and Benjamin Mendy are both of Congolese descent, while Thomas Lemar was born in Guadeloupe.
Alphonse Areola made history by becoming the first player of Filipino descent to win the World Cup and was born to parents who moved to France from the Philippines shortly before Areola's birth.
Presnel Kimpembe and Nabil Fekir were also born in France. The former was born to a Congolese father and a Haitian mother while the latter was born to Algerian parents.
Adil Rami possesses Moroccan ancestry, while Olivier Giroud possesses an Italian one as both his grandmothers hailed from there.
Steven Nzonzi is partly French (mother's side) and partly Congolese (father's side) while Lucas Hernandez's heritage can be traced back to Spain.
Meanwhile, Bayern Munich's Corentin Tolisso's paternal lineage originates from Togo.
Fittingly, the recently-crowned World Champions truly are from all over the World, united towards successfully fulfilling a patriotic mission in honour of their adopted home.