à bientôt, Monsieur Wenger - How the early Wenger years made me believe
467 //
Timeless
Following Arsene Wenger's impending departure from Arsenal, it was gratifying on many levels to see both the 5-0 win vs. Burnley, and the moving speech given by Wenger post-match.
However, despite losing his shine in later years, he has been an immense figure in Arsenal's history.
I've wanted Wenger to go for some time. As an Arsenal fan since the early 1990s, I've seen three managers at our club, namely Graham, Rioch, and Wenger (with Houston and Rice as caretakers). Wenger's departure, in my mind, should have occurred several years ago.
Nonetheless, I hold mixed emotions on his departure. Part of me is sad, whilst other parts of me are happy and relieved. He has not been stellar in recent years. Nonetheless, he has achieved a lot in our history and stands as our best ever manager.
I wish to cite my favourite moments of his tenure, and why he is special to me as a Gooner. What's more is that his rise from "zero" to "hero" is telling, and despite being unknown when he arrived, there are specific facets that made me warm to him. And not just warm to him, but believe he was the man to lead us.
Arsene Who?
I remember the summer of 1996 pretty vividly.
England was doing well in the European Championships and lost valiantly to Germany (the eventual winners) in the semis. Moreover, Arsenal didn't sign anybody, and it was grating the gears of many of us. There was no social media back then, but the radio phone-in shows were chock full of fans calling in, expressing how we were not looking to challenge with Ferguson and Manchester United at that time.
And then, out of the blue (seemingly), manager Bruce Rioch got the sack, only a few days before the season started. It was a shock but the timing of it all was very lousy. It's come to light since then that Rioch and the players didn't get on, most notably resulting in a spat with Ian Wright in which the legendary striker issued a transfer request. Seemingly things came to a head, and he was gone through a fractured relationship between himself, the players, and the board.
However, the media buzz on Rioch's replacement focused on the now late, great Cruyff and Sir Bobby Robson, and Arsene Wenger. Who? Well yes, that comprised most of the footballing world's thoughts then. He was a man who didn't look like the archetype or stereotype of a football manager. He was tall, foreign, articulate, and per the words of the Arsenal players "looked like a geography teacher".
Moreover, he came from Japan, which still is not the highest quality football league out there. He was however highly rated by an ex-Spurs player and legend no less, Glenn Hoddle, who worked with him in Monaco in the late 1980s.
That summer was a bad one for Arsenal. We'd lost our manager, lost a caretaker (Stewart Houston), and got some unknown French guy from Alsace with a German-sounding name to be our manager. Grand. All we could do was hope that the board (at the time Mr. Hill-Wood and Mr. Dein amongst others) had chosen well and prudently.
One clue though was that I recall a radio talk show at that period, on Talkradio UK (what is now Talksport), featuring a few prominent pundits of the era (the late, great George Best, Rodney Marsh, etc.) The pundits had attended a Managers' Association dinner and introduced themselves to Wenger. And they cited based on how he blew them away with his tactical insights, Arsenal was headed for major success. And this is what happened, after all (and how....)
Man United, Tottenham, Nottingham Forest, Ferguson, and how he made me believe
Once Wenger came in, there were four moments (that for me) cemented him as our man.
Soon after he came, we went on a good run, culminating at a visit to Manchester United. Nobody then knew that Fergie and Wenger would be stern rivals, but then it's pretty much the way we played that day that impressed me. We were good but lost due to a Winterburn own-goal. Despite this loss, we held our own technically and physically.
Moreover, we beat our arch-enemies Tottenham, for the first time in a few years. The game stood at 1-1 until the 89th minute, in which our legendary captain Adams fired in a volley. Bergkamp scored a great third soon after, and it was scenes. Much was said then of our attacking centre-backs, in that Adams and Bould (our current assistant manager no less) were playing like classical sweepers. We could see the attacking prowess emerge, and this gave all of our players a new lease of life.
There was a game towards the end of the season at home to Nottingham Forest, in which we beat them comfortably, but the football executed was stellar. Forest went down that season, so it was not an unexpected victory. But the team and Mr. Wenger made me believe. For years, we had been boring, boring Arsenal. We had good players, some of whom stand out as Arsenal legends. But we lacked a creative spark, unlike United or arguably Liverpool at the time.
Furthermore, the addition of Vieira (another unknown at the time) brought a balance of creativity, fight, and spark, which was sorely lacking. All of these things, plus Wenger riling up Ferguson, made me believe.
I didn't anticipate what was to come, but by the end of that season, I thought genuinely with a good summer transfer window, and the existent players we had, we could challenge seriously the next year and few years after that. I respect Sir Alex immensely, but to see him get vexed for Wenger criticising his will to extend the season, was grand.
Awesome Arsenal
The 1997 transfer window saw us get in Overmars, Petit, and Grimandi, who in various parts were pivotal in us getting the Double that season.
But the defining moments for me were:
Beating Man United
This was the first of the major tussle between Wenger and Fergie and showed we could match them on our day. They knew we would be their biggest rivals that season, and it's pretty much how it played out.
Bergkamp's stellar form
The free-flowing football unleashed Bergkamp, and he rightly won both the PFA and Football Writers' player of the year awards that season. His hat-trick away to Leicester was truly legendary in execution and quality.
Wright
Ian Wright, unlike the Rioch period, took his time to revel in the new environment, and successfully broke the longstanding goal record set by Cliff Bastin decades earlier. He left at the end of that season, but he is a major reason why I'm a Gooner. He was great, and forever a legend.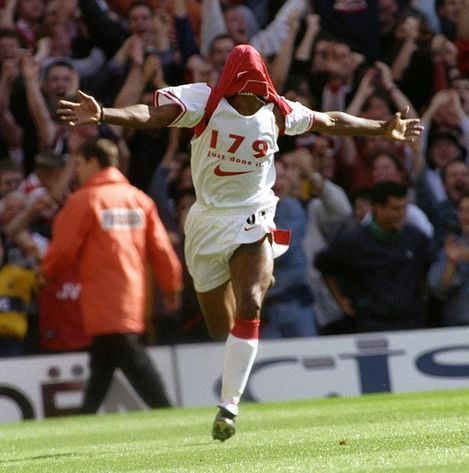 Overmars
Overmars took his time to bed in well, and then when he did, he was instrumental in providing us with great width and pace.
His goal at Old Trafford stands as a watershed in our winning the league that season.
Martin Tyler, in many ways the voice of the Premier League by means of his noteworthy commentary for Sky Sports, called us "Awesome Arsenal". And we really were. We blew all away, in direct contrast to the "boring, boring Arsenal" of only a few years prior.
Everton/The FA Cup final
Beating Shearer and Newcastle at Wembley was outstanding, and the unknown Frenchman with the German-sounding name had done wonders. We attained our second ever double, and he'd proven exceedingly that he could handle the English game.
The last home league game was also excellent. We won 4-0 vs. Everton, and our stalwart captain scored the final goal to secure our first league title since 1991.
There are of course many later great events.
However, the foundation years were in stark contrast to "Arsene Who?" and his apparent anonymity.
I think for me what made me warm to him was that Arsenal always succeeded via new ways, means, and methods. This was evident from the days of Herbert Chapman, the 1971 Double, and the Graham era.
We'd recently seen Arsenal developed a near infamous defensive solidity, in that the Graham Era was based on a highly drilled defence. It had also seen arguably the most exciting moment in English football, with the 1989 title win at Anfield.
Wenger similarly pushed the envelope via his new training and dietary methods, and this helped extend the careers of the defence, namely Adams, Bould, Keown, Winterburn, and Dixon. In contrast to the "boring, boring Arsenal" of Graham, we played the best football in the league in these early years. It was success and glory but in the Arsenal way. We not only won but in new and innovative ways.
Part of what makes me a Gooner is our values as a club, and our contribution to the footballing and wider world. We've achieved numerous records, and our brand is well-known globally due to this. Wenger in his early years established excellence, and it's this state of excellence that has made us a special and unique institution.
A great club is not based on winning trophies alone, or having high revenues, or holding many fans. It's about the intangible contributions and associations, and without question, Wenger laid this down aplenty in these formative years of his reign.
Other clubs can only really dream of this of influence and image; bery few clubs can rival this, and only the very best and biggest do, such as Real Madrid, Barca, Manchester United, Liverpool, Juve, and Bayern.
à bientôt, Monsieur Wenger. It didn't turn out well in the end, but thank you for everything.