A formula to defeat Barcelona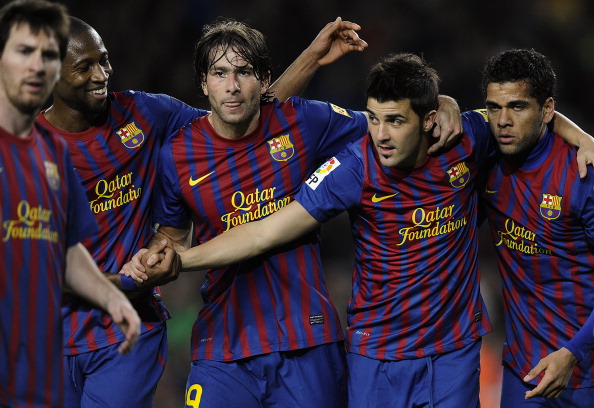 To defeat any opponent you must first know the opposition well. It's strengths and weaknesses matter the most. Anyone, who either likes or dislikes Barca, can easily list their strengths as precise passing, positioning and total football. They complete almost 500 plus passes in a match. Let it be the delicate one-two's between players or the superb finishing, they are currently a class apart from the other clubs. After knowing all this, I know its difficult to defeat Barca but obviously not impossible.
In football, one of this conditions that always holds true is that either you have the possession or the ball is with the opposition. In order to keep things simple, lets discuss our strategy based on how to act in these two conditions with respect to different situations.
When you are off the ball
Barca is a very strong passing side. Very rarely do they lose possession due to bad passing. So try and press for the ball and make the opposition fight for space. Continue to put pressure on midfield (the backbone of any team) and pounce on the mistakes they make during this process. While pressing for the ball, never forget to overlook the runs from opposition's support play. This eventually calls for man marking. The goal behind doing all this is to deprive possession to the opposition. As a result, they shall see less of the ball and consequently lesser chances would be created.
Sometimes, in a desperate attempt to find the goal, Barca attacks with its complete strength where everybody except the two central defenders are almost in the opposition's penalty box. This makes Barca vulnerable on the quick counter attack. So if you disposses the opposition in such a case, try and build a good counter attack and exploit the space available, since the opposition is caught out of position then.
When you are on the ball
Defensively, Barcelona has the capability to read the game very well. The primary aim is to never lose possession without an attempt on goal. Avoid unwanted passes. Be precise on passing and try changing flanks ocassionly. Its observed that Barcelona's back four always try and be close to each other. So changing flanks helps stretch them. Now make long and accurate crosses or long through balls to get behind the defence.
Set pieces is a great opportunity for a team of any caliber to score goals just via intelligent positioning. Moreover, recently, it has been noticed that set pieces are causing quite a nuisance for Barcelona. So think out of the box while dealing with set pieces. Practise and invent new set pieces. For some reason, they are unable to defend the set pieces successfully, which is an advantage. Innovate through the set pieces and try doing the unorthodox.
As seen above, you ought to defend by leaving the opposition no space and when in attack make the most of possession by changing flanks, making long passes, etc. This would get the juice out of any team. That really is a demanding job to do. But given the talent Barcelona possesses the only way to make up for it is by sheer effort put in by the players. And that is possible only when the effort put in by the entire team is synchronized and collective.