A letter to Arsene Wenger - A Gooner's Plea
2.91K //
12 Dec 2012, 13:32 IST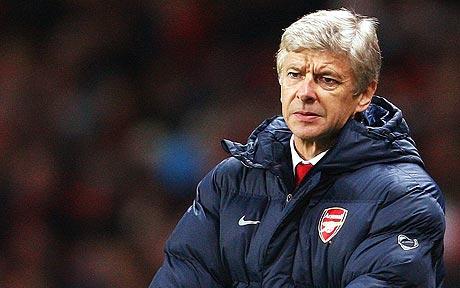 Dear Arsene Wenger,
I still want to believe in you, trust me I do. Over the past years, you've shown me how important you are to Arsenal and the game. You've made us realize that not having you around affects everyone – right from the players to the fans. There is only one Arsene Wenger, and we love him.
But you do realize that with every passing game that we lose, people are starting to lose faith in you, don't you? The 'Wenger-Out' brigade is spreading its wings everywhere and fans are thinking twice before saying anything in your favor.
Was this what you wanted Arsene? Is this how you had envisioned your Arsenal to look like after all these years?
I know this isn't true. So why don't you prove us wrong? Why don't you show us who Arsene Wenger truly is and to what great heights he can take this beautiful club to?!
You're the 'Le Professor' – one who's always remained aloof, distant from the media spotlight and professional. We all respect that, for no one really wants their manager to be prancing around delivering useless sound bytes.
Are you deliberately keeping quiet so that no one raises fingers on Ivan Gazidis? He's not worth it, and you know it!
We're not really asking you to spend millions on new players; we're asking you to get us what's essential for us to succeed. We all want what's best for the club.
All those people out there on Twitter are expressing their views about how you should retire "gracefully" and let someone with experience take over our club; but is that the solution to all our problems? They know it as well as you do – it isn't.
But change is required. Either in the way we play or the way the club is managed. Everything around us is changing – The Premier League is changing, Football is evolving, WE are changing. Arsenal needs to keep up with the happenings around.
And that fails to happen.
Season after season we're still where we are. Fighting for a place in the top 4, losing games which are extremely important, not signing decent enough players and missing out on trophies we could win.
As fans, yes, we are disappointed. We expected more, and we aren't getting that.
But we've still got your back Arsene, at least I do.
I'll continue watching every game and support my Gunners. I'll continue fretting and worrying over every loss, every new signing. So will most of us. That's what we do. Sometimes it's like we can't help it.
You know Arsene, finishing 4th isn't exactly what we have in mind. We want to win a trophy, and I'm not saying you don't want to win it either; but as fans, we're more desperate.
You've been saying troubling things lately. You said in October that finishing fourth is like winning a trophy. It's not. We want real trophies.
Our best players keep leaving. That's not acceptable. We want to watch them play in Arsenal colors for years to come. We don't want to watch them win trophies with teams we can't stand. It hurts to see our players fueling title runs in unfamiliar colors. It hurts a lot.
Sometimes, we play beautiful football. Sometimes, things seem fine. Other times, it all feels horribly wrong. We are, above all, inconsistent. Inconsistency is a sure sign of mediocrity.
We know it isn't entirely your fault, but someone has to take responsibility. We don't really know what's going on in the minds of the board members, but what we do know that we need to spend BIG money to get a TOP, TOP, TOP player!
You were the reason why I fell in love with this beautiful game. Don't let me down, Arsene. It's all I'm asking of you. Our Arsenal isn't boring, isn't weak, isn't a loser. We're strong, we're determined and we're the Gunners!
We're all in this together, Mr. Wenger. Let's do this, NOW!
Thank you for everything and I hope to see you around for another 15 years.
Your fan,
Amerta.