A letter to Wenger haters
1.30K //
12 Dec 2012, 17:30 IST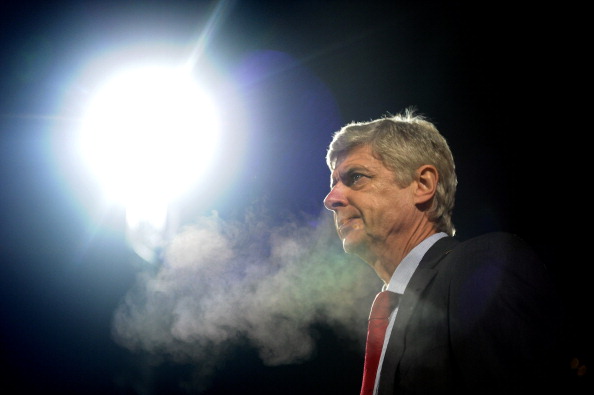 Dear Wenger haters,
We meet again. It's been an on-off season, where I've been meeting you quite often. Time and again, I've tried to get you to understand the importance of our manager, but unfortunately I've failed repeatedly. Maybe like our manager, you'd say, "Right now may not be the best time to be taking sides, especially after we've been eliminated from the Capital One cup, where silverware to break the trophy drought, was within sight."
I don't understand the embarrassment in losing to a side that plays in a lower league. In knockout competitions, each team comes out and plays equally well, in the sense that, they know they just have to give it their all for 90 minutes and they can progress. So whether you play a Premier league side or a League two side, it's all the same.
And with this loss, here are the chants again: "Wenger Out!"
First of all, why do I hear this only when we get a bad result? Why not when we win? If you want a manager out, you should stand by it. Whether we win or we lose, you should be saying "Whatever be the result, Wenger should be out". However these words are yet to be heard by me, you're all praise for him when we win and blatantly want him out when we're on the losing side. It's simply unbelievable to see this transition.
Anyway, let us consider your point of Wenger being ousted.
Keeping aside the fact that he's the most successful manager in the club's history and that he's been extremely loyal rejecting offers both nationally and internationally, let us just look at him like any other manager for the moment.
He knows each player's abilities inside out and also which player should be played where. We've seen him move players from the wings to the central position and in general, experiment with players that have mostly worked in a positive way. Even the players he looks for in the transfer market, are people he feels suit Arsenal's style of play, which has been evident this season with the three newcomers already being groomed to our style of football. Not only this, the players have a very good relationship with the manager and him being sacked would affect them mentally at least for some time. And when I mentioned "transfer market", your ears would surely have pricked up. Yes, "we don't spend much, we're stingy, we're only interested in paying off debts and planning for FFP which will be implemented a thousand years later".
So, let's consider your point this time and just talk about the current scenario – "Wenger not buying enough players, not getting good results consistently, WENGER OUT!".
I have just one question for you then. "WHO IN?" In the likelihood of Wenger leaving, who would you get to replace him? No, I am not saying this in the sense that "Wenger is great or irreplacable", just an innocent question "Who would you bring in?". For example, when Guardiola left Barcelona, he was never termed irreplacable and as you can see, a not-so-famous manager is guiding them to victory still. How is this happening? It's because their football has been drilled into them. Even if you or I go manage them, we wouldn't do that bad a job because the players already know what they need to do and how to go about it. Arsenal is not in a position to be compared to the Catalans. We may have come close to beating them on several occasions, but when it comes to consistency, they lead us by miles.
If we get even an experienced well-known manager to manage the club now, we would have to give him at least a few months to settle in. We can't expect him to hit form instantly. So where does that leave us? Even say, two months from now, would leave us in a place we can't get back from. Ultimately, it's only next season that anything can be done or maybe not even then.
Everything points at one thing – whatever happens will happen only in the coming seasons. So why not give Wenger a chance till then? So why can't you keep some patience and at least wait until January for reinforcements to arrive? And if you can afford to be a little more patient, why not hang on till the end of the season? If you still feel you were right then, you're free to say "I said so" and you'll have my apologies. But for the 10 years that I've supported this club, I know it'll never be the case. Come end of May, the pessimist inside you will go into hiding and you'll be all praise for the man in the suit.
Arsenal Football club has always been associated with the tagline "Keep the Faith" but all I'm asking for is to at least "Keep some faith". This club has taught us to believe, can't we believe a little more? Can't we 'dream on' a little bit that will get what we deserve?
But if you still feel so strongly about Arsene leaving, all I can say is, stay hooked to your TV screens and I'm sure I'll see lesser and lesser of you as time passes.

Yours truly,
An 'Arsene'al fan