A tweet peek into the Manchester United-Real Madrid clash
1.80K //
05 Mar 2013, 11:13 IST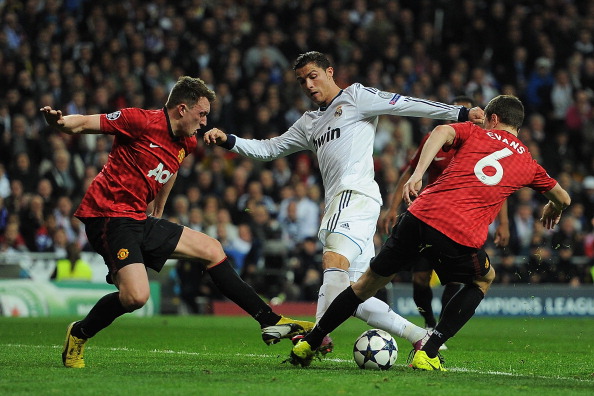 Rafael "Man, my first time at the Bernabeu was not good", Manchester United defender on Ronaldo. sportwitness.ning.com/forum/topics/r…

— Sport Witness (@Sport_Witness) March 4, 2013
Rafael da Silva's performance last month, at the Santiago Bernabeu, brought back those bitter memories of losing to Bayern Munich in the quarter-finals of the 2010 Champions League campaign.
Manchester United were trailing 2-1 on aggregate before the second leg at Old Trafford. They went in for the kill by scoring two goals in the first 10 minutes, and Nani scored his second of the night before halftime.
Croatian striker Ivica Olic scored two minutes later and left the door open for a comeback. Besides all the goals that were racked up in the first-half, Rafael was having a poor game defensively, but he was brilliant on the counter.
He got a yellow card in the 18th minute for a reckless challenge on van Bommel, and he got his second yellow in the 50th minute for tugging Franck Ribery from behind.
Manchester United played for 40 minutes with 10 men. Arjen Robben scored a stupendous goal to take Bayern to the semi-final on away goals.
At the Bernabeu, Rafael was booked for a bad foul on Mesut Ozil five minutes before the first-half, summing up his frustration at stopping Real's attack. He got better in the second-half and he was more careful before going into tackles.
The head-strong Brazilian right-back from two seasons ago has matured as a defender and today he is United's best bet at man-marking Ronaldo. It has been said before and I'll reiterate once again: marking Ronaldo doesn't mean stopping him. It is impossible nailing jelly to the wall. If Rafael could stop Ronaldo from cutting inside from the left and force him to cross instead, it just might be enough to scrape through to the quarter-finals.
Wayne Rooney faces Pepe for first time since Twitter rant as.com/english/articu… vía @diarioas

— AS English (@English_AS) March 4, 2013
The Spanish media have again swallowed those hyperbole pills. They painted Wayne Rooney as a freckle-faced hooligan before the first-leg in Madrid. Now they dug up the archives, and excavated a frivolous tweet by Wayne Rooney from 2012.
During an El Clasico game, Pepe stamped on Lionel Messi's hand. Rooney tweeted: "Pepe. What an idiot. Sometimes people wind you up."
The media is building this up as a clash between Pepe and Rooney. However, Pepe may not even start in the second leg since Jose Mourinho has shown faith in Sergio Ramos and Raphael Varane on getting the job done.
It wasn't just the Spanish media that were making forecasts by rolling the Magic 8-Ball. An English newspaper carried a story that Wayne Rooney may not even be involved in the second leg.
Since he played the full 90 minutes against Norwich City in the weekend, while Danny Welbeck started on the bench, this gave more credibility to the source.
Moreover, Rooney isn't in his best form lately. He gave away the ball easily and his passing was skewed against Norwich. And suddenly, as if a jukebox changed the records, the soundtrack for the evening changed from grunge to heavy metal, as the net bulged due to Rooney's screamer from 25 yards.
There has been murmurs of Sir Alex Ferguson using Rooney in his preferred role as a striker against Madrid. Since he has been the sacrificial lamb for the big games, so far he was used in various roles in midfield. But this tactical change may spring a surprise since goals from van Persie have dried up, lately.
And also there is a chance of Ferguson using Rooney in midfield, partnering Michael Carrick, and continue doing the work from where Phil Jones left at the Bernabeu.
Magic 8-Balls or fortune cookies weren't used in making these forecasts. It is just a hunch.
Phil Jones has NOT trained with Man United today. Jonny Evans is doing light jogging away from the squad. Breaking on Mail Online now #MUFC

— Matt Fortune (@MFworldfootball) March 4, 2013
In the press conference before the game, Sir Alex Ferguson said that Phil Jones won't be part of the squad that will take on Real Madrid. He is reportedly still recovering from an ankle injury.
In the past, Sir Alex fed the media with lies about his match preparations. The most controversial statement from Sir Alex that springs to mind is once again from the second leg tie against Bayern Munich in 2010.
Ferguson said: "He has no chance [of starting the game]. I don't think he will be on the bench, but he might try to persuade me and talk me into it. It's a difficult one."
Sir Alex was referring to Wayne Rooney after he limped off the pitch in the first leg at the Allianz Arena.
Rooney started the match despite Sir Alex ruling him out. The same can be said of Sir Alex's statement about Phil Jones, but it is hard to tell. The Glasgow man has the best poker face in the business.
Coming to the centre-backs pairing, Sir Alex made it clear, in an interview with the Sun, that Jonny Evans is his first choice defender.
Rio Ferdinand has recovered after a bout of flu and trained on Monday. Nemenja Vidic is in decent form at the moment.
So it may come down to Sir Alex snapping a cue stick into two and throwing the sharpest piece between Nemenja Vidic and Ferdinand.
Emotions to run high as Ronaldo returns to United with Madrid and Giggs hits 1,000 games apne.ws/WDQSgE

— Rob Harris (@RobHarris) March 4, 2013
Ever since the draw was announced in December, the media has been steadily drumming up stories about Ronaldo's return to Old Trafford. Too much coverage has been given about his return to "home", to the point of an overkill.
United fans may not roll out the red carpet for the Portuguese player, but there will be applause from the stands before kick-off.
Reports of Manchester United making a transfer move for Ronaldo were played down by Sir Alex in the pre-match press conference.
And he joked about how he will stop him in the second leg: "I've got a plan to stop him: it's called a machete. Plan B is a machine gun!"
Sitting beside Sir Alex at the press conference was Ryan Giggs, who will hit 1,000 career games if he plays against Madrid. After being rested for the game against Norwich, Sir Alex might spring another surprise by starting him.
"We like to keep him fresh. He'll be involved at some point, starting or from the bench. I haven't made my mind up," said Sir Alex about Giggs.