AFC Challenge Cup: India vs North Korea match preview
893 //
12 Mar 2012, 14:48 IST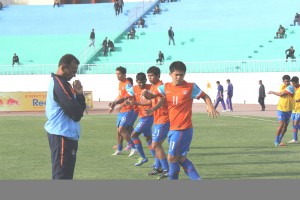 India play their last match of the AFC Challenge Cup here in Kathmandu on 13th March. The blue tigers have already been eliminated from the competition and have nothing but pride and ranking points to play for against North Korea. India have been far from impressive in the tournament and coach Savio Medeira will look to bring home some joy with a better display in the final fixture.
North korea have already qualified for the semi finals as the group winners. They have nothing to play for in this fixture and might even field a weakened side to rest key players. They have a policy of revealing minimum information (to the media) pertaining to their squad. The North Korean manager revealed that 5-6 players from the current squad were present in the side which represented the team from East Asia in the 2010 FIFA World Cup in South Africa.
The 2010 Challenge Cup champions will look to ease past India, who shockingly lost to the Philippines in their second group game. This was India's first ever loss to Philippines. While Medeira, was not impressed by India's dismal attacking display in the all the outings, he pointed out that this is a young side in transition and a certain amount of time is required for them to gel. The Indian team has also received some advice from the Philippines' coach, who said after the game,  "I can see this side is still playing a 'kick-and-rush' football but I believe India is more suitable team for short passes".
North Korea will be a tough opposition to play against but Savio Medeira can take heart from the fact that they will be a bit relaxed. Having said that, it would make sense for the blue tigers to field youngsters in the starting eleven so that they gain some valuable experience. India might be able to match the pace of Chollima with players like Nirmal Chettri on the field but it will be interesting to see whether the attackers display any sort of fluidity amongst themselves. Sunil Chettri is still regaining match fitness and so is the young left winger- Lalrindika Ralte. India need to put on a good show, but that's easier said than done.