AFC, UEFA sign deal to boost cooperation
626 //
11 Dec 2012, 20:01 IST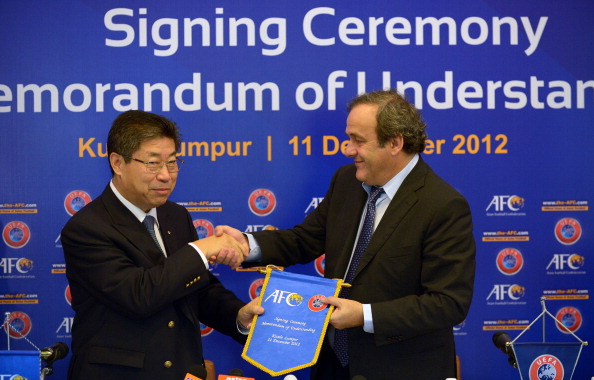 Kuala Lumpur - The Asian Football Confederation (AFC) and the Union of European Football Associations (UEFA) on Tuesday inked an agreement to further boost cooperation and ties between the two football governing bodies.
The Memorandum of Understanding (MoU) was signed by AFC acting president Zhang Jilong and UEFA president Michel Platini, reports Xinhua.
The agreement will enable the AFC and UEFA to work closely and share expertise and technical knowledge, Zhang said.
"AFC and Asian football is on the rise, but we all know we have a long way to go before we reach the level we are aspiring for," he said.
Platini, on a visit to the AFC headquarter in Kuala Lumpur, said he was delighted to sign the new partnership with another confederation.
"The UEFA is delighted to be building stronger relationships with other continental confederations, in this case the AFC, as it allows all of us to share know-how and experience with regard to matters such as coaches education and grassroots football," he said.
The UEFA may learn from its Asian counterpart on the development of Women's football, the former French superstar added.
Japan won the FIFA Women's World Cup last year before bringing home the silver medal at the London Olympics.
The two confederations will seek potential areas for cooperation including the training of young players through working group discussion, Zhang said.