AFCON: Renard's Zambia success inspiring Ivory Coast pragmatism
1.77K //
03 Feb 2015, 02:17 IST
When Zambia won the Cup of Nations in 2012, it wasn't just one of the emotional triumphs in the history of football. It was also a key moment in how teams approach the tournament; their example showed what could be achieved with discipline and diligence, making it clear that success wasn't just about having star players.
It's a point made perhaps most clearly by the former Cameroon goalkeeper Joseph-Antoine Bell, who traced Zambia's progression from a 5-1 defeat to Cameroon in 2008, to going out on penalties to Nigeria in 2010 to winning the tournament two years later. "They had long term planning and they had a philosophy that led them to play well, so they knew what they had to do with the ball, how they were playing," he said.
In 2013, Nigeria, similarly, were a team short on stars but high on organisation. Generation after generation of Nigerian teams had had better players but had failed; under Stephen Keshi, there was balance, a sense of purpose and defensive organisation, and that was enough to carry them to success in South Africa.
New age in Ivory Coast football
Ivory Coast may be learning the same lesson this time round. The failures of the golden generation have been well-documented and there is a sense now that, with Didier Drogba, Didier Zokora and Emmanuel Eboue gone, this is no longer the same side any more. There's a sense too that under Renard, they're a team with more resolve than any previous iteration going back a decade – with the possible exception of Francois Zahoui's side that lost on penalties in the final three years ago.
The dynamic is fascinating: most of the Ivory Coast team have a higher profile than Renard, yet he can turn round and point out that he's the only one of them to have won the Cup of Nations. They're not an explosive side to watch, perhaps not as much fun as they were in 2006 or 2008, but the way they defended against Algeria in the quarter-final was hugely impressive.
For the first 20 minutes of the second half, Algeria ripped into the Elephants. They equalised with a simple ball over the top that left both Eric Bailly and the goalkeeper Sylvain Gbohouo floundering. The thought occurred that perhaps the idea of a defensively sound Ivory Coast had all been a myth, but they soon steadied themselves and, under a severe examination, held firm.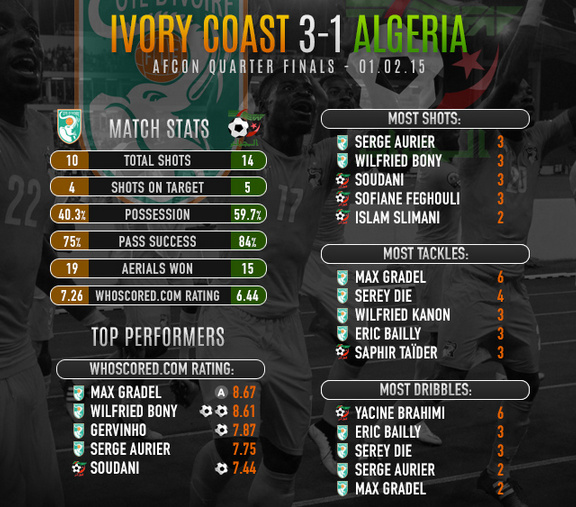 Kolo Toure, who has had an excellent tournament, spoke of how Bailly and Wilfried Kanon, as players untainted by failure, have rejuvenated the squad, but they have also played an important defensive role, flanking the Liverpool defender in the back three the Ivorians adopted after Gervinho had been sent off in the opening game and have stuck with apart form the final 22 minutes against Algeria.
Staunch defensive discipline
Touré made 1.7 tackles and 1.3 interceptions per game in the group stage and followed that up with a tackle and an interception against Algeria. Bailly made three tackles and five interceptions, and Kanon three tackles and two interceptions. No side in the quarter-finals had less than Ivory Coast's 40.3% possession, yet Algeria created only one clear chance after the equaliser.
And this Ivory Coast, far more than Renard's Zambia, whom they in some way resemble, have attacking potency: Wilfried Bony headed in a Yaya Toure free-kick to make it 2-1 before Gervinho tucked in a third in injury-timer after Junior Tallo's fine break.
The sheer number of tackles made was remarkable: Max Gradel made six, Serey Die four, Serge Aurier and Siaka Tiene two each. As soon as Ivory Coast lost the ball, they fell back into shape, first with a line of five behind a line of four, then with two lines of four. There was something hypnotic about it and it meant Algeria were reduced to hopeful long range shots and speculative crosses: of the 27 crosses Algeria attempted, only five found their target.
"It was not the best team that won," the Algeria coach Christian Gourcuff said after the game. Renard didn't deny the diagnosis – but it was the better-organised team that won.