Alexander Kokorin: The new face of Russian football
1.07K //
12 Nov 2012, 09:37 IST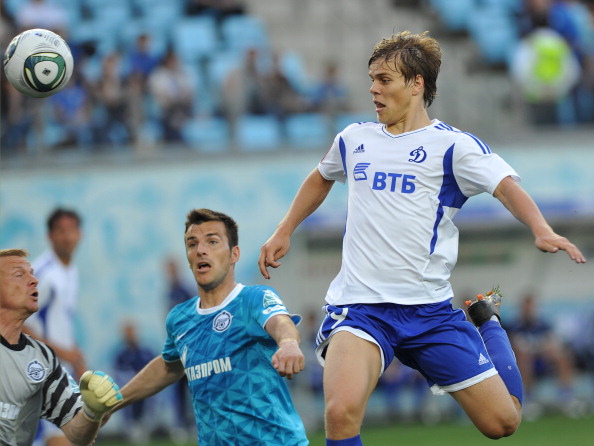 Moscow's fading control on Russian football has been growing ever more apparent over the past 5 or so years, and it's a situation which is only becoming even more clear to all. Spartak Moscow, traditionally Russia's biggest club, has already gone 9 years without a trophy; but it isn't just Spartak who have been falling from grace.
Dynamo Moscow, a club which managed to win its last trophy way back in 1995, is certainly not showing any signs of winning a trophy any time soon. After a disastrous start in this season's Russian Premier League, they languish in the bottom half of the table, with any hope of a title bid already out of the window, and having been knocked out of this season's Europa League in the qualification rounds.
Key striker and club captain Kevin Kuranyi has only found the net 3 times in 14 games so far this season, and the team is suffering without the creativity of Alexander Samedov, who opted to join city rivals Lokomotiv in the summer after impressing last season. But it isn't all dark and gloomy.
21 year old forward Alexander Kokorin, who actually made his debut for Dynamo as a 17 year old, is finally starting to realise his vast potential, and after a couple of years where his talent appeared to be going stagnant, he is reigniting his career to spectacular effect.
Players with the potential such as Kokorin in Russia are hard to find. The young Dynamo forward is one of the first young strikers in a long time, who is showing the potential to be able to compete at the highest level, and Russia's problem with the lack of young talent was clear for all to see with the national team's failure at the European Championships back in the summer.
But since then, certain things have changed. Then national team Dick Advocaat has moved on to PSV Eindhoven in his native Holland, and in came former England manager, Italian coaching legend Fabio Capello. And with the team sitting on top of their qualification group for the 2014 Brazilian World Cup after 4 games, progress is already being made.
Having won each and every one of those 4 games, including an eye-catching 1-0 victory over Portugal in Moscow, Capello has already won over many critics of his appointment. The new-found effectiveness of the team has being the main reason behind such a wonderful start to the qualifying campaign, but if you look right through the team, there are many reasons why things are starting to go right.
New players are finally being blooded into the team, but no one has shone more than Alexander Kokorin. After impressing with Dynamo in the early stages of the season, Capello saw fit to give him another chance in the national team, and it's proved a fruitful decision.
Kokorin managed to score his first goal at international level in a stunning 4-0 win in Israel, and against Portugal, his tactical awareness and physical strength was clear for all to see, on a night where he found himself being used as the outlet on rare Russian counter-attacks.
His ability to many has always been clear right from the start. Already 21, he is only just beginning to truly show what he is capable of, but many expected this kind of form a couple of years ago. After a successful youth career with Lokomotiv Moscow, in 2008, he opted to pursue his career with cross city rivals Dynamo, and although then just 17 years old, he was soon rushed into the thick of things.
In the early autumn of 2008, Dynamo were suffering from an onset of injuries, which left their attack bare to the bones. When trailing 1-0 in a game against Saturn in the league, they had no other option than to throw novice Kokorin on the pitch, but even Kokorin himself surely couldn't have hoped for what was to follow.
He became the youngest player in Dynamo's history to find the back of the net, equalizing for his team on 69 minutes, and after that, he was more often than not found in the first team squad. He made it onto the pitch a further 6 times before the season ended, and even managed to add to his goal tally. In a game against the club which nurtured him, Lokomotiv, he showed them what they were going to miss. An exquisitely placed lob over the goalkeeper in the second half was enough to bring Dynamo a 1-0 victory, and in turn, announcing himself on the Russian stage.
Media attention and pressure was immediately placed on Kokorin, and Dynamo themselves started to rely on him, as in the 2009 season, he was to be found on the pitch no less than 24 times. But if everyone was expecting to see more than just the teaser that Kokorin left at the back end of 2008, they were left to be disappointed.
Questions have to be posed to Dynamo themselves, on whether they placed too much responsibility and pressure on him too early, but whatever the reason, Kokorin's career, which was still in its infancy, completely stalled. After 2 goals in just 6 appearances in 2008, 2 were scored in 2009, but this time after 24 games rather than 6. If that was a warning sign that Kokorin was going to need more time to really assert himself, 2010 just confirmed this.
Once again he found himself on the pitch 24 times in the league, but this time, not even a single goal was scored. For a player in their late teens, it is usual for progress to be seen every year, but with Kokorin, instead of progressing, he was regressing, and at an alarming rate.
But still, Dynamo showed remarkable faith in him. In Russia, many talented young players are shown the door to the second tier of Russian football, and never seen or heard of again as soon as things don't go quite to plan, but not in Kokorin's case. After the goalless season of 2009, instead of sending him away and giving him less playing time, his time on the pitch only increased, as compared to the 24 games which he was involved in for the 2009 and 2010 seasons, and he found himself being picked for a full 37 games in the 2011/2012 season, and slowly but surely, things started to pick up again.
After Dynamo made their star signing in 2010, then German international, striker Kevin Kuranyi, Kokorin found himself being able to play more on the flanks to help connect the midfield with the attack in a fluid manner, and in turn once again finding his confidence, which had quite clearly deserted him beforehand. His goalscoring instincts showed signs of returning too, with 5 league goals in the whole of the season, and to the surprise of many, he managed to force his way into the national team setup, making his debut in a friendly against Greece in December 2011 – and even making the squad for Euro 2012.
But that was only foreshadowing what was to come this season. So far this season, Kokorin has found himself on the pitch in 11 games, and he's already managed to equal his goalscoring tally of last season, with 5 goals, but it isn't just his scoring touch that is capturing headlines. His ability and skill on the ball is becoming more and more obvious for all to see, and confidence is rising through his veins.
For many, this is just the realisation of his talent which was first seen 4 years ago. But if his talent wasn't used to proper effect then, now is the time for it to finally happen. If he manages to keep up the form that he is displaying now and show the ability to cope with the expectation and pressure that is being placed upon his shoulders, then surely it is only a matter of time before one of Europe's giants come knocking on Dynamo's door.
But for now, Kokorin can continue with resurrecting Dynamo's season, and becoming the new face of Russian football.