What Louis van Gaal would write in an open letter to Manchester United fans
3.02K //
22 Mar 2015, 16:04 IST
Disclaimer: This is not a real letter, but a product of the writer's imagination.
Dear fans of Manchester United,
I understand that you are busy preparing to watch the team take on Liverpool, and so I thought this would be a good time for me to share my ideas and thoughts with all of you. Why would I do that? Because I think you are the most important part of the institution that is Manchester United, and I want your support as I do whatever it takes to get the club back to where it belongs.
I will admit this – when I took over the role of trainer-coach here, I did not realise how big the club is. I had not imagined how people across the world view the team as their favourite, and I definitely did not know how huge the fan base was. Fair to say it did take me a little by surprise, but that never fazed me. It just meant that I had to work harder to achieve all that I could here.
Although I am someone who likes to take a break between different assignments, I was happy to jump into the job at United within a few days of defeating Brazil at the World Cup. I achieved good results with the Netherlands team, and I was ready to apply all my knowledge, my philosophy, to restore England's biggest club back to their position.
Now I have heard that my philosophy has been questioned a lot this season. I understand we haven't been very fluent with our football, and for a team like Manchester United, fluency is a must. However, that does not mean there isn't any method to my madness.
My philosophy is that everything that we do as a team on the pitch remains about the team. If we design a play, it is so that it gets the best result for the team. I want all my players to understand the thought I want them to follow, and think according to the situation. I want them to be ready to adapt, so that we can do the best we can as a team.
A lot has been said about the team playing three defenders at the back, which in my mind was the best way we could have got the best out of the players we had. As a team, we need to accept that what is most important is balance. I want my team to be balanced at all times.
There has been a lot of talk about me playing players out of position, like Ashley Young at left wing back and Wayne Rooney in midfield. There was nothing more to either of those two things except that playing them there offered more balance to the team. Young has been one of our best players this season, and that is only because he has been so willing to learn, to play differently, to adapt.
Wayne is my captain. It is very important for me to have his support. He was completely happy playing in midfield because it helped us stay solid, and he could use his vision to string together good passing moves. With other players available in forward positions, it was important for me to retain control in midfield. With Carrick out injured, it was important to have Wayne there.
It was being said that I will offer the captaincy to Robin van Persie, because he was my captain for Netherlands. But why would I do that? Wayne is the player who knows Manchester United, the man who has won a lot at the club, the one who came here as a teenager.
I needed him to be my voice to the team. And he has done his job very well, both on and off the field. He has managed the players well, and has been open and receptive to trying new things. Now that he is playing as a striker again, he is showing us all why he is so good in that position.
We spent a lot of money in the summer to get players into the club. Some of them have been quite good for us, like Blind and Rojo, and while the young one Shaw has faced fitness issues, he will be one of the best, I can promise you that.
Then there is Herrera, who faced a lot of difficulty getting into the team, only because he was competing with so many other good players, and because he needed to understand better what we wanted to achieve. Now you see him, he is a regular part of our team.
As far as Di Maria and Falcao are concerned, it is much more complex, the situations they are in. Angel came from Spain, used to a different manner in which the game is played, where the physicality is not so much. He took some time to get used to it, and then he started performing well, but he is still in the process of understanding the English league, and the differences in the systems here.
Then there was the issue of his house being attacked and recently, his sending off against Arsenal. Now I know very well how important it is for a player to feel safe and feel at home in a foreign country, and when you aren't very happy personally, you can't be happy professionally. I want to give him all the time he needs to settle down in Manchester, get as comfortable as he can, so that he can start producing his best on the field.
If I don't empathise with him, who will? After all, I am the first overseas manager of Manchester United. I know it is important to get comfortable with my surroundings before I can get the team to start doing things my way.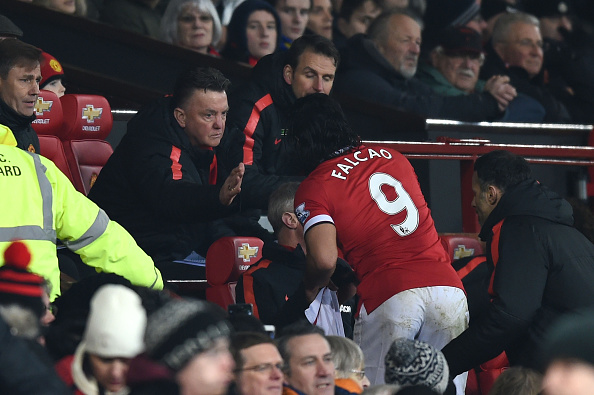 Coming to Falcao, I know that everyone thought one of the best strikers in the world would score a lot of goals for us. That he would make an instant impact. But we need to understand that he is coming from a very tough injury. It takes a lot of time to get back to your best after such a long layoff, and I am sure he will soon start scoring a lot of goals.
We need to support him during his time of need, and at the same time, ensure that we do what is best for the team. And no, he only played the U-21 game to get some match practice; I will not do something like that to insult a player of his calibre.
Also, I want to say that David de Gea has been our Player of the Season, and just because I don't talk about it a lot, it doesn't mean that it isn't the truth. I love the fact that he is a great goalkeeper who can do everything, who can start attacks, who has great reflexes, who is so calm under pressure.
One major reason why I don't like to talk about it every week is that he has come through tough times at United and now is one of the best in the world. So I shouldn't unnecessarily focus on him, as I know he can take care of himself, and he doesn't like to talk about it a lot.
There are some matches this season that I believe the team has learnt a lot from – Leicester City away when we lost 5-3, the 4-0 loss to MK Dons, the 0-0 draw against Tottenham when we dominated but didn't score and the 2-1 loss at Swansea, when we dominated but couldn't create chances.
We understood that we didn't have balance in the first two examples, that the team was too top-heavy, while the last two games told us that we need to be ruthless, that we need to press home the advantage, that we need to execute.
These are things that will come with time, that we expected would start earlier, but were something that we saw for the first time last weekend against Tottenham. That performance has pleased me the most so far this season, and I hope it is a sign of things to come.
We have been accused of using long balls a lot, but as you know, they were only used when our normal play didn't work. And so I hope last week also convinced you all of how good Fellaini can be, and that he is not just an aerial weapon for us.
The system we play now (4-3-3) is the system I like the most, as it gives us everything I like – balance in midfield, attacking impetus, defensive solidity – and it also allows us to execute what we practise.
As I conclude, I would want you all to know that the reason why I have started falling in love with this club is because of the belief they have in me. There have been losses, but everyone has been supportive, the atmosphere in the stadium has been brilliant. I have never seen fans like you, and that tells me the size of this club. I have been told by Ryan that this match against Liverpool is the biggest match for you all, and I hope that I am able to deliver the best result for you.
I am a winner, and have worked at the No. 1 clubs in Netherlands, Spain, Germany and now England. I hate losing, am very demanding of my players and I only work to win, as you know from my record. So yes, my major aim for this season is to get us back to the Champions League, but I don't want you all to get too comfortable, because this journey back to the top has just begun and won't stop till we start winning every competition that we are a part of.
Yours sincerely,
Louis van Gaal