Analysing the race for the Golden Boot between Lionel Messi and Cristiano Ronaldo
6.23K //
17 Feb 2015, 19:19 IST
The season started well for Messi. He scored two goals in the first Liga match. Until Cristiano scored a hat trick (on the 4th week) and accumulated 5 goals, the Portuguese did not surpass Messi.
Then Madrid striker started an impressive goalscoring streak (9 games in a row scoring). After 12 matches, he had achieved 10 goals more (20) than Messi (10). On the day 15, the difference was the highest this season: 12 goals, as Cristiano had scored 25 and Messi 13.
Since then, Messi has started to reduce distances: He has scored in 7 matches (the last 6 ones consecutively), a total of 13 matches while Cristiano has only added 3 to his register. Now, the distance between the two is only 2 goals.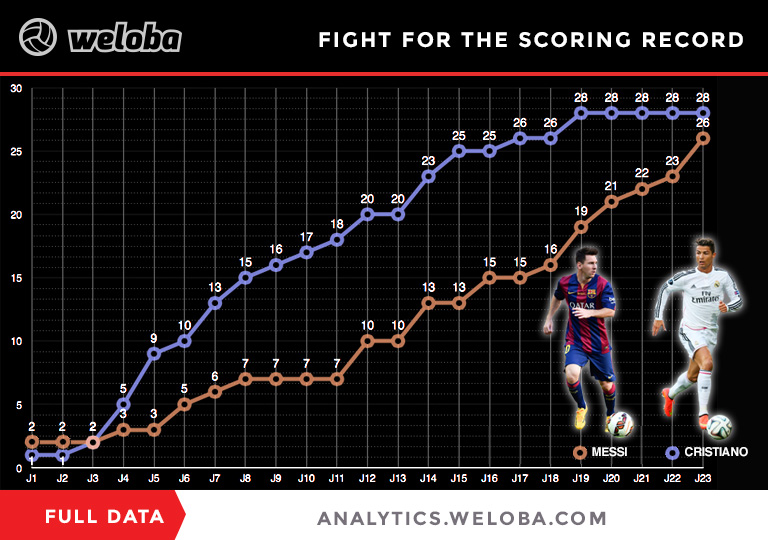 In global data, Messi is the leader, with 26 goals in La Liga, 3 in La Copa and 8 in the Champions League; 37 in total, one more than Cristiano Ronaldo, who has played in 6 competitions: Liga (28), Copa (1), Champions (5), Spain Supercup (0), UEFA Supercup (2) and Club World Cup (0).
Run for the Golden Boot
Fight between Messi and Cristiano has a direct consequence in Europe: Both are leading the Golden Boot table. Since they play in the Spanish League, they are applied a two points correction (a method to equalize different leagues), so Cristiano has 56 points and Messi 52.
The third is the Russian Evgeny Kabaev, who plays the Estonian league with Kalev Sillamäe. Kabaev has scored 36 goals but since the Baltic competition only reports one point, the Russian striker is third in the standings with 36 points.
The fourth and the fifth are players from leagues with the maximum coefficient (2 points): Neymar and Diego Costa have scored 17, so they have 34 points.
Published originally on Weloba.com