The arrival of the International break has provided us with some ill-advised respite from the weekly obsession with club football. With the international games already underway, it is perhaps time to look into players who have been destined for greater things with their respective national teams.
While Italy did not have a great time subsequent to the 2012 Euros where they reached the finals, the nation boasts of a rich pool of talented footballers who could guide the national team to glory. One of the youngsters who is already being tipped to remain crucial to Italy's chances is the young Torino striker Andre Belotti.
Belotti has already been capped 5 times with the Azzurri's and is set to earn his sixth cap against Albania in the side's latest qualifying game. In this segment, we take a look at what has made the 23-year-old one of the most sought after young striker in Europe.
Background
Born on 20th December 1993 in Calcinate, Belotti began his footballing career at Grumellese. However, it was not all easy for the youngster as he had to endure some tough times during his youth days. His first tryst with failure came when he failed to impress on trial with Atlanta and subsequently joined AlbinoLeffe. A move that was not originally the planned path for his career proved to be the perfect opportunity for the young Belotti.
He quickly rose through the ranks at the club and made his debut during the 2011-12 season in the Serie B. In the subsequent season, the then 19-year-old striker found the back of the net on 12 occasions and that proved sufficient to attract the attention of Palermo.
The striker moved to Palermo on a loan deal with an option to buy and while he did take the time to settle down at the new club, he made an impact enough to force Palermo in parting ways with a fee believed to be in the region of €2.5 million to sign him.
Despite being the second fiddle to the talented Paulo Dybala, Belotti made a name for himself at the club and Torino soon deemed that he was being underutilised at his club and signed him for a fee of €7.5 million, a move that has paid rich dividends and helped him establish himself as one of the best in the business.
Style of play and strengths
Nicknamed Il Gallo (The Rooster) for his celebration, Belotti has made a name for himself owing to his goal scoring abilities. The 23-year-old striker has taken the Serie A by storm with his prowess in front of goal and is currently the leading goalscorer in the league with 22 goals.
Though he is primarily a right footed striker of the ball, Belotti is equally devastating when he is presented with an opportunity on his left foot, having scored five goals via his left foot and 9 via his right foot.
Yet he is believed to be most effective in the air as he has developed a tendency to pop up in at crucial areas on the pitch to head home the efforts of his teammates. His willingness to put his head in areas where few footballers would put their feet has also added to his credentials as a fearless striker.
However, his abilities in front of goal are not the only abilities that make him a sought after player by European heavyweights such as Arsenal and Barcelona. The Torino man has shown a tidy set of feet, can bulldoze his way out of tight situations and has developed a knack for creating goal scoring opportunities at a regular frequency. In fact, he remains Torino's most creative player in the league this season having created 43 chances.
His industriousness in attack as well as defence and has caught the eye of several fans and scouts as he can often be seen haggling defenders for time and space on the ball. The hard working striker is not afraid to get into duels, be it on the ground or in the air and has thus far been involved in 71 tackles and 145 headed duels.
He can often be spotted tracking back to help his defensive colleagues, a trait that has made him a fan favourite owing to what he brings to the team apart from scoring goals, which in itself should be sufficient at the moment.
Weakness
While there are no significant weaknesses that can be singled out in the player, discipline, especially with his combative nature on the pitch could prove to be an area that he will need to work upon. He is sometimes reckless going into tackles and has earned himself 5 yellow cards this season and while his efforts make him a fan favourite, he must realise that players can be singled out by referees for their fierceness.
What's next?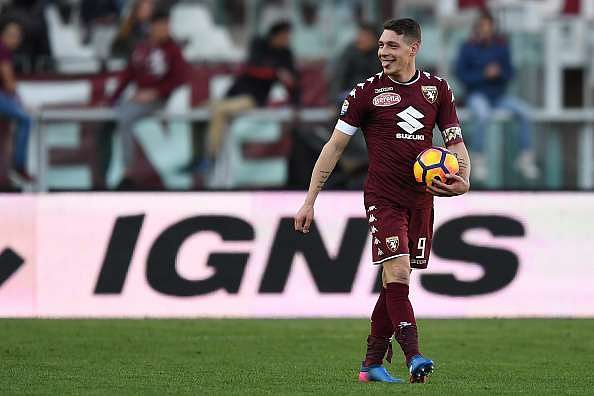 The talented striker has been linked with numerous clubs ever since he started to make waves with Torino with the Torino President even going on to claim that the club rejected a bid in the region of £56 million during the recently concluded transfer window. His former colleague at AlbinoLeffe Anthony Taugourdeau is one of the players who has seen the player rise through the ranks and had very kind words to say about the striker.
The French midfielder was quoted as saying, "He is a simple guy and really humble. He puts so much effort in and there's that devilment in all that he does. He deserves everything that is happening to him."
Belotti's current contract with Torino expires in 2021 and the club has already made him their prized commodity by slapping a release clause believed to be in the region of €100 million on his head to put off potential suitors. However, that might not prove enough to ensure that top clubs keep their hands off him in the upcoming transfer window. While his potential new home remains a mystery there is no denying that wherever he moves, if and when he does, he will give it his all to succeed.