Angel Di Maria - A look at his season so far and what lies ahead
2.10K //
10 Mar 2015, 13:31 IST
Angel Di Maria, a player who has been out of touch for his club of late, has been criticised in several parts for his poor performances. From what was to be the British transfer record for the most expensive player has supposedly turned into a big disappointment. A player who arrived at his current club Manchester United after being deemed surplus at Real Madrid, his season started brightly with good performances in the first few games.
An outrageous goal against QPR from a curling free kick, a cheeky dink over the keeper to score against Leicester in the Premier League and his goal against Yeovil Town in the FA Cup after returning from injury – all of them were signs of what looked like an amazing start to a first season at his new club. But his form dipped and performance levels went down.
He had nightmare games against Sunderland and Newcastle. He was substituted at half-time against the Black Cats and after a lacklustre display for 57 minutes against the Magpies. A comparison between his past and the current season and a possible look at what went wrong and the road ahead has been presented.
Real Madrid (Season 2013/14):
The mentioned season was the one where Real Madrid saw a managerial change in the form of Carlo Ancelotti. The new manager made several decisions, one of which was to use Di Maria in a midfield position which was later switched permanently to the position of a more attacking midfielder during the course of the season. With Luka Modric and Xabi Alonso, Di Maria was a regular in the starting XI. The season was personally a good one for Di Maria. He had the most assists in La Liga with 17 and he also scored the opening goal against Barcelona in a 2-1 victory for his team in the Copa Del Rey final.
However, Di Maria's crowning moment came in the UEFA Champions League final against Atletico Madrid in Lisbon. Real were gunning for a 10th Champions League crown and he was awarded the Man of the Match for his spectacular display of energy and pace throughout the game where Real trailing 1-0 till the 90th minute eventually won 4-1 after extra time.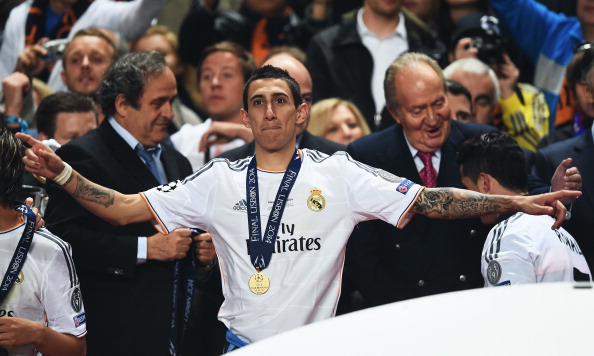 After a lot of speculation about his future where rumours started growing during the World Cup itself, it was revealed on August 26, 2014 that Di Maria was joining Manchester United for a transfer fee of 59.7 million pounds on a five-year deal. This broke the British transfer record previously held by Fernando Torres when Chelsea paid Liverpool 50 million pounds to get him. Di Maria had a decent World Cup in Brazil and only an injury forced him out of the semi-final and eventually the final where Argentina lost.
On being asked why he had joined Manchester United who were out of the Champions League the following season despite several other clubs expressing their interest in him including Ligue 1 Champions Paris Saint Germain, he told reporters that he was happy to be with the Red Devils and his main objective was to help the club make a comeback to the Champions League.
Manchester United (Season 2014/15):
Di Maria's debut match against Burnley was a drab 0-0 draw, where he showed signs of his brilliance but could not provide the breakthrough for United. His game against QPR was his first appearance in the original Manchester United kit and was at Old Trafford. He marked the occasion with a delightful curler which went past Rob Green leaving him completely bemused. He was voted Man of the Match for that stellar performance.
He again scored a beautiful goal against Leicester City which was an astonishing dink over the keeper Kasper Schmeichel and that goal was voted as the club's best goal for the month of September, 2014. His fine form continued until a hamstring injury forced him out of action for several matches. He was on the scoresheet again on his return to injury against Yeovil Town in the FA Cup. His current form has been poor and has not performed as per the promise he showed in the beginning of the season.
So, what went wrong?
This poor run of form has led to various speculations and theories have been developed at what might have gone wrong for the player. The most important cause for the player's decline in form has been his playing out of position and therefore not being able to adjust in the alien role. His manager Louis Van Gaal has played him as a forward for a few games and this has badly affected his performance.
He is a winger who is best used in the flanks providing crosses into the box for the strikers to attack. His playing out of position has not helped his cause because the defenders close him down quickly, not allowing him the room to have a go at them. Additionally, both Robin Van Persie and Falcao are misfiring and are out of form, which doesn't help Di Maria's cause.
Shots from outside the box have also gone high and wide with the conversion percentage of 18% and 16% on the left and right side respectively. Another speculation is that of his unsettlement of the issue of his family's security after thugs broke in and tried to steal valuables. They were forced to move into a hotel and subsequently to Phil Neville's apartment after reports that his mansion has been put up for sale for a staggering 4 million pounds.
His injury is just a lame excuse for which people are giving considering the fact that Alexis Sanchez and Cesc Fabregas have played better coming from Spain.
What lies ahead?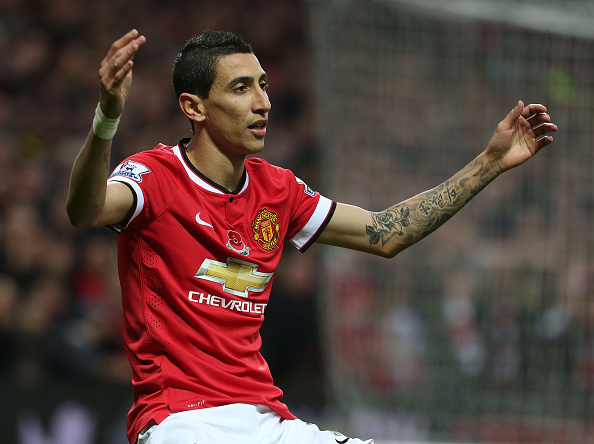 The media went berserk when Lionel Messi started following two Chelsea players on Instagram, triggering widespread speculations over whether Messi would leave Barcelona. But it didn't turn out to be true eventually. In a similar case, the current poor run of form should not be that much of a concern for Manchester United. They are winning, and sure, their player has had some bad games, but a point is to be noted that he is new to the Premier League.
An argument might be there over Alexis Sanchez also playing in the Premier League for the first time and thriving in his first season in England, but he has a manager in Arsene Wenger and a team which has players mostly playing in the Premier League to help him. In Di Maria''s case, the team had an overhaul with old players deported like Rio Ferdinand, Patrice Evra and Nemanja Vidic and new players who are again new to the Premier League brought in, some notable names are that of Marcos Rojo and Daley Blind.
There is a transition phase going on in the Red Devils' camp after that dismal showing under David Moyes. Therefore, he definitely needs to be given some time. Again there is a fear that he might turn out to be another case of talent wasted in England. It is sincerely hoped by everyone that that doesn't turn out to be the case. United also should be wary of not having a repeat episode of Juan Sebastian Veron, and by the similarities the signs are ominous.
Louis Van Gaal has maintained that Di Maria has his full support but the question remains is will he deliver? He also maintains that he is happy at Manchester, but constant media attention and the negative publicity garnered might just make him reconsider a move out of England or it can act in a positive way to bring out the form of the first few matches and propel Manchester United into automatic Champions League qualification.
The answer will come with time. Right now, the team needs to act together and support the player through and make him feel comfortable and assured. The road ahead for Angel Di Maria is bright, just to say at the last, form is temporary, class is permanent.