Angel Di Maria wanted to play despite his house being burgled: Louis Van Gaal
3.48K //
07 Feb 2015, 18:57 IST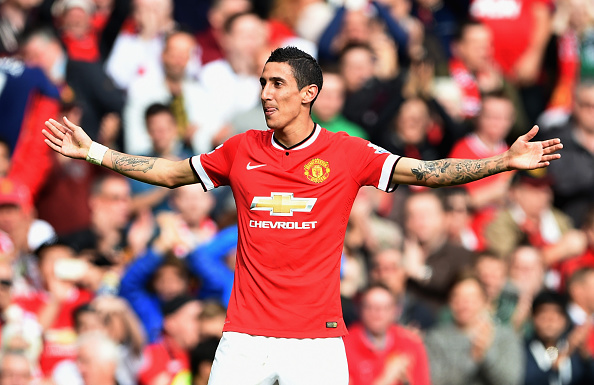 Louis van Gaal, the head coach of Manchester United, has revealed that the reason why Angel Di Maria started in the last midweek fixture was to get the player's mind out of the house attack that happened last week. Di Maria's home in Cheshire was tried to be robbed by some miscreants after the last Premier League game against Leicester City.
The thieves fled the scene after they failed to break through the patio door and an alarm went off. The Argentian and his family were shifted to a hotel with Manchester United's security providing the cover.
The family were said to disturbed by the incident and Van Gaal claimed he felt he had the duty to protect his player and give him some time off to recover from the attack but played him in the FA rematch against Cambridge City on his own request.
Maria wanted to play, I played him: Van Gaal
ESPNFC reported that Van Gaal told reporters about how he felt for the long-term happiness and safety of his 59.7 million-pound signing and said, "I believe in the total human being principle, so his environment is also important. He was worried about his wife and child.
"I spoke with him and he wanted to play against Cambridge United and I played him. I have decided in the past that I will never play a player in those circumstances, because of the total human being principle.
"But with him I had the feeling that I had to give him a chance to play and I was happy that I let him play. He played very well. And, of course, I have to decide Sunday again, but when you have seen his performance against Cambridge, I don't think I have any doubt."
Title is possible but difficult to get : Van Gaal
The Red Devils are currently four games without a loss and look to maintain their record with a trip to West Ham on Sunday. United beat Leicester in their last Premier League fixture and also reached the fifth round of the FA Cup with a 3-0 win over Cambridge City. Van Gaal is looking for a good second half of the season, with now currently on third place in the league table.
The 63-year-old's team is 10 points behinds leaders Chelsea and he is optimistic about their chances for the title. The Dutchman said: "It should be fantastic, of course, for the fans - but our goal is ending in the first four of the league and winning the FA Cup.
"There are still 16 clubs who want that, so that shall be difficult and ending in the first four is also difficult because there are teams breathing down our necks.
"It shall be very difficult to catch Chelsea, but it is mathematically possible. So we shall try to do everything we can to win every game. We are capable of doing that.
"It is possible, but it is also difficult. If I had to bet, I would bet on Chelsea - but I am not allowed to bet." He concluded.