Antonio Di Natale : Udinese and Italy's Messiah
780 //
03 Jul 2011, 11:31 IST
To fans in India and I am sure in most parts of the world, Italian football has always been more a sport of temperament and stability than of strength and creation of goal scoring opportunities. It is an ingredient that has made Italian football a sport not only that of discipline and focus but has also created players who are not just admired for their ability to thrill the fans, but a class that can only seldom be seen anywhere else.
One such player, who not only stands out in terms of stature and seniority is Antonio Di Natale, the grand old man of Italian football. Toto, as he's fondly known, has been an irreplaceable part of Udinese as well as a main stay in Italian national squad for quite some time now and to define him would be nothing short of defining a perfectly old wine bottle or even a scotch which is old enough drink itself, because as is true with the two, Di Natale too has found form as he has aged.
Di Natale, who will be turning 34 this October, known infamously for his missed penalty against Spain in the Euro 2008, has had a few tremendous years lately, thus growing out of the black hole that he got sucked into after his penalty miss, which he described as one of the worst moments of his career. With 2010 being his best in his entire career, the man from Naples netted a total of 28 league goals, surpassing a tally of 100 goals in Serie A with at least 54 % of the goals scored by Udinese that season coming from his boots (or head). In a season that saw him emerge as Udinese's talismanic striker, Di Natale not became the top scorer of the league, but was also adjudged the Italian player of the year.
Football, usually credited with youngsters as young as 20 getting onto to the field and earning millions off it, has only seldom had footballers who have reached their prime at the fag end of their career, Natale is one such specimen.
Coming from a rare breed of  'loyal' footballers Di Natale has been an Udinese player for over 6 years and seems to be heading for a few more.
Known as Toto by one and all, Di Natale first caught everyone's attention as a strapping youngster in the Empoli youth team. He later played for Empoli for a few seasons before moving to Udinese in 2004. Since then he has been not just a revelation but a man destined to change Physics and logic of how a Sportsman's career should pan out.
At 33 now, the Udinese striker has become captain and mainstay of his club.
With Italy and its football going through a bit of a rough patch in terms of trophies won, it is up to players like Di Natale to now step up and deliver the goods. Sure the Italian squad has many bright prospects in the future, but the mature and workman like culture that, players like Di Natale can bring to the table is an advantage no other set of players and provide.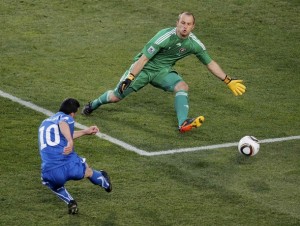 It is the combination of experience, skill and a level headedness that comes after being a match winner all your life is what Toto brings to the table, an attribute more precious than any youngster straight off the academy heading towards the gate and the 'paparazzi' beyond.
He might not be the most popular or even the most sought after strikers in the world, but Di Natale is a one of his kind footballer who has fed of experience and now is bearing the fruit of his toil. It would be interesting to see how this versatile striker performs in the years to come, with the Azzurri's looking for a man to lead them back to a glory, which has eluded them since 2006. Antonio Di Natale could be the man bearing the torch and could rightfully claim his place in the echelons of world football as player spoken about among the greats, because it's not always about the youth, but sometimes also about character and the Udinese man has shown he has loads of it.