Argentina - Home to great football managers
2.80K //
22 May 2015, 17:52 IST
The beautiful game of football never ceases to amaze countless minds across the globe. What is commendable about the sport is the room it provides for creativity and innovation and so many ideas that can be implemented. It is known to all that football plays a massive role in the lives of South Americans.
However, throughout the football-crazy continent, the two most prominent nations to have excelled in the sport in all aspects are undoubtedly Brazil and Argentina. Yet, when it comes to the coaching and management side of the game, Argentina has had an incredibly dominant impact in both South America as well as Europe.
Throughout the history of football, in Europe particularly, Argentine coaches have always been known for their deep insight into the game. The numerous creative ideas that flow through their minds and translate themselves onto the field in the form of tactical masterstrokes have more often than not, led to extraordinarily successful results.
Probably the greatest Argentine manager to have graced the game is Helenio Herrera. He is best known for his hugely successful reign as manager for Inter Milan for the best part of the 1960s. Here, he employed a novel, modified version of the 5-3-2 tactic known as the 'Verrou' or 'door bolt' which primed its focus on defense with swift counter-attacks.
Eventually, his version of the defensive strategy came to be known as 'Catenaccio' which revolutionized Italian football and became a reference point for all subsequent coaches in Italy. He won 3 Italian league titles, 2 European Cups and 2 Intercontinental Cups with Inter Milan with his novel tactic of Catenaccio.
His legacy and contributions will forever remain dear to Italian football fans. Eventually, through the following decades, many Argentine managers made a significant impact in the world of football.
Osvaldo Ardiles, the first Argentine manager in English football history managed Swindon town, and implemented an attacking 4-4-2 system which saw the club play much improved, attractive, football characterized by short passes that was quite uncharacteristic of the English game that involved 'long balls'.
Hector Cuper largely improved the fortunes of Mallorca and Valencia from 1997 to 2000. Both the teams that he managed displayed entertaining performances and elevated their status as a football power in Spain as well as in Europe.
His most significant accomplishments are the back to back UEFA Champions League runners up positions with Valencia in 2000 and 2001.
In today's times, once again Argentine managers are in the forefront, delivering great success on the field and promoting attacking philosophies that have won the hearts of many fans. Marcelo Bielsa has had an immense influence on the modern game and his ideas have inspired managers such as Pep Guardiola, Mauricio Pochettino, Gerardo 'Tata' Martino and Jorge Sampaoli.
His philosophy is similar to Cruyff's 'Total Football' which is based on a 4-3-3 system, although his version is centered more on intense pressing and ball retention. He had great stints as head coach with the Chile national team and Athletic Bilbao. Both teams were distinctly notable due to their impressive, attacking football performances.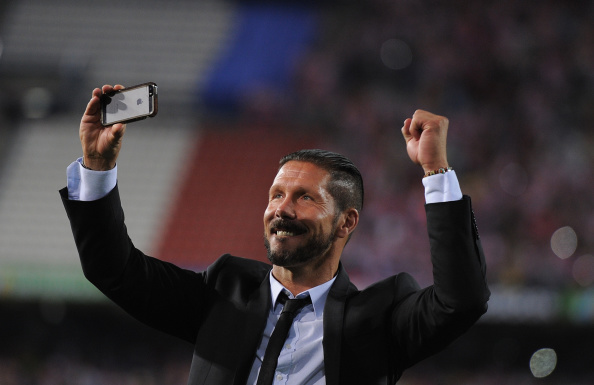 Diego Simeone has completely changed the fortunes of an Atletico Madrid side that was reeling in the lower half of the league table back in 2011.
He instilled a terrific work ethic for Los Colchoneros and turned them into an organized, tactically sound, ruthless engine with incredible discipline. The team's ability to maintain a solid defence and launch fast counter-attacks with a quick exchange of passes has become typical in Simeone's system of play.
He memorably led Atletico to a fantastic league victory and a runners-up position in the Champions League in the 2013/14 season.
The fact that he achieved all this with an almost completely unchanged squad from the one that he inherited when he first took over as manager gives him further merit as a coach. The way he has managed to bring the best out of Antoine Griezmann by transforming him from a midfielder into a support striker adds another feather to his cap.
Mauricio Pochettino, had a great impact on Southampton FC. Some entertaining, high-quality performances were seen against the big teams such as Arsenal, Manchester City, Chelsea and Manchester United.
It was largely pleasing to see a mid-table English club racking up possession stats in the range of 60-70%. Their tendency to impose their style of play against all oppositions, irrespective of their stature, forced many pundits to take note of them.
Jorge Sampaoli, a manager inspired by Marcelo Bielsa's ideas has worked very efficiently with Chile and had a very impressive run in the 2014 FIFA World Cup. He deployed a 3-1-3-3 formation and developed a highly aggressive, attacking unit that ended up eliminating defending champions, Spain and pushed hosts Brazil to the very brink in an enthralling round of 16 tie.
However, Sampaoli was not the only Argentine to leave a lasting impression in the competition. Fellow countryman, Alejandro Sabella almost led Argentina to World Cup glory but narrowly missed out to Germany in the final.
Argentina's defensive frailties were effectively dealt with as he developed a robust, hardworking midfield with the likes of Javier Mascherano, Lucas Biglia and Enzo Perez that always helped out the defense. Also, he deployed Lionel Messi in a deeper position and optimized his creative potential.
Luis Enrique did the same with Messi at FC Barcelona and the results have been quite astounding.
The game of football has changed and evolved over the years. Through the work of so many impressive Argentine coaches, many new tactical ideas are implemented. It is a treat to watch them work and it is about time we started taking note of them. For its own good, world football must attract more and more Argentine managers in the years to come by.