Arsenal 2 West Bromwich Albion 0 – Something To Hold On To!
646 //
08 Dec 2012, 23:42 IST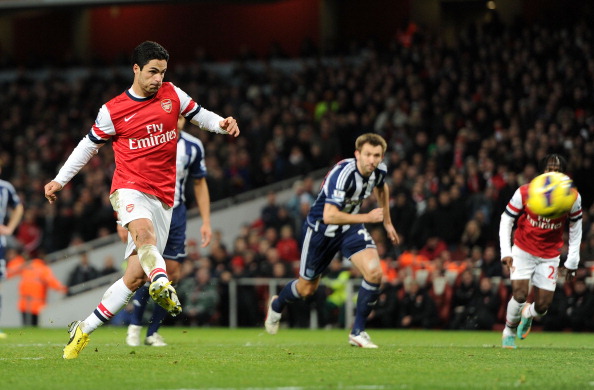 Arsenal 2 (Arteta 26 (pen), 64 (pen)) – West Bromwich Albion 0
Man of the Match - Jack Wilshere (Arsenal)
Relief! 17 days after last recording a win, the Gunners fought out a 2-0 win over a stubborn West Browmich Albion side, which must be feeling hard-done by two contentious penalty decisions.
There were quite a few surprises in the Arsenal line-up, with Bacary Sagna passing a late fitness test, to start the game. Even Lukas Podolski was fit enough, but he was named among the subs. Theo Walcott was still out, which meant starts for Alex Oxlade-Chamberlain and Gervinho. There were no surprises for the Baggies, with Peter Odemwingie starting in place of Graham Dorrans on the right side of midfield.
Arsenal started brightly, and with more intent in the opening minutes, looking to score the all important first goal. Gervinho missed a good chance, before West Brom were forced to make their first substitution, when left-back, Liam Ridgewell was injured.
Alex Oxlade-Chamberlain, looking to redeem himself, after a poor season so far, crossed, but Cazorla's shot was way above the target. West Brom fashioned their first effort on goal, when Chris Brunt's effort went just over the goal.
On 24 minutes, Arsenal were gifted a penalty when referee Mike Jones adjudged Steven Reid to have bought down Santi Cazorla. The Spaniard, looking to cut inside of the defender, made most of a wayward challenge, and television replays showed that there was minimal contact. Mikel Arteta stepped up and dispatched the penalty right down the centre. 1-0 to the Arsenal!
West Brom looked to up the pressure, but Arsenal's rearguard looked solid for it's part. Gervinho, who looked lively, and for once, did not dangle on the ball too much, or spectacularly try to end his own team's attacks, got behind the West Brom defence, and his pass was slashed wide by an onrushing Jack Wilshere, with the goal gaping.
West Brom could have had a penalty when Mertesacker handled the ball in the area, but the linesman noticed that Jonas Olsson was all over the lanky German. Arsenal closed with more chances, first when Gervinho created space, but his shot was weak, and then an overhead kick from Chamberlain.
The Baggies, started the game with more purpose in the second half, but it was Arsenal who had the first effort on goal, when Gervinho's header, unsurprisingly was wide. And, seconds later, he was unable to connect to Giroud's header, with the defender managing to clear the danger.
Arsenal got the much needed two goal cushion when Alex Oxlade-Chamberlain beat Goran Popov and ran into the West Brom penalty area, only to be bought down by Chris Brunt. Giroud clearly wanted to have a go, but Arteta stepped up, and like his first penalty, sent this one down the centre as well.
With this, Arsenal looked more relaxed and looked happy to spray the ball about and produced some fine movements, one of which almost resulted in a goal, when some lovely work from Jack Wilshere set up Chamberlain to cross for Giroud, but Myhill punched the ball away.
Arteta almost got his hat-trick when his free-kick whizzed by, and West Brom looked to test Szczesny with efforts from Rosenborg and Lukaku, but to no avail. Arsenal had the best chance of the match late on, when Wilshere set up Podolski, but the German striker fired over after taking time to switch over to his left feet to shoot.
All's well's that ends well. A very important victory, and one that will hopefully trigger some spark and confidence in the team, as they look to move to the top 4 spots. Gervinho looked bright, and released the ball earlier than he usually does, which is always a positive. His finishing has gone to the cleaners, though.
Chamberlain looked good as well, and created several chances. Wilshere was superb again, and so was Arteta, whose calmness handed the Gunners 3 points. Defensively, we were rock solid again, and a clean sheet is always welcome. Vermaelen looks like the Vermaelen of old. Solid and uncompromising.
More of the same please!