Arsenal - Always the victims
2.46K //
14 Mar 2013, 22:34 IST
A day or two ago, news reports carried the headlines that a few top Arsenal players were missing out on the all so important clash in Munich. There was a hint of excitement in it as they knew they would now have the opportunity to get back at Arsene Wenger again, write more about the trophy drought, why Arsenal hate to splash the cash and overall, why they aren't a top team any more.
Unfortunately, they were left disappointed as Wenger had it all planned and kept everything under control. What they thought would be a mass drubbing, turned out to be a 'taming the lion' contest.
Arsenal have always been a victim of the media, maybe it's something that they've brought upon themselves considering how they performed a decade back, and also knowing the capability of Le Professor. But criticism for Arsenal has always found a place among media around the globe.
After yesterday's performance, you would say 'Hah! We proved ourselves', but you would have been shocked to see that it wasn't everyone who felt that way.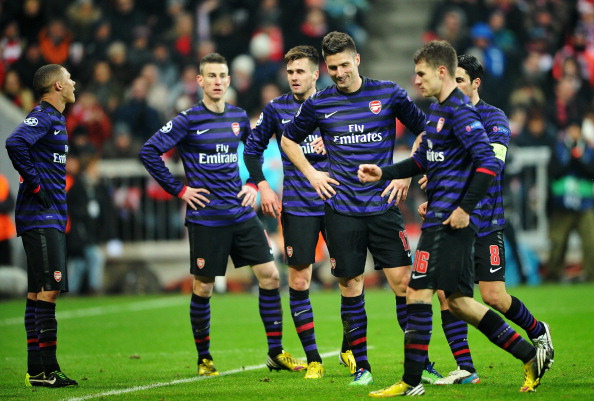 After Manchester United's loss, newspaper headlines carried 'Harsh red card ruins game' or 'Unlucky United miss out as undeserving Madrid go through'. People had already decided for everyone that no English team would make it to the quarters. And that's when a depleted Arsenal squad gave one of the best teams in Europe and more importantly, every Arsenal hater a reality check. But this time the headlines didn't come out as you'd have expected them to be. If you were looking for a 'Brave Arsenal just fall short of comeback', keep looking son, you'll never find it. The best line that match reports could come up with was that 'Arsenal salvage pride' while some went on to talk about how poorly Bayern played and some went a step further to say that 'more importantly, the trophy drought continues'.
Sometimes you get the feeling that even if Arsenal do win a trophy, people would only talk about how long it took them and how unlucky the losing finalists were. Maybe a 10-0 victory in every game would give them the credit they deserve from all around, I still say 'maybe'.
And it isn't just the media or the critics who are looking for ways to needle the Arsenal folk, it's the players as well.
A few hours before yesterday's game, Philipp Lahm taunted Arsenal, saying they are no longer a top team and dismissed their chances of progressing to the quarterfinals. Well, I hope we get to hear the end to that ever-so-perfect speech, Mr. Lahm. Also, let's not forget Arjen Robben, who after the 3-1 win said, "They were lucky I didn't start or we would have scored more". Reporters are still looking for him to hear his views now but if rumours are to be believed, he's found a new home – in Carl Jenkinson's pocket.
This isn't just the case with Munich but with other powerhouses as well. Though nobody really said anything after the Milan match, because they knew that only they could win on their "well ploughed farm", but the season before when Arsenal beat the Catalans 2-1 at the Emirates, a frustrated duo of Xavi and Iniesta said "We'll see them at Barcelona". That didn't work out too well as they were looking to bow out of the competition until Van Persie was given a 'completely deserved' red card.
With this, we come to the next part – match officials. Though it won't be an area to really crib about as decisions don't always work in your favour in football but the officials need to be as perfect as possible with their calls, in a tournament as prestigious as this. Even though last night saw no lousy cards, there was a decision that the linesman made while taking a power nap on the sidelines.
Though many would argue that Walcott didn't convert the chance, that's not reason enough to ignore the horrible offside decision. At the same time, this isn't being put forth as an excuse for not winning, but one should be fully alert while handling a match of this intensity and significance.
And of course, all these problems seem to be nothing in front of the luck that Arsenal have had. Be it the red card for having the audacity to 'kick the ball' after the whistle in a terrifyingly noisy stadium or trying a cheeky chip to score the 4th goal against Milan when a normal shot would have been a better option, these are only a few cases of how luck has always eluded them. Very rarely would you say "Arsenal won the match un-deservingly", in fact they lose most of the games even where they deserve to win. Yesterday you might have thought that this fact would change when they scored a late second goal until Neuer decided to enact the 'Don't take my baby away' part.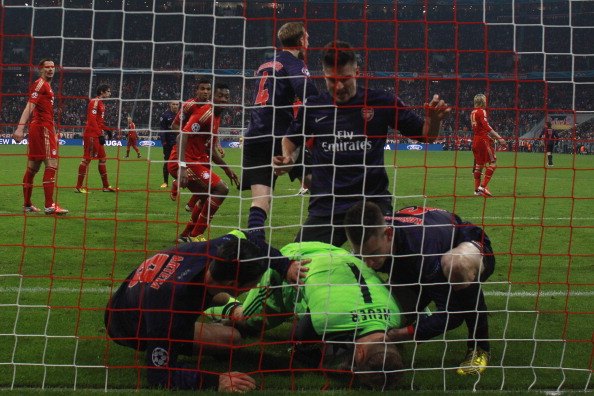 But, if you ask me, it's the moments like these that make one proud to be an Arsenal fan. When you see the opposition tamed down to such an extent that they resolve to childish time wasting techniques to somehow scrape through, you can't help but feel good about your team.
It seems hard to live against the odds with criticisms galore, but you can always expect a fight from these eleven men who give absolutely everything when the time calls for it. They play with their hearts on their sleeves and personify the quote "Play for the name on the front of the shirt, and they'll remember the name at the back."
Arsenal Football Club may not be the force to be reckoned with that they once were, but the end of the road is still a long way out.
After all, you fall, only to rise again.