Who are you and what have you done with Arsene Wenger?
2.33K //
02 Feb 2015, 13:20 IST
Seriously. What is going on here? For the fourth straight EPL match, we've failed to dominate possession to the extent Arsenal are used to. We've scored the first goal and kept a clean sheet each time on our way to winning three in a row. What's more, we seem to have abandoned an approach that had become just as much a calling card as it was a curse.
On this recent run (which also includes FA Cup wins over Hull and Brighton), we've set that card aside and seem to be playing with an entirely new deck. Arsenal, previously and justifiably derided for trying to pass the ball into the net, have been conceding possession to opponents and hitting on quicksilver counter-attacks, and to devastating effect, especially in the second half against Villa. It's enough to make one wonder just where it all comes from.
Arsène Wenger, infamous for his tactical stubbornness, seems to have turned over a new leaf – or have the players figured things out for themselves? In either case, the results are hard to ignore, with the second half against Villa as latest evidence submitted. Despite managing only 47% possession, we generated five goals, just the third time since 2003/04 that we've combined the two stats.
How many times have we dominated possession to the tune of 60% or more only to come away empty-handed? How much time have we wasted seeking that Norwichian pornogol di Wilshere, trying to thread a seemingly infinite series of ever-more intricate passes through a thicket of arms and legs and torsos?
Against Villa, it's true that we tried a few such series – Özil had a goal disallowed after a nifty sequence because Cazorla was ruled offside, for one – but, the story of the day has to have been how hard we hit Villa on counters, some of them borrowing elements from [gasp] the old-fashioned, English hoof-and-hope variety.
Arsenal sacrificed possession for lethal counter attacks
The first goal came when Mertesacker cleared to midfield. The innocent clearance found Özil at midfield, and he flicked it forward to Giroud, who was the only Gunner across midfield (okay, so Walcott and Cazorla had feet in Villa's half, but bear with me). Even for as slow as Giroud was, and for as much as he stumbled towards goal, he was still the only Gunner in the box when he scored, with Ramsey and Cazorla trailing the play a good 20 yards behind.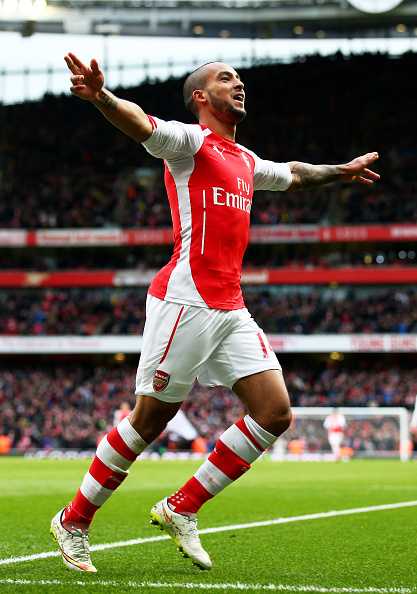 The second goal came when Walcott – yes, Theo Walcott – made an interception deep in our third and drove forward. You know we're sitting back and inviting an opponent forward when it's Walcott who digs the ball out. He was essentially our right-back at the moment, with Bellerin about 10 yards further upfield. The break was on, with a few dribbles and a pass ahead to Giroud.
Pouring forward, Özil ran onto Giroud's through-ball, beating two defenders and curling his shot just out of Guzan's reach. This was a more-classic counter, with the ball stolen deep in our third and a series of quick passes into the opponent's third. Every defender in the frame is running towards his own goal, desperately chasing the play, rather than back-pedaling calmly.
The third goal came despite Villa having a chance to get back and set up. Again, it was Walcott collecting the ball, this time on the left, and driving forward. When he made his pass to Cazorla in the middle of the pitch, Arsenal were actually outnumbered with four attackers – Giroud, Walcott, Cazorla, and Ramsey – against six Villa defenders. However, so quick was the attack that those defenders never got a chance to set up, and Cazorla's through-ball, probably intended for Giroud but scooped up by Walcott as he sliced across the top of the box, caught those defenders flat-footed or turned the wrong way, and it was 3-0. It would be Theo's 50th EPL goal.
From there, the badly fading Villans could do little to slow the onslaught. Chuba Akpom had come on, and he ran in behind the defence to collect a lofted pass. This might not have been true counter-attacking, but it's well worth noting that Akpom was alone against two defenders as Villa were pressing forward in search of at least one goal and were caught out. Akpom's touch was a bit Sanogo-esque, but Taylor pointed to the spot after Guzan brought Akpom down. Guzan very nearly saved Cazorla's spot-kick, but it squirmed in to make the score 4-0.
Last but not least, in injury-time, Bellerin scored a goal much closer to those we've grown accustomed to: six defenders in the box, a few lateral passes, and the young Spaniard had his first Arsenal goal after slotting it through the thicket and beyond Guzan's reach. 5-0.
Has Wenger reverted to his strategy from the Invincibles era?
Aside from the scoreline, we have to ask ourselves, just what is Arsène up to? Has he instructed the players to set up more defensively, abandoning the possession-based approach we've come to expect (and regret) in recent seasons? We've spent so much time, so many seasons, pressing and possessing but without winning that it seems strange to see us do anything else. Then again, in those glorious early years of Arsène's reign, that's precisely what we used to do.
Find an early goal, tempt the opponent forward, and hit hard in some of the most exquisite counter-attacks ever. No one could cover ground like Thierry Henry; few could find the perfect pass like Dennis Bergkamp. I'm not equating Walcott or Alexis to the former, nor am I equating Özil or Cazorla to the latter, but there is something breath-taking in seeing the current lot show that they just might have the skill and mentality to remind us if not replicate those days.
It remains to be seen, of course, whether this is a temporary blip or whether it heralds a deeper adjustment. It's one thing to sit back and almost park the bus against Manchester City, or to score early against Villa and dare them to find an equaliser. Can this current approach work when we play a squad that can deny the early goal and is content to come away with a draw, or will we revert to that other, possession-for-possession's-sake mindset? The current squad seems set up to hit on counters, what with Alexis and Walcott running off of Giroud as he redirects the ball from Cazorla or Özil.
Whatever the tactics, the result is good enough to draw us level with Southampton on points, with goal-difference giving them the edge. However, we've scored 12 goals in three EPL matches while conceding none. Southampton have scored three and conceded two in the same stretch. If this new, old Arsène is serious about this new, old approach, we may soon overtake Southampton and Manchester United on points and goal difference as we march towards making this a three-way race for the Premier League title.