Arsenal fans are missing the point
1.77K //
07 Mar 2012, 13:59 IST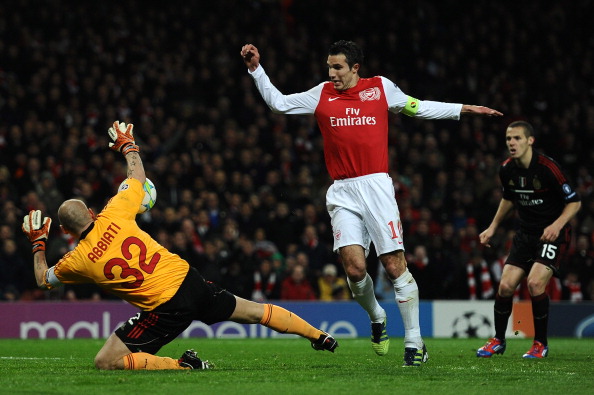 Not supporting Arsenal, rather supporting football. What a lovely sport.

— ManUtd24(@ManUtd24) March 6, 2012
Regardless of the team you support, you always want to bear witness to the magic of football and wish for the  I-watched-them-do-the-impossible moment. Arsenal were hoping to be the first team in UCL history to overturn a four goal first leg deficit incurred at San Siro and pass through to the quarters. They were expected to attack the game and attack they did with new found hunger and conviction that was found lacking in the first leg. Arsenal never allowed Milan to settle in the game and pressed them hard in their own half,  allowing them to make mistakes and lose possession quickly. Three goals in the first half saw even the strongest of Arsene Wenger's critics mellow down a bit.
And yes, if we go through tonight, I will NEVER question Wenger again. He'll earn a permanent get-out-of-criticism card. #Arsenal

— Piers Morgan (@piersmorgan) March 6, 2012
Arsenal's performance last night was described as English pride being restored.
Arsene Wenger has certainly managed to turn the tide after successive poor results at San Siro and the Stadium of light, with wins against Tottenham Hotspur and an unbeaten-at-home Liverpool.
But, why dig a trench for yourself and later come out fighting against the odds.
It was Wenger who has put Arsenal in this perilous position a few weeks ago and maybe it will be Wenger who lifts this Arsenal side out of the danger before the season ends.
True, it would have been difficult for any other manager besides David Moyes, to do the balancing act of managing the club accounts and keeping the team in contention for silverware.
Like Wenger, even Moyes has lost key players like Joleon Lescott, Steven Pienaar, and Louis Saha recently. But, Moyes is not as spendthrift as Wenger is when it comes to buying players. Everton's financial situation forces Moyes to make use of what little he can afford to spend the money on wisely. And yet, Everton are in contention for the FA cup and the Europa league spot this season. However, it is not the same with Wenger. He has the Boards backing, he has the money to spend, but he fails to sign players because of Arsenal 's reputation of bottling it in the final third of the season.  Arsenal are out all the cup competitions and are clinging on to fourth place.
Tactically, Arsene Wenger has no fool-proof game plan when they play in the league against the lower teams or against the giants in Europe. Arsenal neither push high up the field against weaker sides nor they defend deep against stronger sides. They work the ball from midfield, spreading it to the flanks where both their regular wingers are not the best crossers of the game but can only cut back inside the goal area and shoot or provide for Robin van Persie.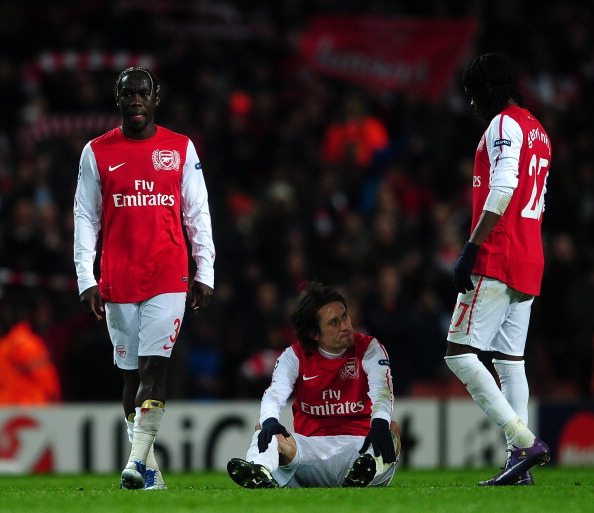 Wenger solely relies on his fullbacks to make overlapping runs to put the crosses in for his forwards. Last night, against Milan an out-of-breath Arsenal could have used some crosses from Sagna and Gibbs to test Milan's two centre-backs. Against Tottenham at home, Arsenal have put in a decent amount of 23 crosses and Manchester United playing at White Hart Lane also mounted their attack with 23 crosses into the box. A poor Manchester United, overrun in the midfield, pulled back two goals from the 23 crosses.
The Gooners too have been swayed by the recent run of positive results and unfurled the banners reading: In Wenger we trust. It may come across as fickle to anybody watching the gooner support fold and unfold their banners every time Arsenal struggle or put on a spirited comeback. The mood around emirates suggest that Wenger must be given another chance to win trophies. It was evident from last night's substitution when Chamberlain was hauled off for Chamakh in the 75th minute – there was no jeering from the crowd and van Persie mouthing the word NO in disgust.
Arsenal have been patient with Wenger for more than a 1000 Roman Abramovich years. This has to be Wenger's last season as manager before van Persie retires from club football without any major achievement to show off. Continue to float him as manager, Abramovich might perhaps win the Champions League before Arsene Wenger breaks his trophy drought.