Arsenal fans: Pot calling the kettle black
1.26K //
30 Jul 2013, 18:46 IST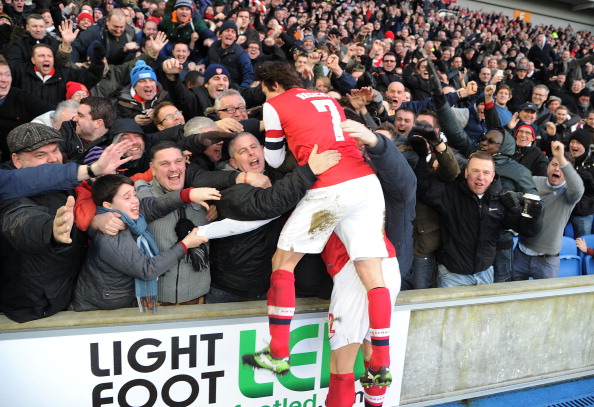 Arsenal fans, including myself, have been complaining about our ex-player's lack of loyalty to the club: Nasri, Hleb, Flamini, Song, Clichy, Van Persie, Adebayor, Toure and even Fabregas and (dare I say it) Henry to a certain extent. These players have left us over the last couple of seasons. It's disappointing and enraging. We feel that we would be a lot better off if only these players had stayed. We call them traitors, disrespectful, etc. when they see greener pastures and move on.
Arsenal have been releasing our under-performing players slowly, but surely over the last couple of weeks. Denilson, Djourou, Chu-Young, Arshavin, Bendtner, Squillaci, Santos, Gervinho, Mannone and Chamakh have either left or should be moving in the next few weeks.
And here is my point- us Gooners demand respect and loyalty from our first team players and hope that they don't leave, yet we treat the players at our club that we don't think are good enough with disrespect and disloyalty.
We shout that Wenger must get rid of them and constantly ridicule them just because they are no longer in the first-team or have had a run of bad games. Many fans were urging Wenger to get rid of Koscielny after his Birmingham City mishap and a generally disappointing season.
We call them "deadwood" (definition: useless or burdensome persons or things). I don't think it's fair to call a professional footballer that plays for OUR club "useless".
Complaining about the exorbitant wages they receive is also pointless, they are just people trying to get the best deal they can. If Wenger and whoever else is in charge of those types of things are willing to pay them a certain amount, that's not the player's fault. I also believe that a high starting salary is a way that Wenger attracts players that he is hoping will get better.
None of these players were expecting to be a reserve, all of them were hoping that they could cement a first-team place for one of the best clubs in the world. Some of them sit out their contracts (eg. Almunia) and we wonder why we gave them such a long deal, but if Almunia had performed well we would have been happy that he had a long deal.
I agree that they should be moved on if they are not playing (for their sake and ours), but I think we could be a bit more discreet about it.
For every great signing, like Henry, there's one that is quite disappointing, like Bendtner.