Arsenal: Has the Gunners' defence turned a corner?
919 //
25 Mar 2013, 12:05 IST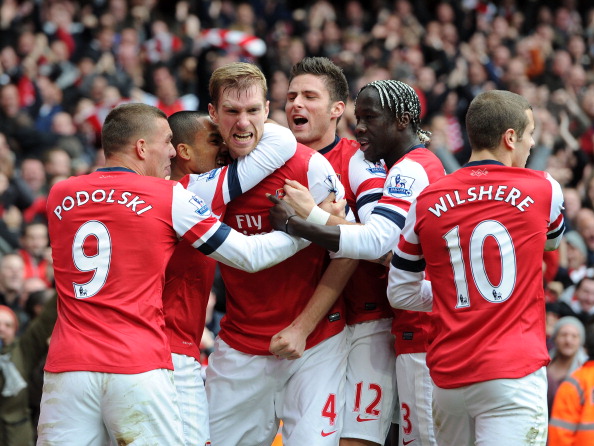 Defence is all about organisation and understanding. That is something Arsenal have not had consistently this season. At the beginning of the season, it looked promising for the Gunners. 3 clean sheets in a row got Arsenal fans thinking whether a corner had been turned. Unfortunately, this didn't come to fruition. An injury to Laurent Koscielny, our best defender last season, meant he couldn't muster a run of games as well as Thomas Vermaelen and Wojciech Szczesny's poor form were largely the reasons.
But for the 2nd leg against Bayern Munich, Arsene Wenger decided he'd had enough. He dropped Vermaelen and Szczesny and started Fabianski and Koscielny in their place. For the first time in a while, Arsenal looked like a solid defensive unit. Mertesacker and Koscielny understood each other and looked a good partnership. Mertesacker used his height and aerial strength to win the ball and if anything got through, Koscielny used his pace to clear any trouble.
Our back 5 also communicated plenty, which was refreshing to see. Fabianski was vocal and confident and Mertesacker organised the back line very well. Against Swansea, Wenger stuck with the same back 5 and his decision was proved correct. Lukasz Fabianski didn't have a save to make all game and the only time Swansea looked dangerous was when Carl Jenkinson lazily passed the ball right to Michu's feet.
You could argue that these two teams had nothing to play for but considering how I'm used to seeing Arsenal defend, I'm pleased with how solid we've looked since that dreadful loss at White Hart Lane.
Dropping Szczesny has hopefully been the reality check he needs to start performing again and has shown him that if he doesn't up his game, he won't play. Also, I think this could be Thomas Vermaelen's last season at Arsenal, with Barcelona apparently interested. I, for one, wouldn't be sad to see him go. He is a shadow of the player he was when he first arrived here, and I have found myself get more and more frustrated with his rash challenges and lack of focus costing us goals.
For now, I would stick with the same back 5 as we have in the last two games for the rest of the season. Then, in the summer, I'd buy a replacement CB for Vermaelen (Chico Flores would be my pick) and an experienced goalie for Szczesny to learn from, and to apply some much-needed pressure to that no. 1 spot.