'Arsenal need a top goalkeeper to fight for EPL title'
1.73K //
12 May 2015, 18:48 IST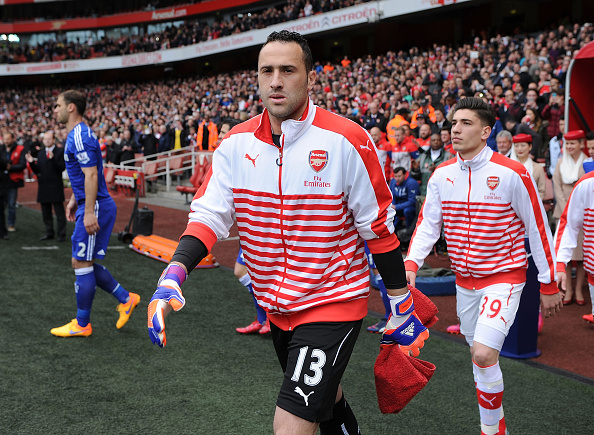 London, May 12 (IANS): Former England footballers Jamie Carragher and Gary Neville believe Arsenal must buy a "proper number one" goalkeeper at the end of the current season if they are to be in contention to win the English Premier League (EPL) title next year.
Colombian David Ospina, who has been the preferred choice for Arsenal coach Arsene Wenger ahead of Poland's Wojciech Szczesnyin in the league, was arguably at fault for the decisive goal as Arsenal lost 0-1 at home to Swansea City on Monday.
"I think Arsenal need to go out in the summer and just buy a proper number one goalkeeper," Carragher was quoted as saying on Tuesday.
"His (Ospina) record is good because the team are playing well and are defending well so they're not having that much to do, but he was bought as a No.2.
Very rarely do you see a No.2 goalkeeper become a No.1. If he was that good, why was he bought as a No.2? Why wasn't he coming and being the No.1?" he asked.
However, he believes even if Arsenal shows an interest in out-of-favour Chelsea goalkeeper Petr Cech, Chelsea would not allow a transfer.
"That's what Arsenal need. They need a world-class goalkeeper. Petr Cech? I don't think Jose would like that."
Neville, also voiced the same concern saying Ospina would better serve as a number two in the side and did not think that Chelsea coach Jose Mourinho would sell Cech to a rival contender.
"If I was Jose Mourinho, with Arsenal potentially being one of my biggest rivals next season, I would not sell them Cech at all," he said.
"It lets Arsenal off the hook. You could argue they have struggled for a goalkeeper since Jens Lehmann and David Seaman. It's a struggle to win a title without a great goalkeeper, a massive struggle."