Arsenal's problem is the fans
2.03K //
27 Feb 2015, 16:43 IST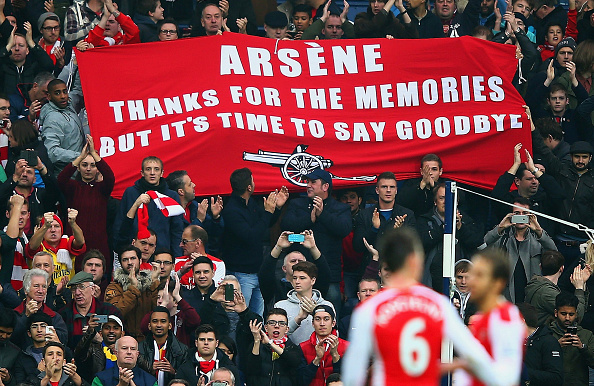 I've done my fair share of digging out other fans for their opinions on this website, some ironically take umbrage with that, but I think it is part and parcel of being a supporter. We each have our own views and those contrary will undoubtedly receive some sort of scathing or ridicule – especially when the opposing view is so gosh darned ridiculous.
I don't want this to be another WOB (Wenger Out Brigade) vs AKB (Arsene Knows Best) post because a) I identify as neither and b) frankly, they're boring now and have been for some time. That said, it's almost impossible to discuss the subject I am writing about today without bringing it up.
As I said, I've not been shy in digging out other people's opinions because, despite the remonstrations of those who are usually on the receiving end, as much as "we're all allowed" an opinion, we are all allowed an opinion on someone else's opinion. If I think someone is wrong or, more often than not, stupid then I'll say something.
The debate between AKB and WOB
I don't consider myself an AKB because the name itself suggests a blind faith in the erudition and infallibility of a single man. Similarly, I don't subscribe to the WOB views because I don't want him sacked. Sadly that often means those who do want him sacked will attempt to ridicule and label me as AKB. Vice versa with AKBs when I criticise the manager or a player.
The most obstreperous supporters at Arsenal tend to be at either end of the spectrum and the said spectrum's acoustics means the noise coming from either end drowns out the vast majority of supporters somewhere in the middle (*puts fingers in ears in preparation for the catcalls of "SITTING ON THE FENCE"*).
I find similarly dumb arguments – mirror versions – within both camps. Of course another manager could be as successful, if not more so than Wenger, but would they be so with the immediacy the malcontent want? And of course Wenger is still a great manager – you only have to look at Dortmund to appreciate how well Wenger has done to keep Arsenal where they have been with a new stadium and all the financial restraints he has had but could he, or should he, have done more? Yes, he could, and probably he should have.
Healthy debate is fine and amongst the throngs of the middle ground crowd such discussion is had on a regular basis. We disagree, we mock, we jeer, we agree, we nod, we applaud – what we don't do is try to idiotically reduce the issues Arsenal have to a single cause, or more accurately reduce the impediments to solving our issues to a single blockade.
This morning I was stupid enough to listen to a clip from a radio phone in where a well-known match going supporter claimed – and not for the first time either – that fans with opposing opinions are the problem with Arsenal. Here's the full quote:
This is the problem with Arsenal, we've got too many fans like that. They can't see what's going on.
I think it is ridiculous to suggest or imply that Arsenal's "problem" is overly positive fans. I listened to what the other fan said and I thought much of it was ridiculous. Yes, we had an off day and yes, it's one of those things, however, it was entirely avoidable.
Arsenal's complacency gave Monaco the advatage
Monaco didn't dominate us, it was quite an even match, but our attitude and complacency gave them the advantage. Our stupidity gifted them the win and probably the tie. Giroud being completely off colour is one of those things. People will say he goes missing in big matches because it suits their narrative but there are plenty of examples to the contrary.
Olivier Giroud, not Oliver, has been in wonderful form since returning from injury so it's just a coincidence his off match was that one. Alexis has been off colour for weeks – these things happen in football. Mertesacker being off colour is, in my opinion, a mixture of not being mentally right all season due to being rushed backed into the team (which is Wenger's fault because we had a lack of options but I understand why – even if I don't agree with it) and the whole defence foolishly playing a high-line.
Gibbs looked rusty, which is comprehensible given Monreal's excellent form this year, and Bellerin looked naive, again comprehensible given his age. These aren't excuses, these are observations. Even with those issues we should have won the game, we had the chances.
To coin a wobism, papering over the cracks with positive sound-bites doesn't fix anything but then again fans have no ability to fix anything other than the dire atmosphere at the stadium. I am not a season ticket holder, I go when I can, but that does not exclude me from having the right to comment on the atmosphere.
In the face of that result the extreme positivity looks foolish. Admirable in some respects but foolish. To suggest that such misguided positivity is the problem at Arsenal is base stupidity.
Problems Arsenal face
Arsenal have, like every club in the land, a litany of problems. Injuries, squad depth, wage budget, richer rivals, inconsistency, tactical naivety in some games, overconfidence in others and too much rigidity in philosophical approach to each match.
Arsenal have been unfortunate with injuries and yes it is a problem we've had before but if there was an easy answer we would have found it. As Tim Stillman mentioned on the Goonersphere Podcast a month or so back, it's not just one thing, it's lots of little issues all coinciding to make one mammoth injury list.
Squad depth can be addressed but doing it all in one window could cause more issues than doing it over 2 or 3. Wages and richer rivals is an issue because it limits our options. We have money now but we still have vastly less than others – it is a factor, there is no hiding from it but it's not the omega for Arsenal's title hopes before the season has begun, we still managed to buy two of the world's best players.
Inconsistency is influenced by injury. Tactical naivety is a squad and management issue as is overconfidence. The philosophical approach is very much all on Wenger. It is his belief that we should approach each game in the same way that has held us back but there have been signs for a few season now, this more than any other, that he is adapting and changing.
There are lots of reasons why Arsenal aren't going toe-to-toe with Chelsea or steamrollering Monaco. Reducing it to just the manager or "deluded fans" is just moronically simplistic. It's just too easy to blame Wenger, or a player, or a group of fans. Anything that is so easily done can't be true because the easiest options are the first to occur to paid professionals. It is solving the difficult problems that earns them their crust.
If dropping Mertesacker would drastically change our fortunes Wenger would do it. For a lot of 2002 he dropped Dennis Bergkamp in favour of Wiltord. He isn't stupid and he isn't afraid to make big decisions. He dropped Szczesny because of his antics but also because I think he understand he gets too comfortable sometimes. I think he'll be back in the team against Everton and we'll be the stronger for it. His cocky complacency will have reverted back to good old confidence.
If replacing Wenger would propel us up the table then he would not have been offered a new contract. The most ridiculous Arsenal centric opinion out there is the club only want to finish fourth. That is the minimum objective. The club want to win titles because it makes them more attractive to sponsors and the higher we finish the more likely we are to secure Champions League football. Why finish 4th and enter the qualifiers when you can finish 1st, attract more sponsors, earn more prize money, and go straight into the group stages?
These aren't easy decisions to make and no amount of delusionally contented and brainwashed fans will obscure the correct choice.
It is utterly bonkers to suggest other fans are the issue just because their opinion differs from yours. By all means tell them you think they are stupid but don't be so stupid yourself as to state or imply they are stopping your dazzlingly brilliant solutions from being heard and acted upon.
I will caveat that after imputing his notional diametric he went on to praise Wenger's past achievements and stated that everything comes to an end. I totally agree with him, Wenger's time will come to an end and this will probably be his last contract, or even should be his last contract, but I don't think sacking him is the answer.
The problems at Arsenal are wide, varying and ever-evolving, they cannot be reduced to something as banal as a single person or a group of people with different views from your own.