Arsenal need to project confidence and commitment against Brighton & Hove Albion
1.73K //
24 Jan 2015, 15:58 IST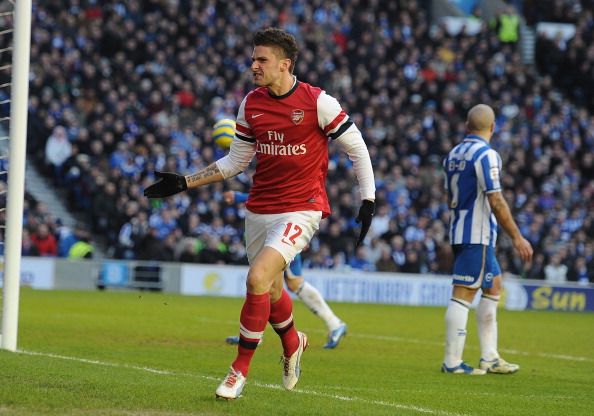 There's something about us facing clubs whose name starts with B that almost takes our breath away: Birmingham. Blackburn. Bradford. Bayern. Two years ago, we almost added another name to the list when we barely escaped our last visit to face Brighton in circumstances similar to Sunday's clash. FA Cup fourth round. Hovering on the edge of Champions League qualification.
Against that backdrop, we were very nearly dumped from the FA Cup by Brighton & Hove. For as much schadenfreude as we might feel in seeing Manchester United held in their own visit to a lower side on Friday, we have to know that we can't squander a gilded chance to progress in a competition that offers us our best chance at silverware.
United, of course, traveled to Cambridge and were perhaps a bit lucky to escape with a 0-0 draw, forcing a replay at Old Trafford. Give yourself a moment to savor that one before contemplating the broader ramifications. If League 2 Cambridge can draw with Manchester United, perhaps League 1 Brighton can go one better against Arsenal?
However, the squad that very nearly pulled off that feat two years ago offers only a glimmer of those almost-glorious days, with eight of the XI on that day moved on, five of them currently in the Premiership.
Under new manager Chris Hughton, Brighton do look invigorated though, having won four of their last five (and ruing a second yellow for centre-back Lewis Dunk in the one loss...), and for as much as we might revel in our momentous win at the Etihad last weekend, Brighton have their own inspiring result to motivate them, a 2-3 win over Championship side Ipswich.
After all, Man United are some 75 spots above Cambridge while we are a mere 33 spots above Brighton. Part of the pageantry of the FA Cup does, after all, derive from the notion that, on any given day, any club can beat any other.
First team players returning from injury should play ahead of youth teamers
The good news is that, by contrast with other early FA Cup fixtures, we have a chance to field an XI that consists of players who might otherwise be first-choice in a Premiership or Champions League fixture. Walcott, Özil, and Szcz?sny, who might ordinarily be the first named to their respective positions, will be available, perhaps denying the likes of Campbell, Zelalem, or Damián, respectively, a chance to shine. So be it.
We won the FA Cup a season ago, and if we're to defend our title, I wouldn't mind in the least if we can take the next step by deploying a few of our choicest players who need some match-time to find some fitness.
I don't think I slight Brighton by suggesting that these players could treat Sunday's clash as a bit of a tune-up but with an asterisk. Given a choice between facing Özil or Cazorla, to choose just one, who would Brighton opt for? Will it be Ospina or Szcz?sny who get to call the FA Cup theirs?
Whichever way you cut it, the deck seems stacked against Brighton—but, then again, that takes all the pressure off of them. All that's expected of them is to show up, field eleven players, and see what happens. At our end, anything less than a steam-rolling might be seen as abject failure, coming as it would on the heels of an historic 0-2 win at the Etihad.
Be that as it may, we should find a way to advance, whether it's in another scrape, as it was two years ago, or whether it's an encore of last season's more-comfortable 4-0 win over Coventry. None of this should imply that we can simply arrive and anoint ourselves the victors, but we are after all a more-confident, determined side than we were the last time we scattered these Seagulls...