Arsenal vs Fulham: Match preview
862 //
09 Nov 2012, 21:56 IST
Stadium: Emirates Stadium
Referee: Andre Marriner
Kick-off: 8:30 PM IST, Saturday, 9th of November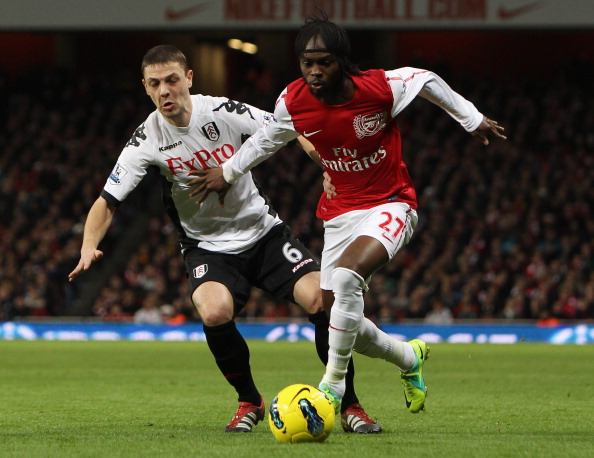 With the exact same win-loss-draw record of 4-3-3, both Arsenal and Fulham find themselves on 15 points at the end of their 10 games, with Arsenal in 7th position, 1 above Fulham, thanks to a better goal difference. This goal difference, however, as someone who hasn't keenly followed football this season will be surprised to hear, is because of Arsenal's vastly superior defensive record, since Fulham have scored 21 goals this season, 6 more than Arsenal.
With a variety of players plying their trade at Fulham, opposing defences have had their hands full. On the other hand, Arsenal's attack has failed to live up to expectations, and the Gunners will be keen to set things straight on that front. There is no better opportunity to set things in motion, than with a beating of Fulham, who have conceded the second highest number of goals for a club that's not in the bottom three.
Arsenal: L W W L D
Arsenal have had a stop-start campaign thus far, with no notable series of victories, although there have been more than one performances that have appeared promising to set off such a streak. With all the locker room turmoil from before the start of the season still rambling in bits and pieces, last weekend's RvP goal would have done no good to Arsenal's confidence. Midweek as well, Arsenal let a 2 goal lead slip, to settle for a draw with Schalke, where the result could have gone either way. Thus, there is a sense of instability to the team, which needs sorting as soon as possible. With an experienced manager like Arsene Wenger at the helm however, fans can rest assured that such will be done, and with Giroud scoring in midweek, there is still much to hope for at Arsenal.
Fulham: L D W D D 
Fulham have really played as a team thus far in the league, with their style of play, as well as numbers indicative of the same. There are four players tied for the club's top scorer position in the league, with 3 goals each, and this has helped Fulham to score victories in some close games. Of late, however, Fulham have experienced a slump in form, winning only one of their last five matches, that too by a 1 -0 margin against a struggling Aston Villa. With Berbatov's return from injury, however, things have been looking up for Martin Jol's side, and they will be hoping that they can get a matching result this time.
Injuries, Concerns & Suspensions
Arsenal: Tomas Rosicky, Abou Diaby, Lukasz Fabianski, Gervinho, Jack Wilshere, Wojciech Szczesny, Kieran Gibbs, Alex Oxlade-Chamberlain, Aaron Ramsey.
Fulham: Simon Davies.
Santiago Cazorla vs Brede Hangeland
Playing as part of a flailing attack, Cazorla has truly been a shining light, and saving grace for Arsenal. With 3 goals, he is Arsenal's joint top scorer in the league, along with Gervinho, and has a further 2 assists to his name. More importantly, he, along with Arteta, forms Arsenal's Spanish engine that has kept them ticking in spite of some poor finishing up front. Hangeland, on the other hand, has established himself as a quality, no nonsense defender, who performs well under pressure. While he may not have been his best thus far in the season, keeping Cazorla at bay might make the biggest difference to the result of the game.
Dimitar Berbatov vs Per Mertesacker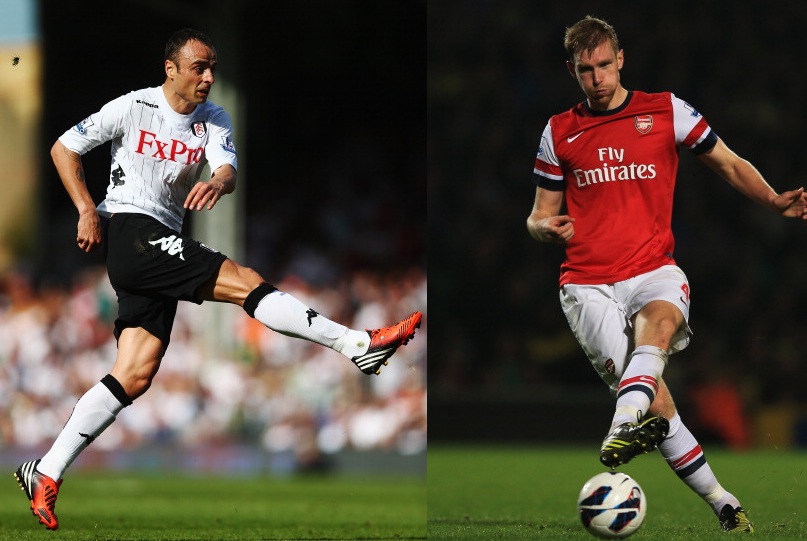 One of the weirdest battles in the Premier League, we see a languid, unpredictable Bulgarian striker, who has been in good nick, going up against a giant German defender, who has established himself as one of the better defenders in the league. Berbatov's hold-up play is crucial to Fulham's attacks, as they often transition from a defensive position, and need time to do so. Mertesacker is especially dominant in the air, and might stop the ball reaching Berbatov on several occasions, and will not have to worry about getting beaten for pace either. However, Berbatov's ball control is quite exquisite, and failure to stop him from linking up play might prove costly for Arsenal.
A close encounter that might go either way. While a full strength, on song Arsenal would walk all over this Fulham side, the truth is that Arsenal's cannons have been misfiring. With Wilshere suspended for this game thanks to his sending off at Old Trafford, Arsenal have only been dealt a further blow in the creative department. Fulham have been poor away from home so far in the season, however, and with a leaky defence, might just succumb to Arsenal's pace and productivity.